SNOQUALMIE, Wash. — Up to 8 inches of snow is forecasted at the Cascade passes through Saturday, which is good news for the ski resorts. But the April snowfall could be challenging for anyone traveling in the mountains.
The weather system is expected to arrive Friday night into Saturday, bringing another round of rain and mountain snow. The National Weather Service (NWS) said snow levels will remain around 2,000 feet with more snow accumulating on the mountain passes.
Mount Baker and Paradise at Mount Rainier could see up to 12 inches of snow, according to the NWS. Stevens and Snoqualmie passes could see up to 8 inches.
Search and rescue officials said the new snow on top of what's already on the ground has teams monitoring the risks of an avalanche.
Despite it being April, officials said current weather conditions are shaping up to be just as dangerous as the winter season.
This year's snowpack could be the third-highest since record-keeping began in 1981. The snowpack is considered at its peak on April 1.
"Normally, April 1 is our average peak accumulation," said Scott Pattee with the Natural Resources Conservation Service (NRCS), which is part of the U.S. Department of Agriculture. "I'm not saying we can't get more snow. We most likely will, especially in higher elevations, but now is when we start peaking off and watch that melt."
As of April 1, the snowpack was at 132% of normal in the Central Puget Sound zone, according to the NRCS. Snowpack in the North Puget Sound zone was at 110% of normal and 121% of normal in the South Puget Sound zone.
The lowest snowpack in Washington was in the Lower Pend Oreille zone, according to NRCS, which was at 90% or normal as of April 1.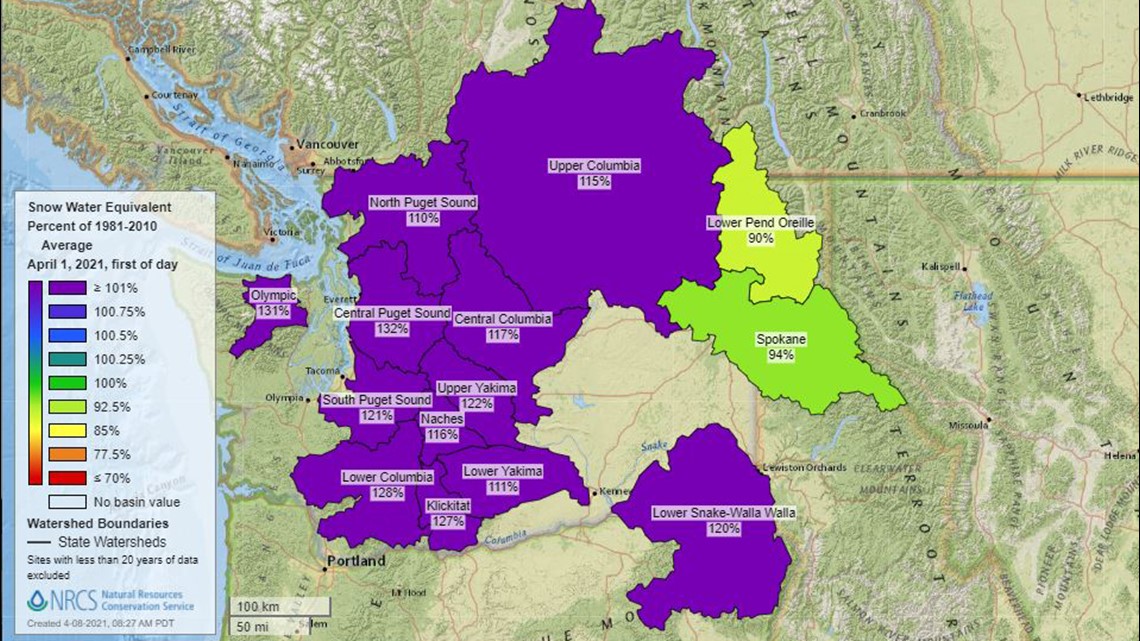 And a reminder: Many popular summer trails are hazardous in the winter, so check conditions, and educate yourself on avalanche and weather hazards.