An unprecedented number of Washingtonians are flocking to the Cascades this winter causing a traffic headache.
Colton Whitworth, public affairs officer for Snoqualmie-Mount Baker National Forest, said Saturday the large number of visitors are causing parking issues, blockages for emergency vehicles and resource damage in areas with low snowpack.
"People need to be aware that there are going to be some congested concerns if they do try to visit on the weekends, especially when the sun is shining," Whitworth said.
Whitworth pointed to an uptick in Christmas tree permits as one metric to gauge increasing outdoor interest. Last year about 6,000 people bought permits to cut down a Christmas tree in the national forest. This year the forest service sold 10,000 permits.
The main drivers of this, according to Whitworth, are more people wanting to get outside in addition to the Puget Sound region's growing population.
One strain is that more people are using ski areas for sledding and other winter recreation, according to Whitworth. Ski resorts, which are operating under limited capacity due to COVID-19 restrictions, have filled up each weekend before 9 a.m. and must turn visitors away, which sends drivers down the mountain looking for other places to recreate.
Faced with overflowing parking areas, drivers are parking and walking on highway and ramp shoulders, which hinders crews' ability to clear and treat roads, according to the Washington State Department of Transportation. Officials warn if you park illegally, you could get ticketed or towed.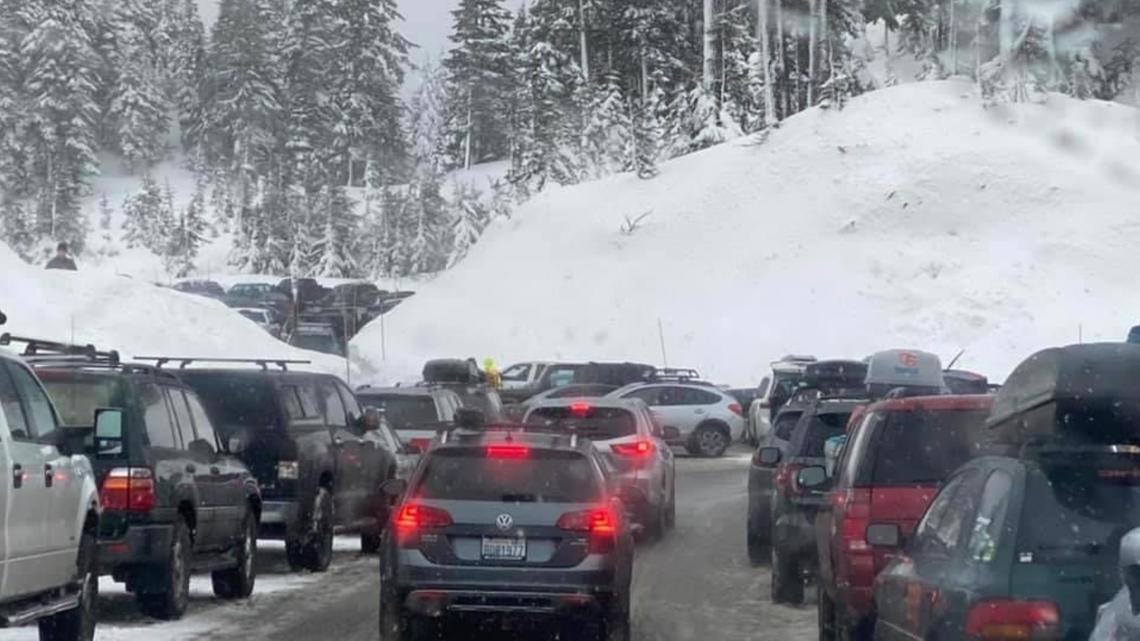 While Snoqualmie Pass typically sees the most visitors each year, Whitworth said each Cascade pass has seen an unprecedented number of visitors this winter. Don't head to Stevens Pass and think you will escape the traffic, Whitworth said.
"We want to make sure that people aren't frustrated when they take their families out to the forest," Whitworth said. "We don't want them to get stuck. We want to make sure they have all the right equipment."
Whitworth urged recreators to plan ahead with several possible destinations in mind in case their first choice is already full. Be sure to check trail conditions on Washington Trails Association trip reports. Drivers should also carry chains, a shovel and warm clothing for winter travel.