A tornado touched down south of Port Orchard just before 2 p.m. Tuesday, the National Weather Service (NWS) confirmed. The tornado was rated as an EF-2 with wind speeds up to 120-130 mph, according to a preliminary damage report.
Washington is only known to get two or three tornadoes a year, and many of them happen in the eastern part of the state. The NWS says December tornadoes are even more rare, averaging just 0.1 a year.
We often talk about the convergence zone. If you live in Western Washington, you've heard this term a lot.
Wind flowing around the Olympic Peninsula meeting in areas east of Seattle typically bring more rainfall, higher winds, and at times, isolated microbursts and tornadoes. We saw that happen Tuesday.
KING 5 Meteorologist Ben Dery said, "The tornado likely formed from a combination of horizontal wind shear that produced rotation, and a strong upward motion, or updraft, within the thunderstorm."
"Wind shear is a variation in the speed of wind over a certain area. When conditions are just right, this can generate broad rotation near the ground. This rotation is necessary to produce a tornado." Dery added.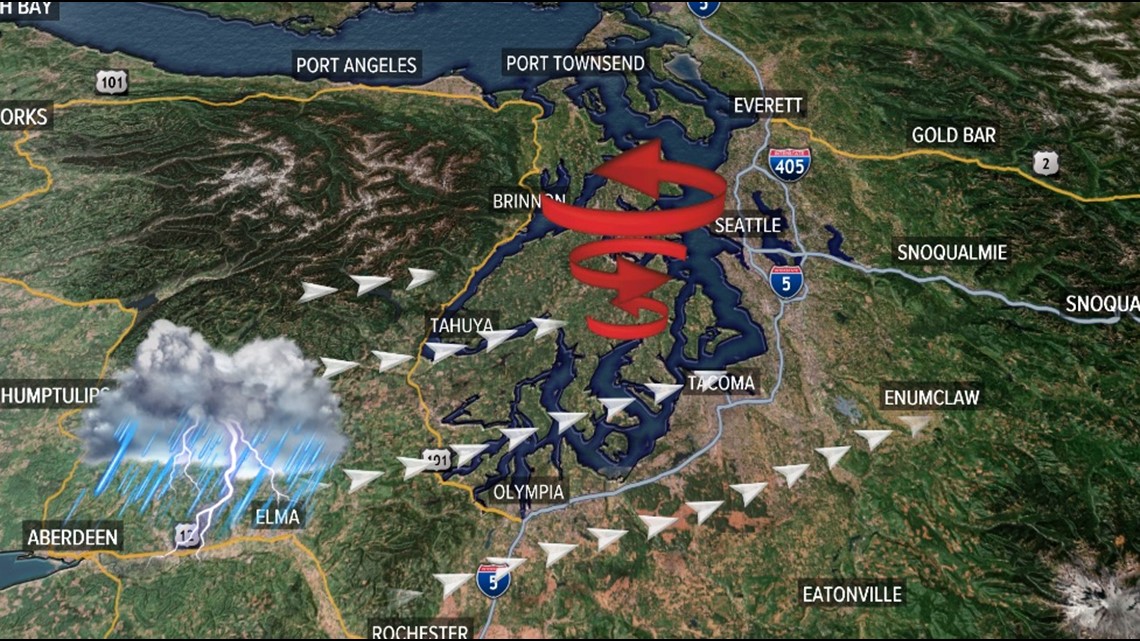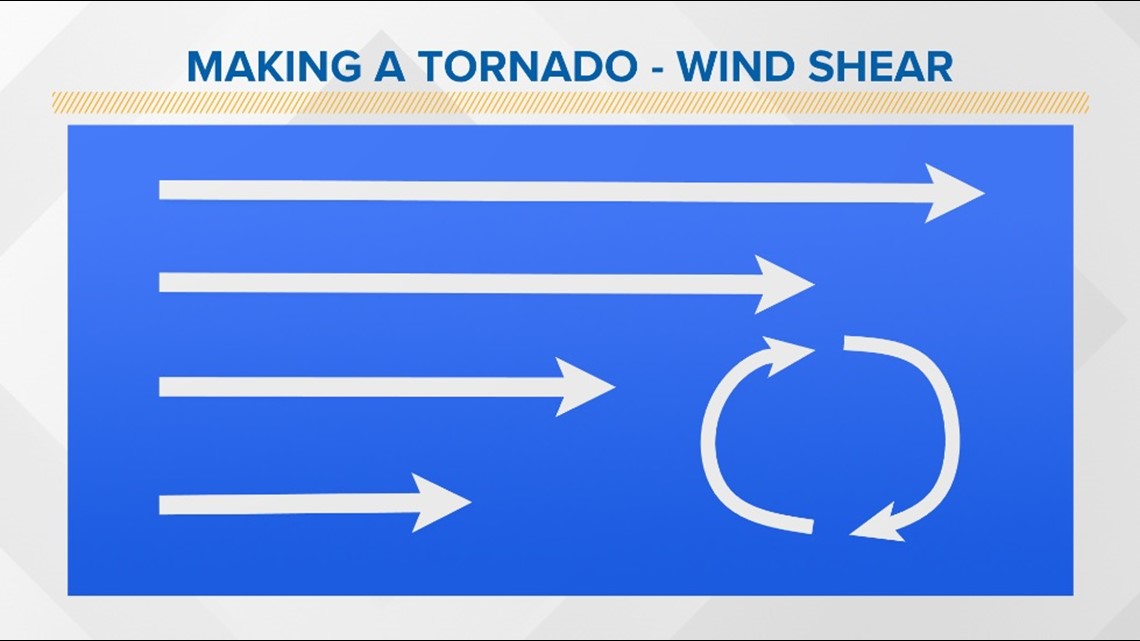 Video from KING 5's drone Dexter showed homes that had entire roofs ripped off and other houses where trees had fallen on top of them.
Viewer video captured the moment the tornado rolled through the area Tuesday afternoon.
KING 5 Meteorologist Darren Peck said the storm that caused the tornado was roughly 10,000 feet high and too weak for officials to see any clear signature of circulation on the radar, so no tornado warning was issued.
"This thunderstorm was not terribly intense. When you get tornadoes from thunderstorms back in the midsection of the country, those thunderstorms are 50,000 feet high," Peck said.
The Enhanced Fujita Scale, or EF Scale, is used to assign a tornado a "rating" based on estimated wind speed and damage. The NWS is the only federal agency with authority to provide official EF Scale ratings.
The EF Scale rating based on estimated three-second wind gusts are below:
EF-0: 65-85 mph
EF-1: 86-110 mph
EF-2: 111-135 mph
EF-3: 136-165 mph
EF-4: 166-200 mph
EF-5: Over 200 mph
According to NOAA, there have been two tornadoes in Kitsap County: Tuesday's and one in 1991 that struck Tracyton, pelting the area with record-setting hail. The agency reported that there have been 122 tornadoes in Washington state since 1950, not including Tuesday's.