SEATTLE — Parts of western Washington should expect to see moderate air quality Thursday as wildfire smoke continues to impact much of the northern United States.
Parts of King, Pierce, Lewis, Skamania, Yakima and Kittitas Counties are projected to see moderate air quality, according to the Environmental Protection Agency's air quality map. Moderate air quality is also expected just over the U.S.-Canada border near Bellingham.
The smoke comes from several wildfires currently burning in Canada's British Columbia. The areas in yellow in the image below indicate where moderate air quality can be expected Thursday.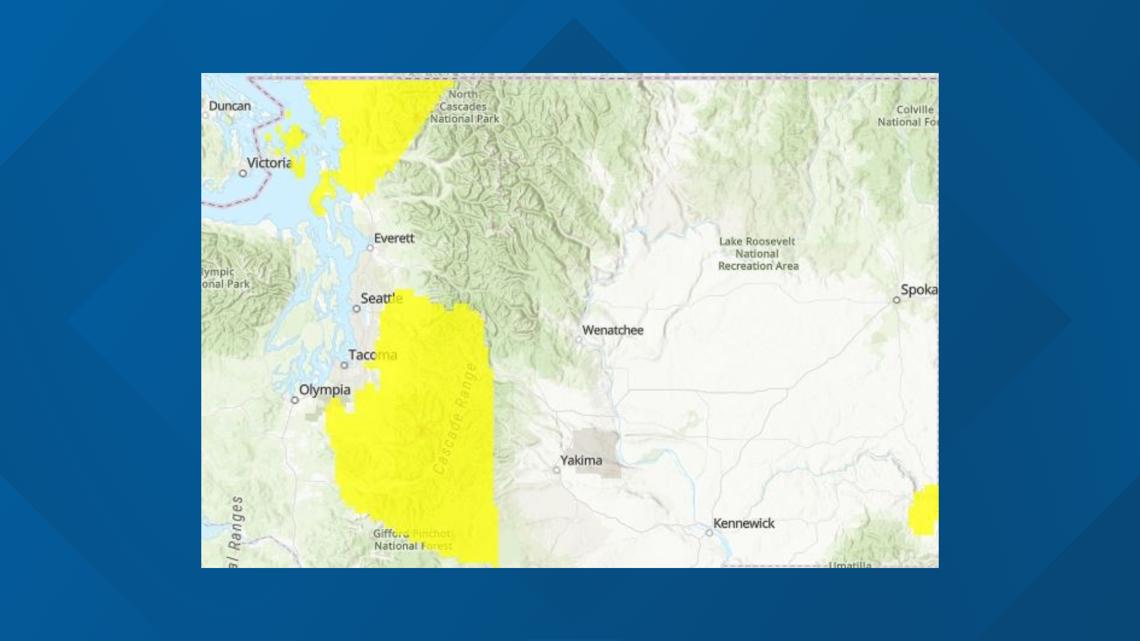 However, the air quality in those areas still likely won't come close to what western Washington experienced in October 2022, when AQI was measured at 245 in some areas as wildfires raged across the state.
Other parts of the country currently are experiencing severe AQI issues as a result of wildfires, most notably in New York City where orange skies forced cancellations of sporting events and impacted flights at some major Northeastern airports.
Canadian Prime Minister Justin Trudeau spoke to President Joe Biden by phone on Wednesday. Trudeau's office said he thanked Biden for his support and that both leaders "acknowledged the need to work together to address the devastating impacts of climate change."
Canadian officials said this is shaping up to be the country's worst wildfire season ever. It started early on drier-than-usual ground and accelerated quickly. Smoke from the blazes has been lapping into the U.S. since last month but intensified with recent fires in Quebec, where about 100 were considered out of control Wednesday.
Large fires in Alberta, Canada sent wildfire smoke down into western Washington in mid-May, causing some vibrant sunsets in the area.
What to know about diminished air quality:
Wildfire smoke can cause health issues, especially for sensitive groups, including infants, children, people over 65, those who are pregnant, have heart or lung diseases, respiratory infections, diabetes, stroke survivors, or those suffering from COVID-19, according to the Puget Sound Clean Air Agency.
The agency recommends the following amid diminished air quality:
Limit time outdoors and stock up on necessities like food, medication and other items.
Outfit your home's HVAC system with a high-efficiency HEPA filter to keep indoor air clean.
Make a filter fan to help clean indoor air with a box fan, a furnace filter and a bungee cord or tape.
If you have an air conditioner, close the fresh air intake if available so you can keep smoky air out of your home.