Youth sports groups are modifying their schedules to compensate for poor air quality across the Puget Sound area.
The Puget Sound Clean Air Agency listed air as 'unhealthy' in the Seattle area Wednesday and warned people to stay inside and avoid exerting themselves if venturing out. The agency issued an air quality alert Wednesday for King, Kitsap, Pierce and Snohomish Counties.
Smoke from wildfires burning in California and British Columbia has led to the degrading conditions. A visible haze has blanketed the skyline since Tuesday.
"Although we could have some clearing tonight, with so much smoke around it will likely linger through Thursday," Puget Sound Clean Air wrote in a release. "The outlook for early next week shows smoke could return."
At the YMCA in West Seattle, the youth outdoor sports camp had to move indoors on Wednesday because of the poor air quality.
"We got the alert at 7 o'clock this morning that it was unhealthy weather conditions for these kids to be out," said Harley Wells-Schultz, the Youth Sports Director.
Instead, kids played basketball in the gym and games inside an empty room at the YMCA.
Patrick Murray, Regional Executive Director of the YMCA, has been tracking the air quality.
"We know from experience you have to come up with a plan B," said Murray. "The particulate matter in the air is what is creating this 153 right now under current conditions."
The 153 reading is considered high and unhealthy.
"It seems pretty nasty outside. Obviously, it could be worse, but it could be a whole lot better too," said Murray.
The bad air can be bad for you, especially when you exert yourself.
At Green Lake, cyclist Stephan Elmer decided to wear a mask.
"When I am exercising as much as I am, it helps to have the mask," said Elmer.
At Seattle Reign's home match, they took precautions on Wednesday night because of the air quality. Extra breaks were added, and oxygen was available to players on the sidelines. Medical staff on both teams were monitoring players as well.
Seattle Public Schools issued a memo recommending coaches either move players inside or cancel summer practices.
At the Starfire Sports in Tukwila, tryouts were scheduled for Washington Youth Soccer's Elite Player Development (EDP) program. EDP Director Bastien Catrin said they limited drills Tuesday because of the air, and mandated frequent breaks.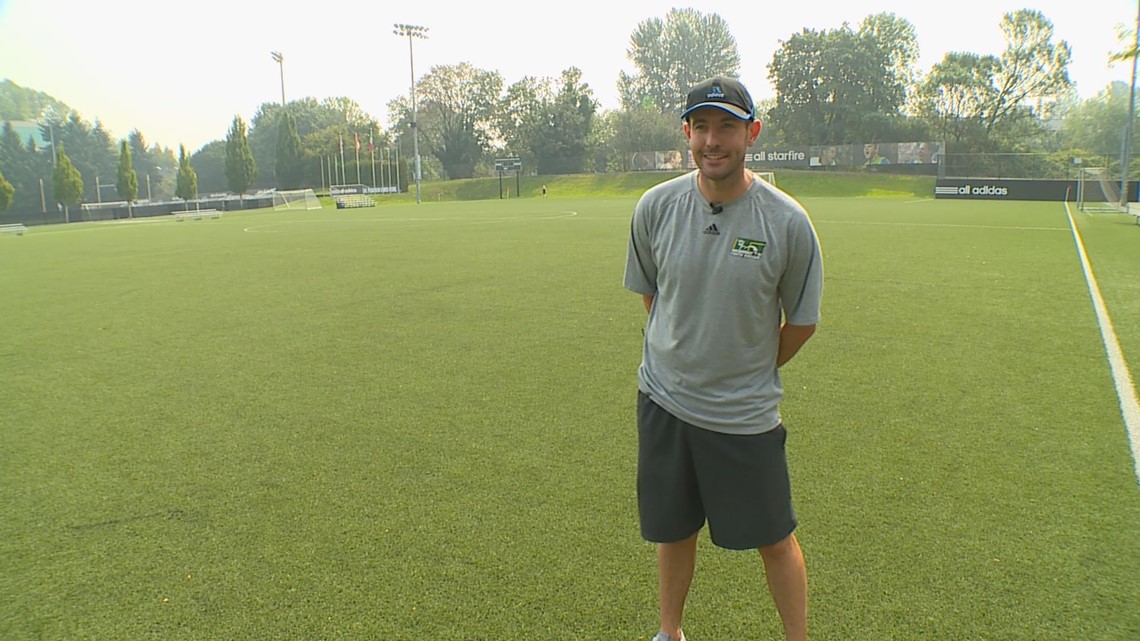 On Wednesday, they canceled tryouts entirely. 400-450 athletes came from around Western Washington for the event.
"They want to try out, and missing a tryout, it's sad," said Catrin.
Puget Sound Clean Air warned that everyone should take precautions, but especially children, older adults, people that are pregnant, and those with underlying heart and lung conditions. This included limiting physical activity outdoors.
"The health, the safety of our players, for me, there is no way a player would be out today on the field," said Catrin.
They hope to reschedule tryouts for Thursday but could push to next week if conditions dictate.
"We want to keep them healthy," Catrin said. "We want to keep them able to play for the long term."
He planned to make the call by 7 p.m. Wednesday, and inform players' families.
Puget Sound Clean air sent the following tips for weathering the smoke:
Stay indoors when possible.
Limit your physical activity outdoors, such as running, bicycling, physical labor, and sports.
Close windows in your home, if possible, and keep the indoor air clean. If you have an air conditioner, use the "recirculation" switch. Use an indoor air filter if available.
If you do not have an air conditioner, consider finding a public place with clean, air-conditioned indoor air like a public library or a community center.
Avoid driving when possible. If you must drive, keep the windows closed. If you use the car's fan or air conditioning, make sure the system recirculates air from inside the car; don't pull air from outside.
Schools, camps, sports teams, and daycare providers should consider postponing outdoor activities or moving them indoors.
N95 or N100 rated masks can help protect some people from air pollution. These masks are usually available at hardware and home repair stores. Please check with your doctor to see if this appropriate for you. More information here.
For more information on ways to reduce your exposure, see the Washington Department of Health's Smoke From Fire tips.