LONG BEACH, Wash. – The first tsunami Survival Capsule in North America has been deployed to Jeanne Johnson on the Long Beach peninsula.
Johnson has become an advocate for the Mukilteo-designed capsules, which grew out of an aerospace engineering firm.
Survival Capsule CEO Julian Sharpe saw the need as he watched the tsunami devastation from Japan in 2011. It killed more than 16,000 people and injured thousands more, with additional thousands listed as missing. This happened in a country that considered it well prepared after a long history of major earthquakes and tsunamis through its history. That quake followed the 2004 Indian Ocean tsunami that left more than 200,000 dead.
The concept behind the two-seat Survival Capsule is to "shelter in place." After a major magnitude 9 earthquake off the Washington coast on a fault known as the Cascadia Subduction Zone, people at the coast may have as little as 20 minutes to get to higher ground. The Long Beach peninsula has been a concern as awareness of the state's tsunami risk has grown. Long Beach is just that – long in miles and low in elevation. Strong tsunami waves could wash over it.
"I know the roads are going to be trouble, and people panic. I've seen that firsthand in both tornado alley, as well as hurricane areas in New Orleans," said Johnson. "And I just think this is my highest likelihood of survival."
Johnson and Sharpe would like to see Survival Capsules as common as cars parked outside, or even inside garages. Larger capsules that could seat six or more could be used at hotels and hospitals.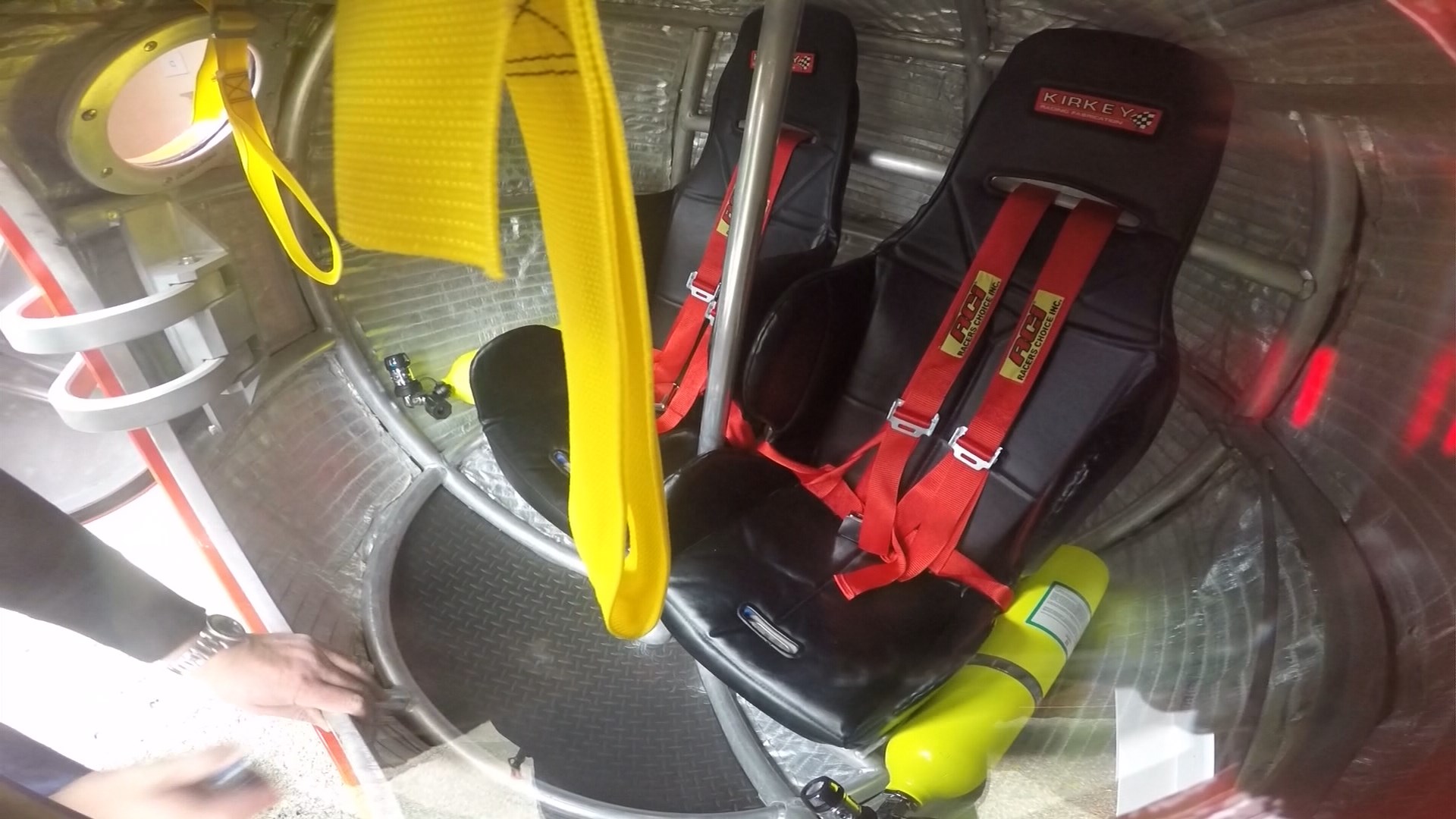 Johnson is determining exactly where she wants to site the capsule on her property, and whether she will anchor it to a long tether or allow it to float free. Its bright reddish orange color is designed to be spotted by helicopters or rescue vessels. She could also leave it inside her garage, says Sharpe, as a 30-foot high tsunami would easily destroy a building containing it.
The capsule is equipped with extra bottles of compressed air, fresh water, and other supplies. Food, medicine, and other needs could be kept in a go bag and thrown in as the owner climbs in and closes the watertight door.
"I'll take the marine key inside the house, open the door, get Trixie in, and anybody else that can fit, frankly. And I'll lock the door and ride it out," said Johnson, referring to her dog who will also get a ride.
And that ride is expected to be violent. The competition go-kart-style seats have harnesses to hold occupants in.
What nobody knows is when the next tsunami will hit the Washington coast. Tsunamis not only can come from the Cascadia Subduction Zone, but from across the Pacific, including Japan and much closer Alaska.
The last one was 317 years ago this month, the date nailed down through tree ring dating of forests killed by the quake and Japanese records of a tsunami hitting unexpectedly on the western shores of that country. As scientists have made more discoveries, preparations have also stepped up.
Tsunami evacuation routes have been marked for years along Washington's lowest coastal areas, and currently the City of Long Beach is planning to build a hardened patch of high ground protected from earthquakes and tsunamis.
The first tsunami vertical evacuation structure built in North America is up the coast in Westport at the Ocosta School. lt provides a high platform where citizens can run and tsunami waves can wash under.
Dr. Eddie Bernard, who oversaw development of a network of tsunami warming buoys in the Pacific for the National Oceanic and Atmospheric Administration before retiring, says because of time limits to reach safer ground, all forms of escape need to be available. Bernard is now advising Survival Capsule.
While this is the first deployment in the company's home country, Survival Capsule has also been working with closely with the Japanese, where some four test units have already been deployed.