Crossing the snow-capped Cascades at Snoqualmie Pass, a picturesque calm replaces the congestion of urban life on the west side. Sprawling farms and open acres pave the drive eastbound to a Washington that feels a world away.
Agriculture helps drive the economy in what's known as the Apple Capital of the World. Wenatchee welcomes visitors with its fresh produce and its own Public Market, Pybus known as the place where community meets.
"I think one of the unique features of many small towns and Wenatchee would certainly fit this bill is a level of collegiality and working together," said Pybus Market executive director Steve Robinson, a former journalist, who has lived on both sides of the Cascades.
"I think generally there's a sense that so much of the politics in the state of Washington and maybe at the national level is driven by the greater Seattle area, and there's a sense that sometimes the voices of eastern Washington residents aren't heard, a sense of disenfranchisement or almost being ignored sometimes,"
The eastern part of the 8th congressional district accounts for nearly a quarter of the district's total population, but the voters here say that should not mean their voices count for less.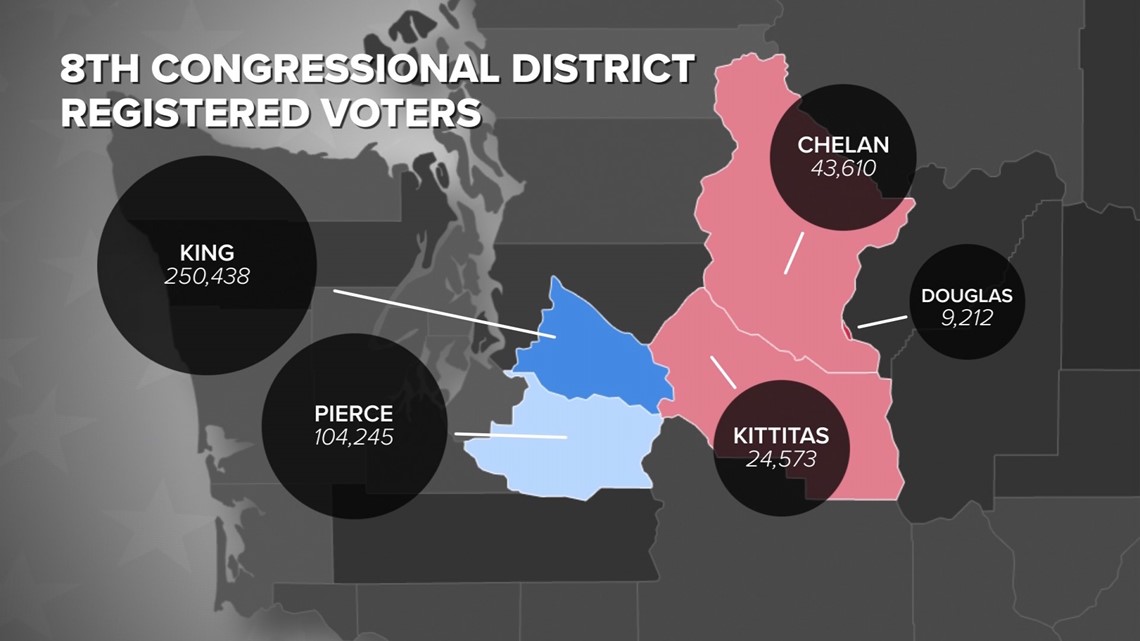 "We want someone who is really going to sit down and listen to us regardless of what party, independent, Democrat, Republican is out there right now," said Sheriff Brian Burnett of Chelan County.
KING 5 sat down with Sheriff Burnett, along with Wenatchee councilman Linda Herald who doubles as the general manager of the convention center, and Ron Walter, a former county commissioner and orchardist who grows cherries in the Squilchuck Valley.
All three support Republican candidate Dino Rossi in the 8th congressional race.
"The candidates opposing him don't have the business experience; he is completely supported by the farm bureaus," said Herald.
"He understands our issues," added Walter. "I think he understands the importance of the agriculture community."
"When I talk to growers in other parts of the state and on the west side, they have some of the same frustrations in dealing with the bureaucracy, the ever-increasing burden that's put on businesses," Walter continued.
Regulation was cited as a key issue for farmers, but equally important — labor and the workers who make up the backbone of the agriculture industry.
"One of the big issues is having a reliable supply of labor, so then we get into the federal immigration issues," said Walter. "My personal opinion is our immigration system is broken."
Walter said he would like to see members of both parties come together and work out a compromise. He would like to see improvements made to the temporary workforce program but also comprehensive immigration reform.
"I think the whole process is just too cumbersome from the side of the bureaucracy to the immigrant who's trying to get here," said Walter. "I know people who have been here 16 to 20 years to try and get legal status and work through that system, and it's very costly and time-consuming and very costly to the government."
"I think a lot of people have a heart for our immigrant community. Which in some ways is very segregated here in Wenatchee," said Kelly Anderson who teaches at Wenatchee Valley College.
Anderson also counts immigration as a top issue, but she and her friends Lael Isola and Suellen Harris view it through a different political lens. All three are Democratic precinct committee chairs who met through the progressive grassroots group, known as Indivisible.
The Wenatchee chapter is trying to shake things up in a historically conservative community. "Getting people to do things outside their comfort zone where they kind of out themselves politically, even waving a signboard for school board — that's a big deal," said Anderson.
"Door knocking," said Isola throwing out another example. "It could very likely be a co-worker who answers the door and now you're out as a progressive. That's tough for people. My own mother called me a rabble-rouser."
"It's new for people to talk about politics in general, even to their friends and neighbors," said Anderson, who moved to town a few years ago from King County and found the political advantage reversed.
"This was my very first experience of time-after-time again, on the ballot, it's a choice between a Republican candidate and a Republican candidate, and I had never had that experience."
But this year, Democrats believe they have a chance to flip the 8th district, held by a Republican congressmember since its inception. A field of more than a dozen hopefuls has been narrowed to three front-runners.
"I am so excited to have especially these three front-runners. I could vote for any one of them," said Suellen Harris.
Harris says Democratic voters in the community are energized over issues including health care, the environment, and gun reform.
The Indivisible Wenatchee chapter is trying to turn enthusiasm into political activism, starting with voter registration, focusing on young voters, minority voters and the service industry.
"The one thing that's for certain about politics is it changes, and that's what we're counting on right now," said Suellen. "We're counting on change."
Democrats believe midterm momentum is on their side, united in opposition against President Trump, but these Republicans in the region say not so fast.
"I think the majority of the Republican party in Chelan County is behind the current administration and think he's doing a good job," said Linda Herald.
"I just don't put a lot of credence in what I hear from the national media," said Walter. "On one hand, I'm hearing about a blue wave, and then I'm hearing about a blue drain and a red tide."
Red, blue and purple — the 8th District has a blend of it all. However, party lines aside, voters in Wenatchee share the hope of finding common ground.
"Leave that old extreme policy stuff aside," said Lael Isola. "It's really hurting us, and I think it's time to let it go and try and walk towards the middle together. What better place to do that than a changing district."
"If we don't come together, we'll fall apart," said Sheriff Burnett. "We have to go across the aisle to get things done."