EDMONDS, Wash. — When a business has been around for 100 years, it tends to amass a loyal fan base.
"I've been coming here for 50 years," said Edmonds resident, Judy Balzer, as she orders her favorite treat. "A good friend of mine and I would always come here and have a maple bar. She moved away, so now I come in and remember her."
This week the Edmonds Bakery celebrates a century of cooking up memories and goodies.
"I feel like this place, it's kinda the last of its kind," said worker Michael Raley. "It's like a Norman Rockwell painting come to life."
The bakery is a slice of true Americana. Located at 418 Main Street, it dates back to 1923.
The bakery has survived a depression, recession, pandemic, several wars and two fires.
"It's pretty amazing we're still here," said owner Ken Bellingham.
Bellingham has owned the bakery for the past 30 years. He planned to retire last year, but the bakery and the generations of customers kept calling him back.
"It's kind of an institution and I'm just a caretaker for it," Bellingham said. "When you can make something that people enjoy, it's very rewarding."
The bakery's signature treat is called the "Chicken Bone," but fortunately there are no chickens and no bones. It's essentially a maple bar covered in streusel and coconut.
"I'm not a big coconut fan, but it's my favorite donut I've ever had in my life," Raley said.
Raley came out of retirement three years ago just to get up well before dawn and work at the bakery.
"I've always loved it here," he said. "I told Ken I wanted to work here. He asked if I could bake. I told him no, but I could get up at four in the morning to be here. He told me, 'I can teach you to bake. I can't teach people to be up at four in the morning.' That was it."
For Raley, the children, noses pressed against the confection case's glass, are the best part.
"The kids' eyes get as big as the sun and I get to be Willy Wonka for 15 minutes," he smiled.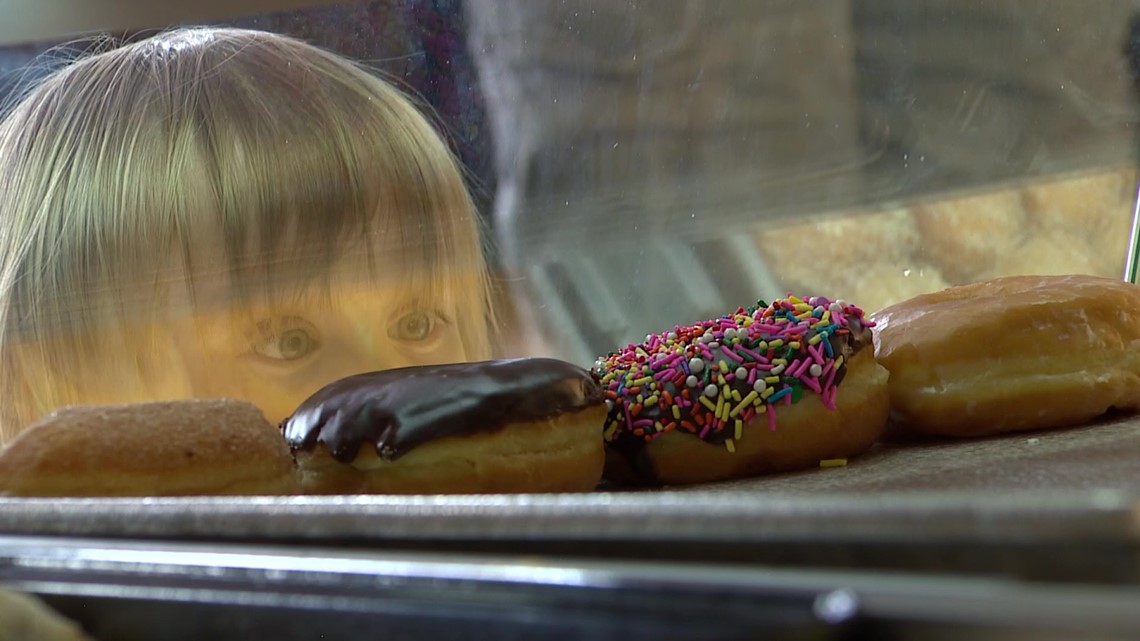 The bakery is as original as it gets with nearly 400 vintage cookie jars lining the walls and equipment that's even older than that.
"The equipment is older than I am," chuckled Bellingham, aged 71, only half kidding.
And somehow it all comes together-- like flour, butter and salt it's a tried and true recipe for success.
Bellingham says he has no plans to retire.
"I hope to keep this up. I might die back there on a sack of flour," he laughed.
When the time to hang up his apron does come, however, Bellingham says he will make sure this institution remains a bakery for generations more to enjoy.
"I own the building," he said. "I want this to continue on. I think I'm very blessed to have this opportunity."
If you'd like to take part in the century celebration, stop by the bakery on Saturday for free cake and 50-cent maple bars.
Watch more from KING 5's Eric Wilkinson: