BELLINGHAM, Wash. — A heartbreaking story of animal neglect is unfolding in Whatcom County. More than a dozen popular doodle-breed dogs have been dumped over the past two weeks.
"Doodles" are mixes between poodles and another breed of dog, often Labradors or golden retrievers. At least 18 of these mixes have been abandoned on the streets around Ferndale.
"They've apparently become an inconvenience to someone," said Robert Paris of the Whatcom Humane Society.
The dogs have been discovered roaming around East Hemmi Road, Kelly Road, Central Road and Aldergrove, and range in age from five months to four years.
Most of them have likely never been washed or groomed, according to the Whatcom Humane Society. The dogs have been so neglected they're afraid to come out of their kennels at the shelter.
"Honestly, how can someone do this to a dog," asked Paris.

He said he believes the animals have had little to no human contact and most don't know how to act like a normal dog.
"Their behavior stems from negative interactions with people or no interaction at all, because no interaction can almost be just as bad," he said.
The abandoned dogs don't know how to play or even be happy, but there are signs of hope. After being cared for at the humane society shelter, a few of the dogs are now occasionally wagging a tail, chew on a toy or accepting a gentle pat on the head.
Experts said those are all signs that the dogs will eventually be okay.
"They will get to the point where they can open up to people," said Paris. "It's just gonna take time."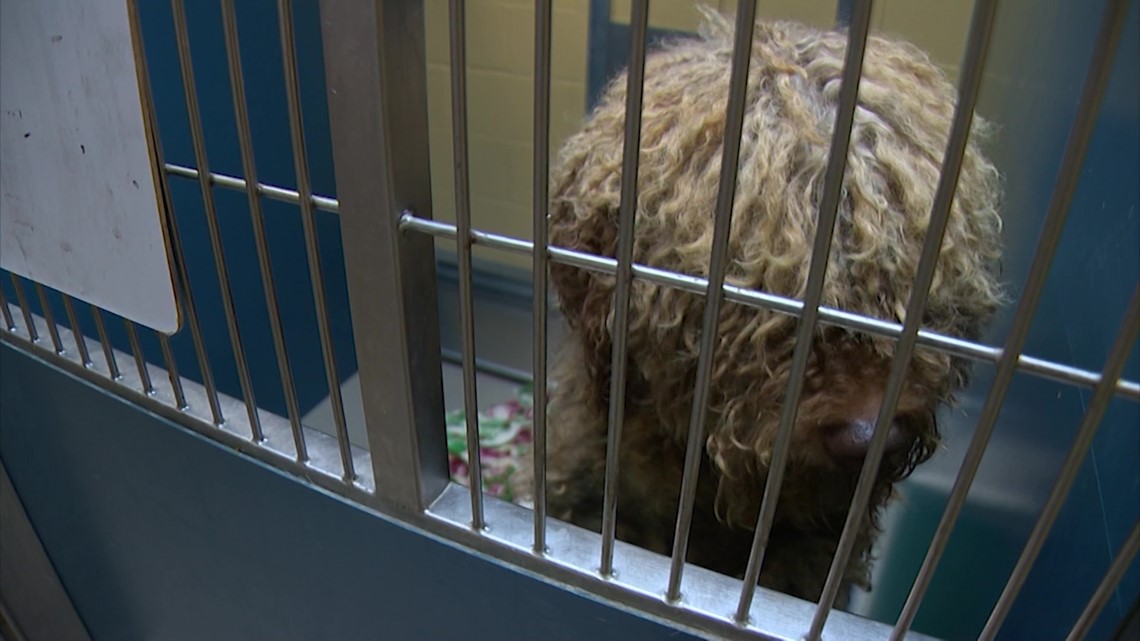 Where the dogs came from is unclear but Whatcom Humane Society Executive Director Laura Clark said someone simply didn't find them "useful" anymore.
"It appears they are part of a large-scale breeding operation. The bottom fell out. For whatever reason, instead of finding appropriate placement for the animals, they've been abandoned," she said. "People don't think mills operate in their communities, but they are everywhere."
Police are investigating and believe more abandoned doodles are likely out there.
"Every couple of days it's more doodles," said Paris. "We're just waiting for that to end."
Two of them are currently housed in Seattle because of overcrowding in Bellingham.
For now, the dogs are being washed and groomed by volunteers. But the one thing that these dogs really need, after someone deemed them inconvenient, is the easiest thing to give.
"All it takes is a little bit of love for these guys and they'll warm up and be the best pets ever," said Paris.
Despite their conditions, workers said the dogs will be adoptable in one to three weeks.
If you're interested in adopting, or have any information about who is dumping the dogs, contact the Whatcom Humane Society at 360-733-2080 or adoptions@whatcomhumane.org.