SEATTLE — With the holiday season here, many of us turn our thoughts to those less fortunate in our community, and how we might be able to help them through tough times.
Swedish has come up with an innovative way for holiday travelers at Sea-Tac to pitch in and help the organization fill some of those needs. It's called the Tending Machine, and will allow the charity-minded among us to purchase basic supplies – toothbrushes, socks and the like – for our friends and neighbors.
"It is a vending machine, but we call it a tending machine because we're tending to others needs," said Sherry Williams, Swedish's Community Engagement Director. "So in the machine, you'll have a chance to select items that will support a specific community partner."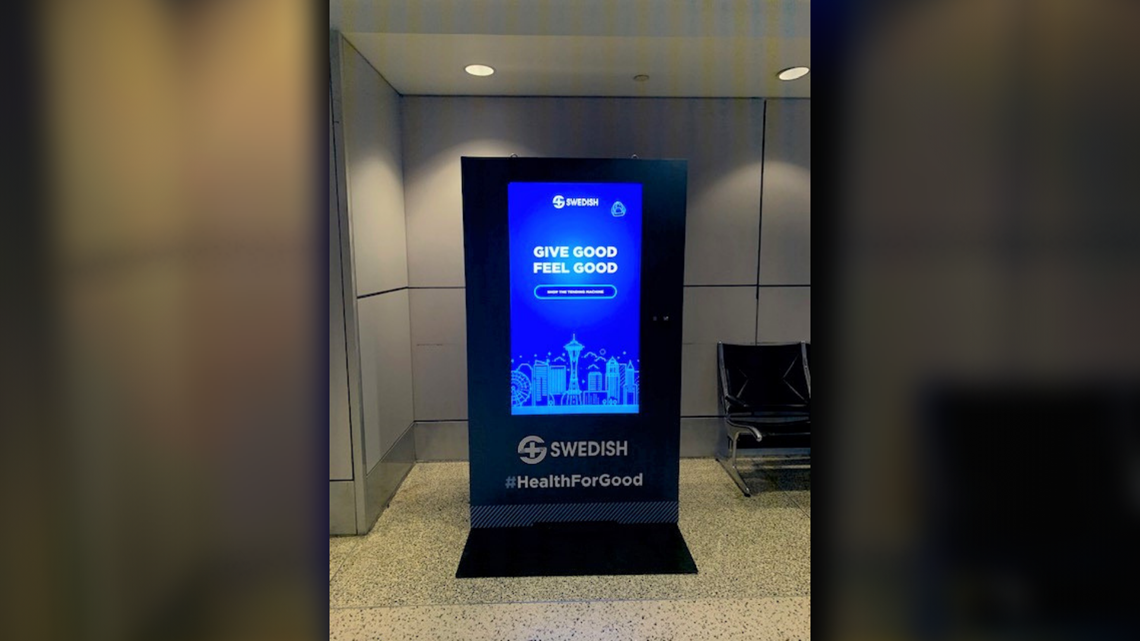 You won't actually receive a pair of socks when you use the Tending Machine, rather your money will go to Mary's Place – a nonprofit organization in Seattle that provides safe, inclusive shelter and services for women, children and families on their journey out of homelessness – to reimburse them for the item you selected.
Among the available items for reimbursement are:
Toothbrush - $1
Socks - $2
Drawstring knapsack - $5
Rain poncho - $9
Pack of 6 Mylar thermal blankets - $10
The idea, borrowed from a successful campaign by the Church of Jesus Christ of Latter-Day Saints, is meant to make giving during the holiday season a little easier and more convenient. It's part of Swedish's commitment to the community.
"It's a public trust for a nonprofit medical center to give back in very meaningful ways," Williams said. "We try to do it in meaningful ways, innovative ways and some traditional ways"
The Tending Machine will be at Sea-Tac for 6 weeks once it is set up. The exact location has not yet been determined.
"Our focus at this time of year is to provide an opportunity to engage our community," Williams said. "Our employees, our caregivers give back by volunteering. We also work closely with our community partner organizations to listen to what their needs are and give back to them."
Mary's Place, the recipient of the Tending Machine donations, plays a vital role in helping families out of homelessness and into stability.
"Mary's Place is housing and transitional housing for women and families in need," Williams said. "They have several locations across the city and they not only provide housing, but resources.
"They also focus on mental health and mental illness, parenting, and they really focus on the family and providing that support."
Swedish is also partnering with local food banks and farmers markets. You can pick up a cinch bag at the Swedish table at the farmers markets and fill it with food to donate. When you return the bag to the table, Swedish will donate $1 to its charitable organizations.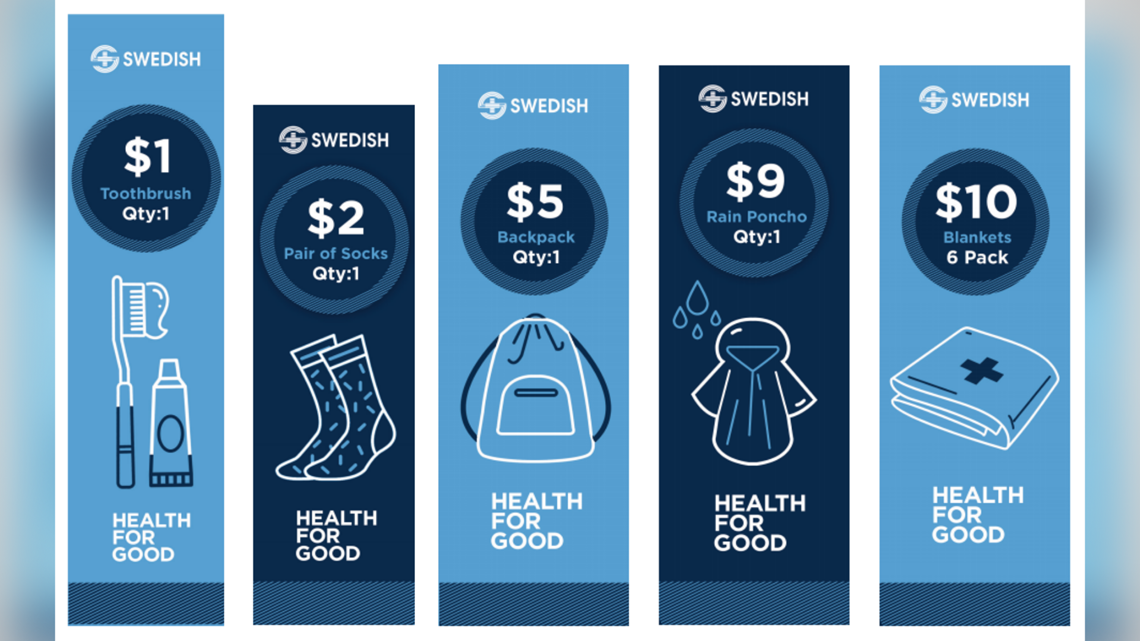 "We've had an incredible opportunity to support ACARS, the Asian Community and Counseling Service," Williams said. "We also support our specialty care clinic and also our residency clinics at Swedish. We've already donated about $17,000 so far, and our goal is to continue to encourage our community to give back in a very, very meaningful way."
Swedish supports about 125 nonprofit organizations in the community, all part of Swedish's philanthropic efforts that have contributed more than $1 billion in the last 5 years, $237 million last year alone.
"We call it proactive investment," Williams said. "We focus on housing, mental health, mental illness, diabetes and obesity and substance abuse. And so we focus in on that type of proactive spend, which our community asks us to do it.
"And we do it willingly, because it's the right thing to do."
The Tending machine is now up at Sea-Tac Airport in Concourse D.