As Starbucks cuts out plastic straws are they actually using more plastic to do it? Multiple viewers asked about a post from the page "Unbiased America" on Facebook.
The photo claimed that "ENVIRONMENTAL ACTIVISTS APPLAUD STARBUCKS' NEW STRAWLESS LIDS!!!
And added that "the new lids use more plastic than the old lid/straw combo."
Yes. Our own tests showed different measurements than others listed online, but the end results were the same: the new Starbucks lids do have more plastic than the previous lid and straw combos.
But, experts say the new lids are still better for the environment.
Starbucks announced their plan to remove straws on July 9.
Their announcement, "Straws are out, lids are in," detailed their plan to remove all plastic straws from their retail stores by the end of 2020.
Author Christian Britschgi wrote that he "got these results by measuring Starbucks' plastic straws and lids on two separate scales."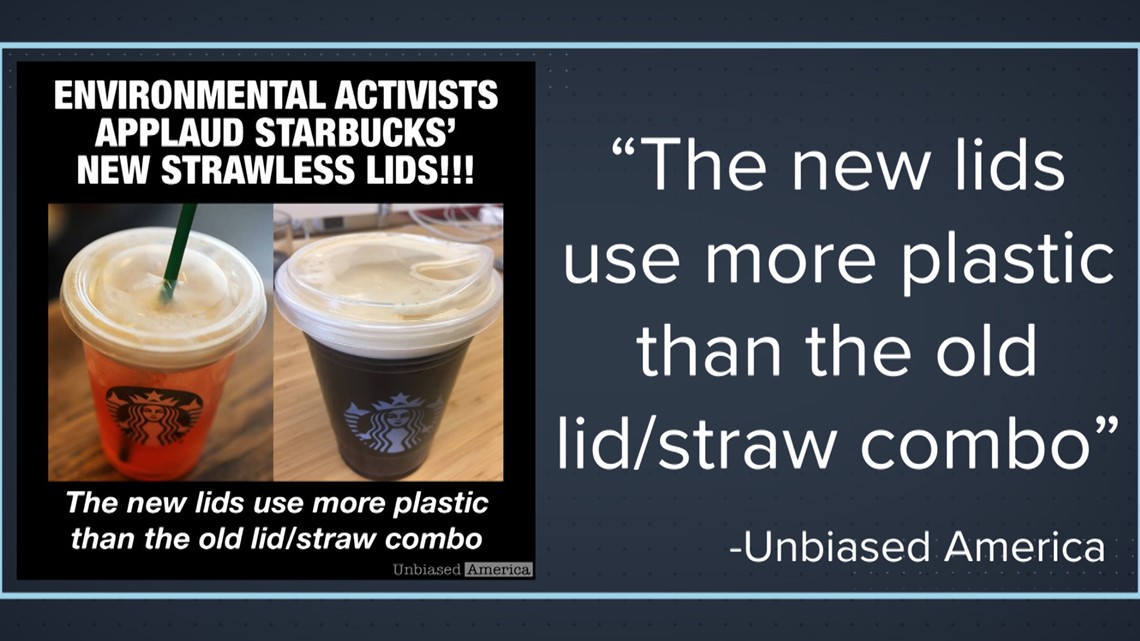 His results showed weights of 3.23 grams for the current lid and small straw and 3.55 grams for the current lid and large straw combos. By comparison, the new lid weighed 3.55 or 4.11 grams in their tests
Verify's Jason Puckett ran his own version of the tests. Each type of lid was weighed 20 times on two different scales. The numbers were then averaged.
His results showed an average weight of 1.35 for the old lid and small straw combo and 1.95 grams for the old lid and big straw.
The new lid averaged a weight of 2.55 grams across testing.
While the numbers varied between the Verify test and the one posted by Reason.com the end result was the same: The new lids do weigh more.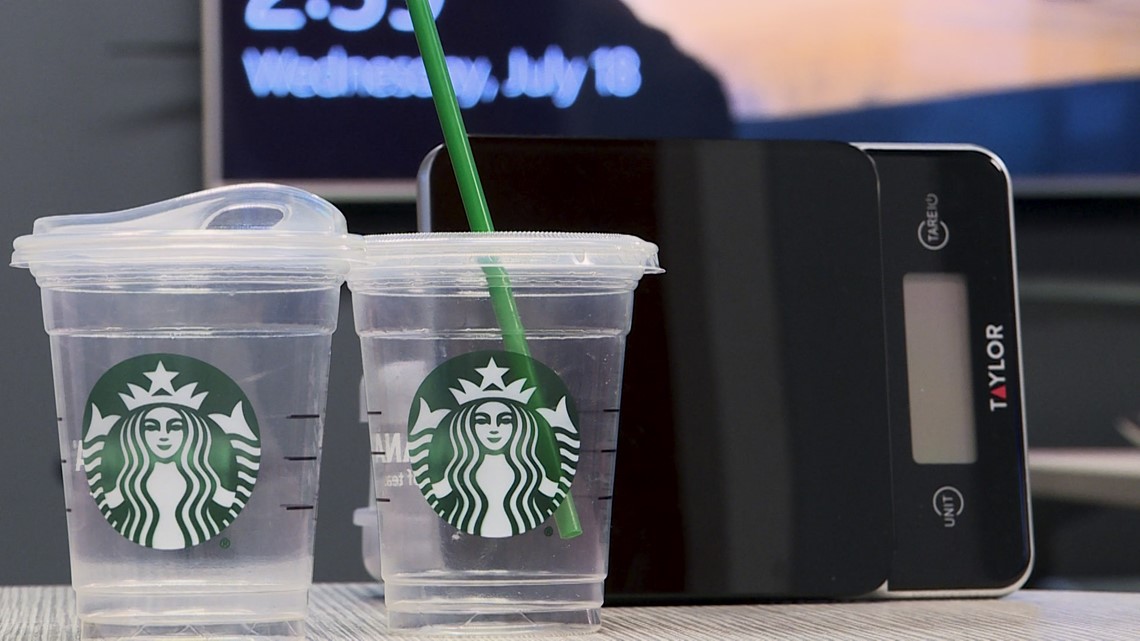 So does this mean that Starbucks actually defeated their purpose?
When Verify reached out to Starbucks, they didn't address the questions of weight and plastic content directly. Instead, a spokesperson sent a message noting that straws are currently "too small and lightweight to be captured in modern recycling equipment":
Our strawless lid is made from polypropylene, a commonly-accepted recyclable plastic that can be captured in recycling infrastructure, unlike straws which are too small and lightweight to be captured in modern recycling equipment. The introduction of our strawless lid as the standard for non-blended beverages by 2020 allows us to significantly reduce the number of straws and non-recyclable plastic from our stores around the world."
"It's a better product," she said about the new lids. "Polypropylene is one of the best and least toxic plastics."
Monteleone said that the move from two separate items - a lid and straw - to a single lid also helps.
"The two they were using were much more flimsy," she described. " They're gonna break up much faster."
Monteleone said compared to a straw, a larger lid is also less likely to enter a body of water like the ocean, and if they did, they'd also take longer to break down.
"The longer longevity they have, the greater opportunity of collecting it and the less possibility of it breaking down into smaller pieces," she explained.
Yes, Starbucks' new lids do use more plastic than the straw and lid combo they'll replace. But no, that doesn't mean they're worse for the environment.