The earth under Western Washington has been working overtime in May. The Pacific Northwest Seismic Network (PNSN) reports that an Episodic Tremor and Slip Event started May 8 — and is still underway.
The activity is centered just west of Puget Sound near the Olympic Mountain range and is so deep that it people can't feel the shaking.
The map below is a snapshot of the first 10 days of activity, color-coded chronologically. The red dots show the most recent activity.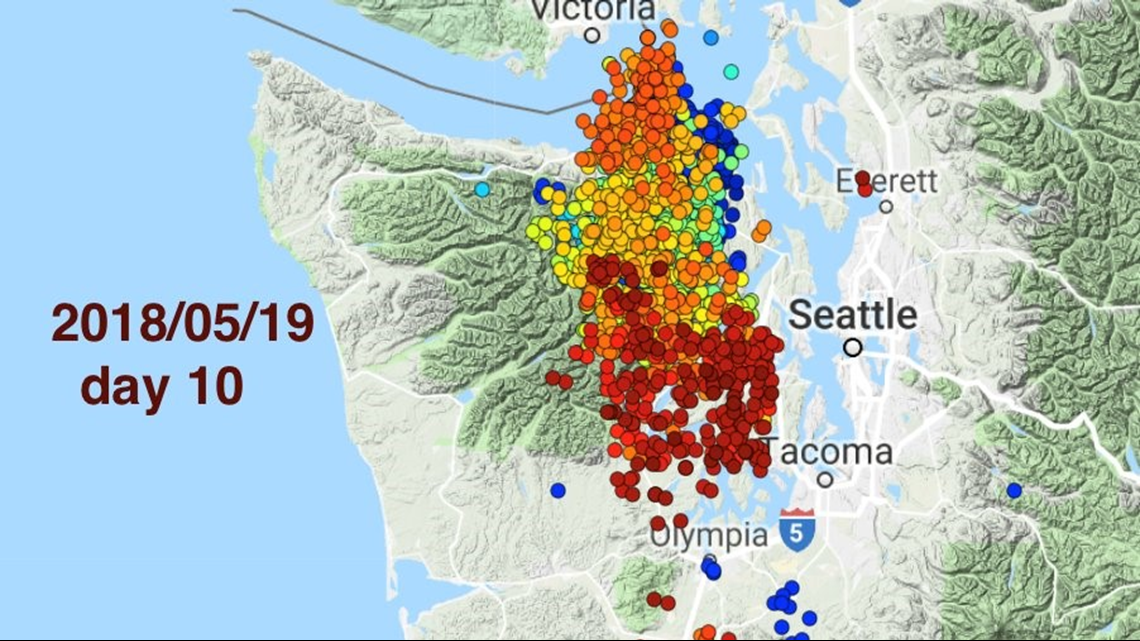 In March, PNSN posted a prediction of these tremors for Washington and British Columbia. The event was expected to start in April or May, 'based on the roughly 14-month repeat period observed since around 2000.'
Malone notes this episodic tremor event is similar to a pattern set from 2007-2011. Now he expects the tremors to continue into early June, spreading slightly more south and even further up north. He writes, "Thus far I (a seismologist) don't see any evidence of geodetic slip in the GPS data provided by PANGA. You can look for yourself at the Central Washington University PANGA web page."
This deep tremor is happening as a slab of ocean crust some 30 plus miles down is pushed and pulled into the molten mantle of the earth, it's part of a larger system called the subduction zone, where crustal plates collide.
They call this subduction, and it happens around the Pacific rim where ocean crust is pushed underneath the continental crust. Our subduction zone runs from Cape Mendocino, California then up the coast past part of Northern California, Oregon, Washington and Vancouver Island, British Columbia, Canada.
The upper portion of the ocean plate and the North American plate are locked together, and are under so much pressure, much of Western Washington is being pushed to the northeast and lifted higher. When that "locked zone" can't take any more, that part of the boundary, the fault will slip and scientists expect that will result in a magnitude 9 earth. The shifting where the ocean floor and the continental shelf meet expected to trigger a tsunami. The situation would be much like what happened in Japan during the Tohoku earthquake of 2011.
The entire area is known as the Cascadia Subduction Zone, and also accounts for the creation of Washington's five volcanoes, even our more frequent earthquakes such as the magnitude 6.8 Nisqually earthquake in the cracking Benioff Zone above the area of deep tremor, are all part of the same system.
Because the system creates some of the most serious hazards, scientists are discussing the establishment of a Subduction Zone Observatory, to learn more about it, try and figure out of phenomenon like deep tremor can provide clues as to when a giant earthquake is coming, or a volcanic eruption is approaching, as we saw on May 18th, 1980 at Mount St. Helens, and eruption which killed 57 people.