Do you prefer checking out over checking in? Does turn-down service turn you off? Is a hotel breakfast more con than continental? If you answered "yes" to any of these questions, then you might need to rethink your standard hotel destination!
To give you some ideas, look no further than this list of outlandish places to stay in Washington state. Whether you're coming from far away or simply taking a staycation, these destinations will truly give you a unique, one-of-a-kind experience.
1. TreeHouse Point, Issaquah
Located just 30 minutes outside of Seattle, escape up into the highest reaches of the forest trees by staying in one of the unique treehouses at TreeHouse Point. Nestled along the Raging River and far away from any major roads, immerse yourself in the rustic and wholesome atmosphere of the Snoqualmie Valley. There are six different treehouse available, each with cozy furniture, amenities, and beautiful views of the treetops around them. The resort also offers yoga, massages, Tai Chi, and hypnotherapy services.
Due to the private and romantic nature of the resort, tours are only available by appointment, and guests under 13 years old are not permitted for overnight stays (sorry, kiddos! For a treehouse more your style, visit here.)
TreeHouse Point
6922 Preston-Fall City Road SE
Issaquah, WA 98027
(425) 441-8087
2. Forest House, Orcas Island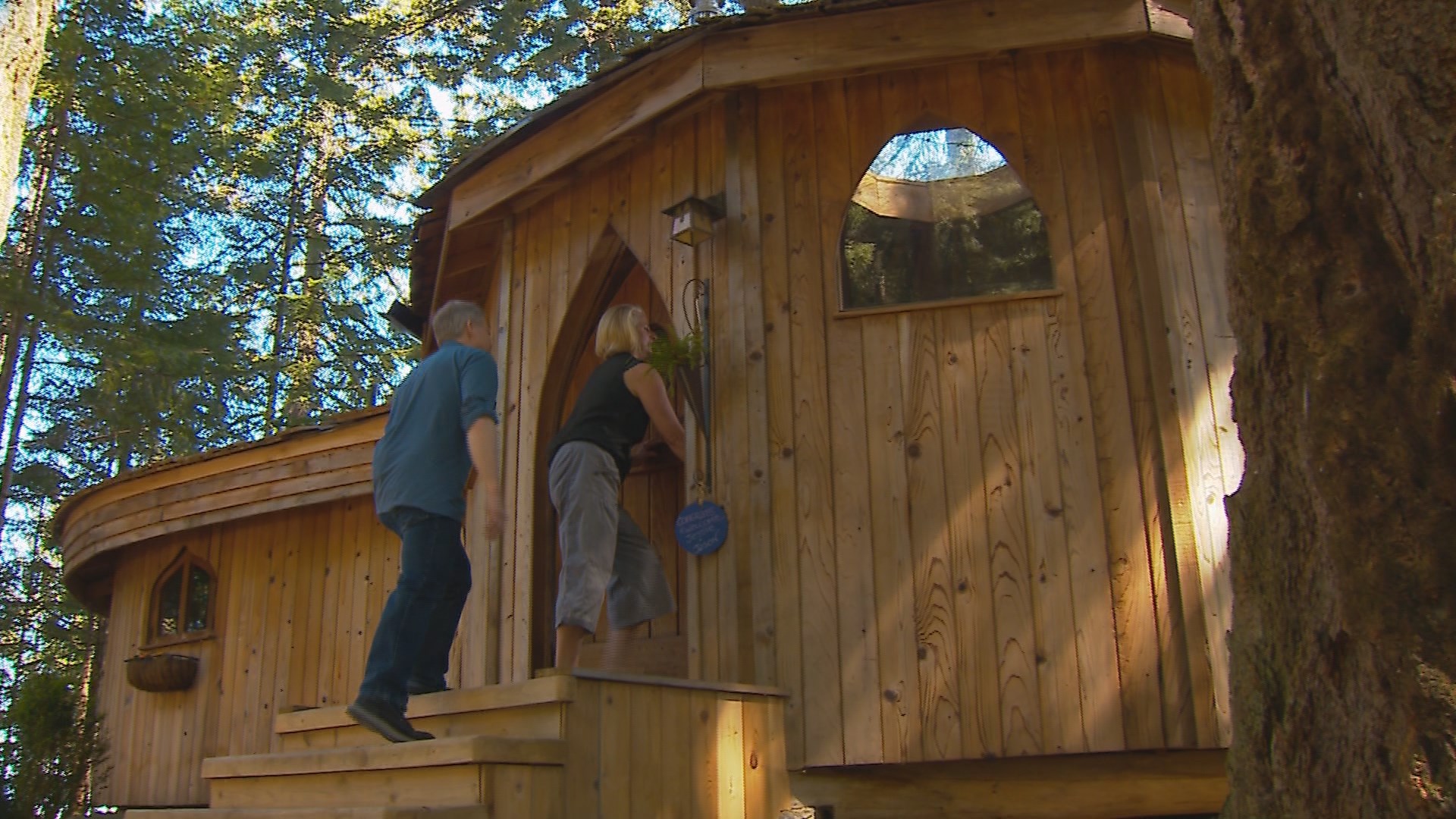 Originally known as the "Hobbit House," the Forest House on Orcas Island is like a time machine to Middle Earth. Snugly hidden within the forestry of the island, spending time in this craftsman bungalow will encourage bare-footed jigs, taking pleasure in good food, and perhaps a little peaceful enjoyment of Pipe-weed (Washington is very Shire-esque, after all). The building itself has a Japanese sunken tub, access to a beautiful nearby beach, and hiking opportunities abound.
Forest House
templedreams@gmail.com
3. Desert Yurts of Cave B Inn & Spa Resort, Quincy
Do you enjoy the beauty of camping -- but the realities of it, not so much? Hard ground, bugs, rustic toilets... It's not everyone's cup of tea. Fortunately, Cave B Inn & Spa Resort has the perfect solution: Yurts! A yurt is technically a tent, but it has so much more than your average Coleman set-up. Each yurt at Cave B Inn & Spa has a king-sized bed, private bathroom, and comes fully furnished. There's also architectural features that let you experience the outdoors just as you would if you were totally exposed to the elements, like a skydome for star gazing. The property itself is also near the resort's own vineyard and just 10 minutes from the the fabulous lodge -- making this the ultimate glamping experience.
Desert Yurts of Cafe B Inn & Spa Resort
344 Silica Road NW
Quincy, WA 98849
(509) 787-8000
4. Glamping at Lakedale Resort, Friday Harbor
Following the glamping trend, Lakedale Resort has a whole lakeside village of beautiful canvas cabins and cottages on San Juan Island. Situated along the treelines by the private Dream, Neva, and Fish Hook Lakes, Lakedale offers several different types of glamping lodges, including cabins and a bunkhouse for larger parties. Different types of lodging have different amenities, which allows each visitor to choose their own glamping experience. And that's not even the best part -- during the colder season, the Toasty Toes turndown service brings you warm, fleece-wrapped water bottles to keep your toes cozy!
Lakedale Resort
4313 Roche Harbor Road
Friday Harbor, WA 98250
(360) 378-2350
5. Red Caboose Getaway B&B, Sequim
A post shared by Hannah Christine 🎒 (@theblondebackpacker) on
All aboard! Not to leave the caboose for last, but the Red Caboose Getaway B&B in Sequim truly offers a one-of-a-kind stay that rivals other, shall we say, stationary spots. But while these train cars don't technically go anywhere, you'll feel transported to another era when you step inside the antique cars, especially "The Silver Eagle," where you'll have a breakfast to remember. You'll feel like a first class guest with the luxurious and romantic decor, amenities, and layouts. Book your tickets, er, reservations, today!