SEATTLE — The latest winter forecast for the United States favors cooler and wetter conditions in Washington state, thanks to an ongoing La Niña, according to the National Oceanic and Atmospheric Administration (NOAA).
Below-normal temperatures are favored in southern Alaska and from the Pacific Northwest into the Northern Plains.
Additionally, wetter-than-average conditions are more likely to occur across the northern U.S.
"With La Nina well established and expected to persist through the upcoming 2020 winter season, we anticipate the typical, cooler, wetter North, and warmer, drier South, as the most likely outcome of winter weather that the U.S. will experience this year," said Mike Halpert, deputy director of NOAA's Climate Prediction Center.
The latest forecast aligns with previous advisories warning of cooler temperatures in the Northwest.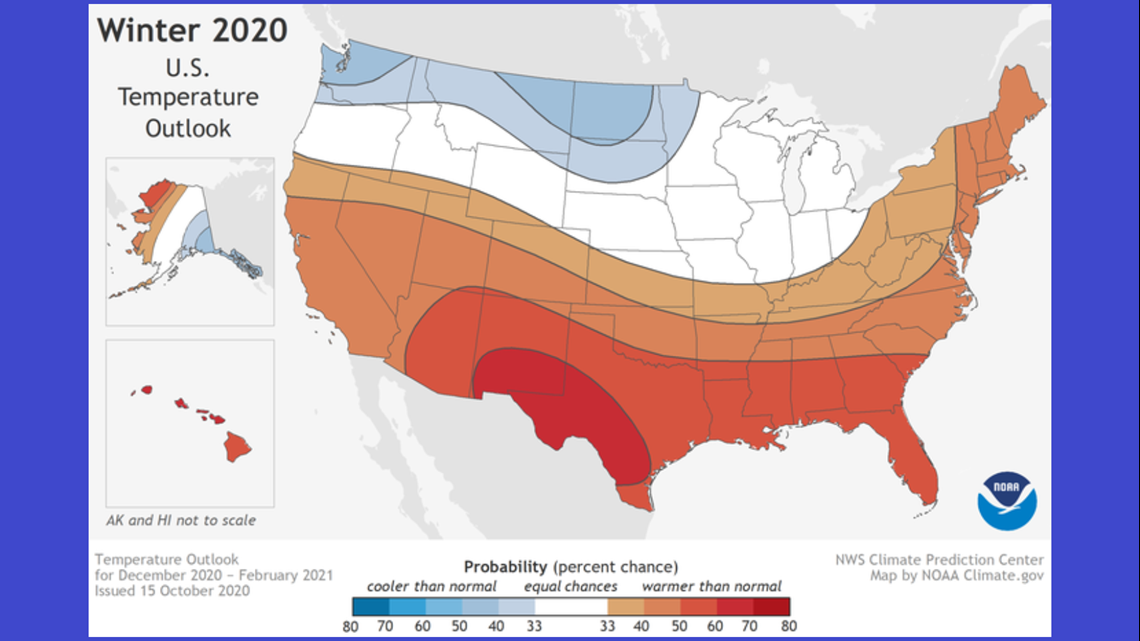 In September, the Climate Prediction Center issued a La Niña Advisory, indicating sea surface temperatures along the equator off South America are colder than normal. Temperatures were cooler than average across all four regions in the Pacific where Niño data is tracked. The water was coldest in the east-central Pacific where temperatures were up to 1.5 degrees Celsius cooler than normal. This is the signal that a La Niña is forming.
On Oct. 8, the Climate Prediction Center issued a statement saying "moderate or even strong" La Niña is likely to occur between November and January in the Northern Hemisphere.
Researchers in the 20th century discovered sea surface temperatures in the Pacific Ocean can affect the average storm tracks into our region during the fall and winter. El Niños occur when these temperatures are above average, and they are called La Niña when they are below average.
La Niña is associated with above-normal rainfall for western Washington and in some years below normal temperatures. The winter correlation with cooler than normal temperatures isn't as strong as it is to above normal rainfall. But usually, it is good news for skiers and snowboarders.