SEATTLE — It's the million-dollar question – when will the smoke be gone in western Washington?
We had some showers Tuesday night, but it wasn't enough rain. While the air quality improved a bit, it is still considered unhealthy or very unhealthy across the region Wednesday morning.
Initially, some forecasts had the smoke as starting to gradually dissipate starting Monday - that didn't happen.
"What was it that we didn't know going into this smoke event? One thing, the modeling isn't set up to handle well is the smoke. In the past, we had two separate modeling systems. One was dealing with weather and the other was dealing with air pollution. Most of the time, the air pollution isn't bad enough to affect the weather," said Phil Swartzendruber, an air quality scientist with the Puget Sound Clean Air Agency.
There is a lot of smoke over California and Oregon, and the flow around the upper level low meandering off the coast is counterclockwise, which is sending us southerly winds and smoke from the south. So even though the rain helps, it's not enough, because so much smoke is coming our way.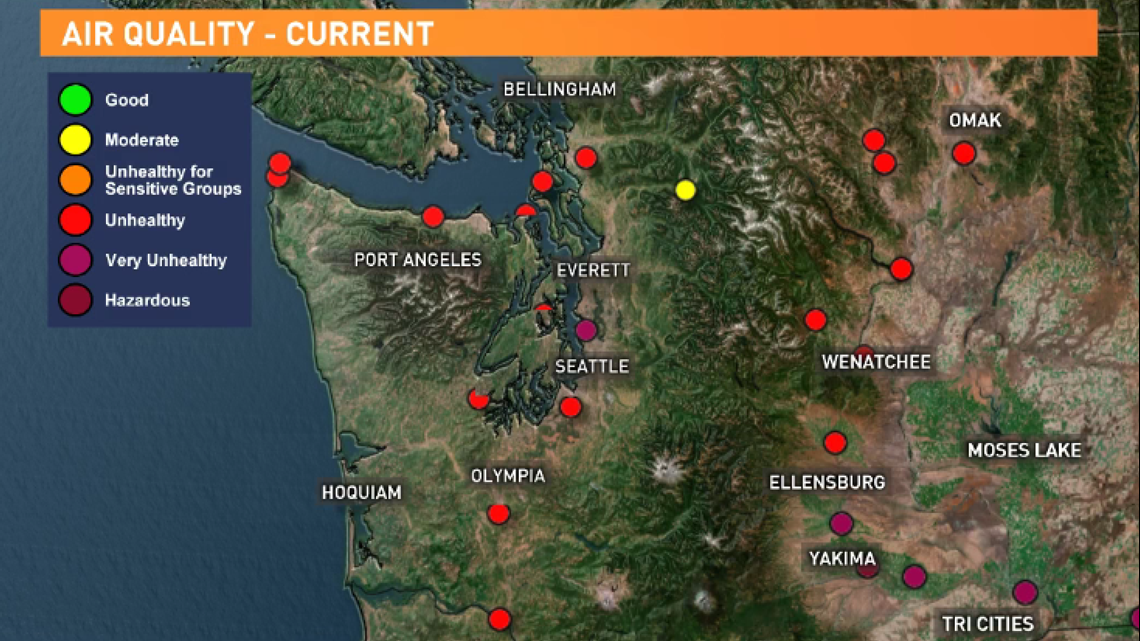 What will help? A lot of rain – like an atmospheric river – and the ever-important air flow coming from the north and northwest, which will send the smoke southeast.
The weather system off the coast is meandering around, so timing and the amount of rain will be tricky to forecast this week.
At this point, that system is forecast to "open up" and drift east bringing us showers and the chance of thunderstorms Thursday. We'll keep the chance of a few scattered showers in the forecast Friday and Saturday morning.
When will the air flow change? It looks like that may happen Friday. After the system passes and moves toward Idaho is when the air flow will become more northwesterly.
That could change. These cut off lows are tough to time.
An Air Quality Alert is in place until noon on Thursday.
And a friendly reminder, even if you see some blue sky way up high in the sky, check the air quality at the ground; it's probably still unhealthy. You can't always see the tiny particles that pollute the air and can get into your system.
Until wildfires are out across California and Oregon, the air quality may be a concern for us. If the wildfires keep growing – and there isn't much rain in the forecast for them next week – we could be talking about poor air quality longer than this week. We need consistent winds from the north and northwest, plus a lot of rain to really clear the sky across western Washington.