SEATTLE — Seattle broke 90 degrees for the first time in 2020 on Monday, with a high temperature of 94 degrees at Sea-Tac International Airport.
It ended a streak of 371 days without a 90-plus degree day in Seattle. The National Weather Service reported that local temperatures could possibly hit 95 degrees Monday.
The hot weather record for July 27 is 95 degrees set in 1998. Highs at Sea-Tac Airport hit 88 degrees on Sunday.
The National Weather Service issued a heat advisory for parts of the Puget Sound region from 9 a.m. until 8 p.m. Monday. The heat advisory will be in effect in the areas near Tacoma, the lower Chehalis Valley, Seattle, and the Southwest Interior, the NWS said.
A red flag warning was also in effect for the western slopes of the central Cascades Monday from 11 a.m. until 8 p.m. due to the hot, dry conditions.
A phase one burn ban was issued Monday for unincorporated areas of King County due to potential wildfire conditions. All outdoor burning is prohibited, except for recreational fires in established fire pits at approved campgrounds, or on private property with permission. The burn ban will remain in effect until it is lifted by the fire marshal.
Onshore winds will gradually increase Tuesday and Wednesday cooling temperatures back to the low to mid-80s.
The heat arrives after a chilly start to the summer. As of Friday, Seattle has had 14 days of below normal temperatures and seven days of above-normal temps in July. The average high temperature the first week of the month was 69.4 degrees, which is the coldest start to July since 2002.
At this time of year, the high temperature in Seattle is typically 77 degrees.
The last time we hit 90 or higher was July 21, 2019. And last year was a "cool" summer only hitting the 90s twice. The last time we had a year with no days in the 90s was 2011. It happens about 17% of the time.
This is a real departure from recent years when we had the most 90-degree days in a year. In 2015, we had 12 days in the 90s, and in 2018, we recorded 11 days.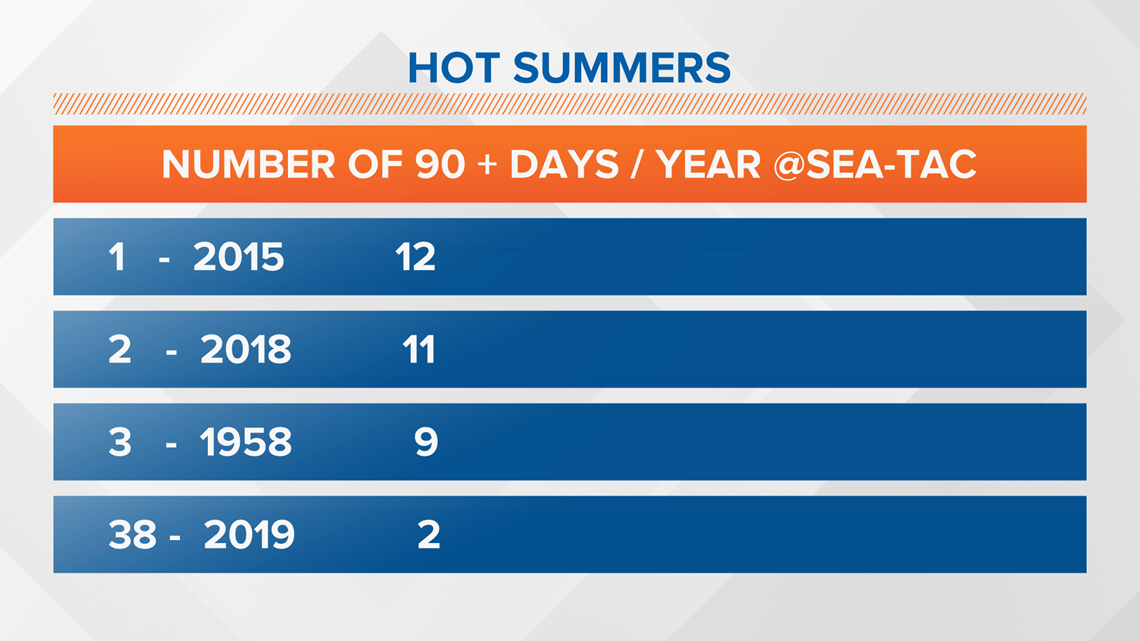 If you miss the heat, don't worry – there is still plenty of time. We have recorded 90s at Sea-Tac Airport as late as September 16 in 1967, and we hit 89 degrees on October 1, 1987.
If you plan to hit the beach to cool off during the hot weather, officials warn the water is still cold, and people should wear life jackets if they recreate on the river. Puget Sound is about 52-56 degrees, and alpine lakes and rivers are even colder, according to the National Weather Service.
As of Thursday, there have been nine drownings in King County rivers this year, a pace that is double the last two years combined, according to the King County Department of Natural Resources and Parks.
COVID-19 means fewer places to beat the heat
Unlike most hot summer days, there were no cooling centers, spray-grounds or movie theaters for Thurston County residents to escape to Monday.
As the temperature at the Olympia Airport pushed 100 degrees, crowds flocked to Lacey's Long Lake Park. The public park has a boat launch and swimming area that remains open.
While the priority was clearly to cool off, Meegan Cronk, a mother of three from Olympia, made sure to keep her family safely distanced from other picnickers and swimmers' beach towels.
"We don't want to stay home on a day like today," said Cronk. "But it's challenging to find a place that's both distant, near water and comfortable."
Cronk told her children they had to wear masks unless they were swimming.
"It's not very fun, but it's smart I guess," said her 12-year-old son Brody Cronk.
Ashley Miller, a mother from Yelm, said she's made sure her family wears masks when they go to the grocery store, but she felt safe not making them wear a mask at the park.
"When we're outdoors, and we're away from others like this, and we're swimming, and it's 90 degrees? We're not going to wear a mask," said Miller.