SEATTLE — The recent atmospheric river events that soaked western Washington helped break the record for total rainfall in Seattle during meteorological fall.
According to the National Weather Service (NWS), Seattle received 19 inches of rain between September and November. Just over 10 inches, which is nearly 54% of the record, fell at Sea-Tac Airport in November alone.
The 10.26 inches of rain that fell at Sea-Tac Airport was Seattle's fifth wettest November on record and the 11th month with over 10 inches of recorded rain. It rained 25 days, tying 1973, 1963 and 1953 for most rainy days in November, according to the NWS.
And it wasn't just Seattle that broke a wet weather record last month.
A total of 14.57 inches of rain fell in Bellingham in November, shattering the previous record of 11.6 inches set in 1990.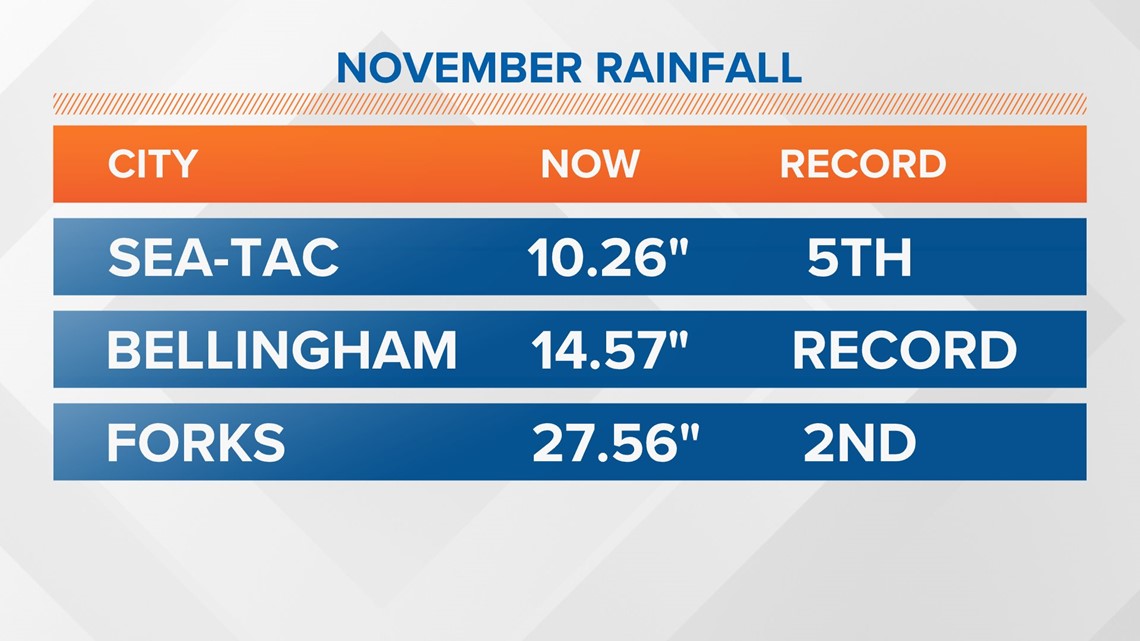 A daily record of 2.85 inches of rain was recorded in Forks on Nov. 30, which was nearly 24 times the amount of rain that fell in Seattle on the same day, the NWS said. Forks recorded a total of 35.44 inches of rain last month, coming close to breaking the November record of 36.10 inches set in 2006.
The NWS tweeted Forks received more rain in the past 90 days than Las Vegas "typically gets in 13 years."