SEATTLE — The warmest weather in over six months is on the way to Seattle and western Washington this week. Confidence is increasing that we will see temperatures in the 60s and 70s for highs for several consecutive days beginning Tuesday.
This is a welcomed sign for outdoor enthusiasts and gardeners as the month of April has been unusually wet and cool. In fact, until Saturday, Seattle had not hit 60 degrees this month.
There has never been an April on record where Seattle did not achieve 60 or warmer. That did change on Saturday though, continuing the streak of Aprils with at least one 60-degree plus, because Sea-Tac hit 63 Saturday.
This was the warmest day of 2023, the warmest was back on March 18 when Seattle hit 65.
A look at Saturday, April 22 Almanac for Seattle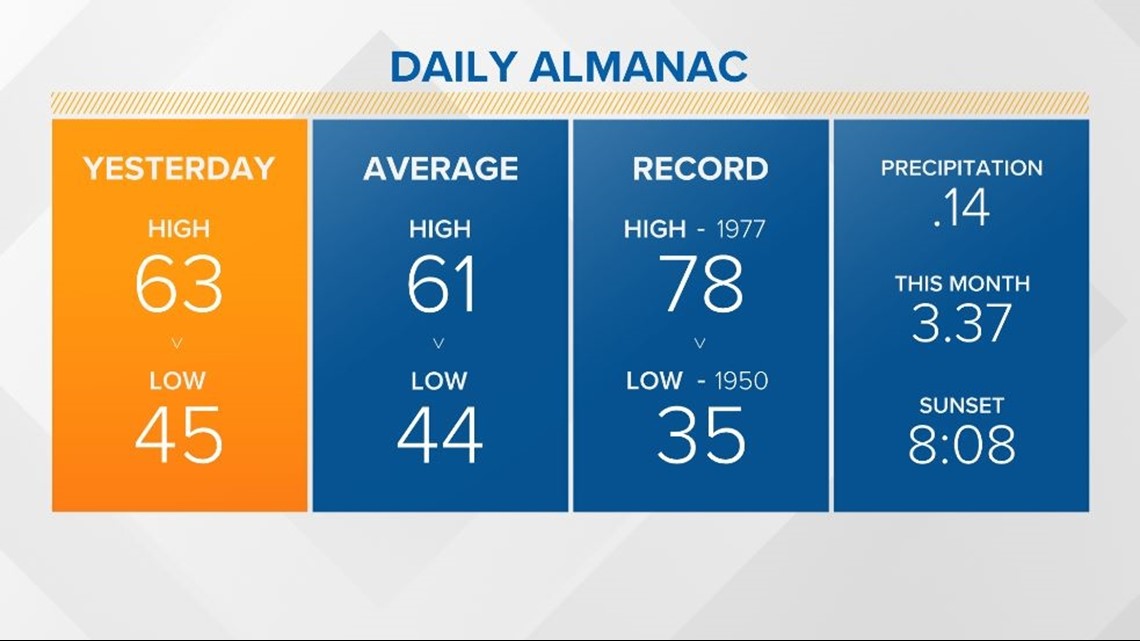 This will change soon, though, as this week will experience the warmest temperatures of the year. By Friday and Saturday, there is a strong likelihood that Seattle, and areas south of Seattle and in the Cascade foothills, will see temperatures climb into the 70s for highs.
The current forecast calls for Seattle to hit 77 on Friday. If this happens, it will be a new daily record high temperature. The current record for April 28 is 76 set back in 1968. Temperatures are expected to stay in the mid to upper 70s on Saturday too.
A couple of lower 80s cannot be completely ruled out for interior parts of King, Pierce, Thurston, and Lewis counties either Friday or Saturday.
High-temperature forecast this week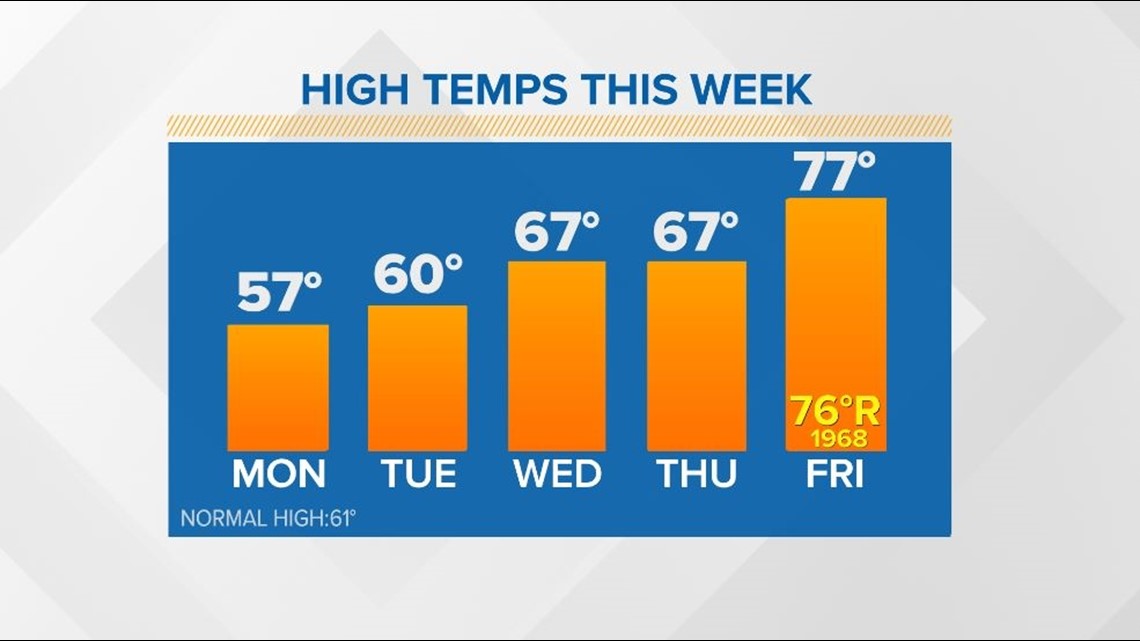 Looking beyond this workweek, the milder weather is expected to stick around into the upcoming weekend and possibly into the following week. Highs on Saturday should be back into the mid to upper 70s around Puget Sound, slightly cooling for coastal Washington with an onshore flow set up.
That onshore flow does make its push into Seattle and Puget Sound Sunday knocking highs back down into the upper 60s and lower 70s but this is still above average.
The average high in Seattle is 61 degrees.
6-10 day high-temperature forecast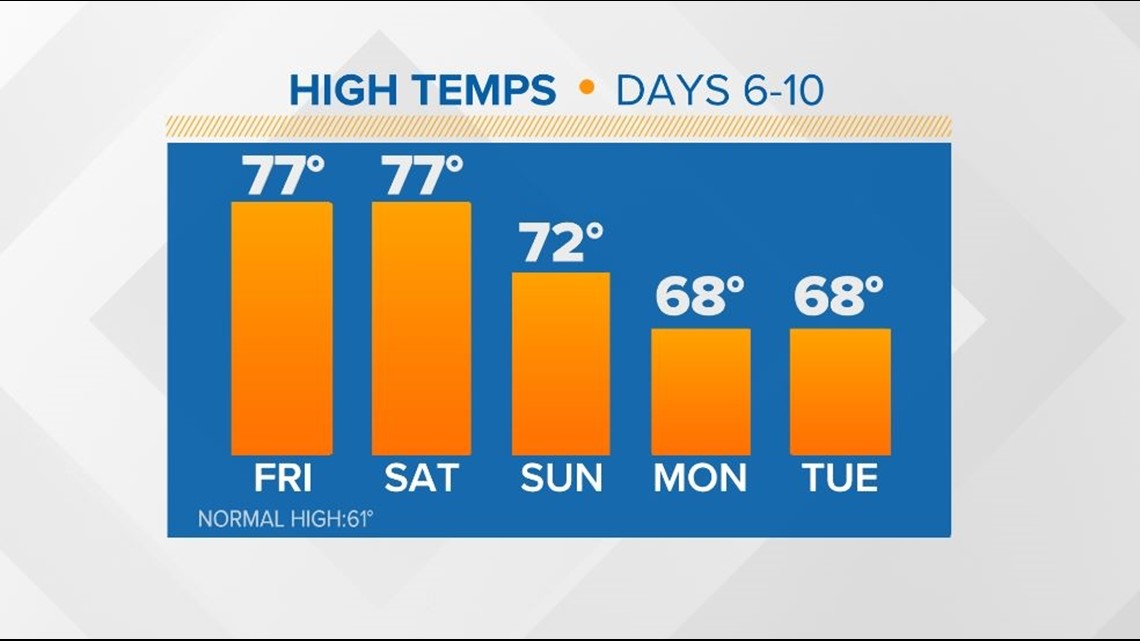 The spike of warmth we're expecting in western Washington builds across the entire West Coast as a big area of high pressure sets up over the eastern Pacific and West Coast of North America early to mid this week. The high pressure looks locked in place sticking around through the upcoming weekend.
Not only does this create a jump in temperatures, but it will also keep the region dry and sunny.
Upper air weather pattern this week with high-pressure building in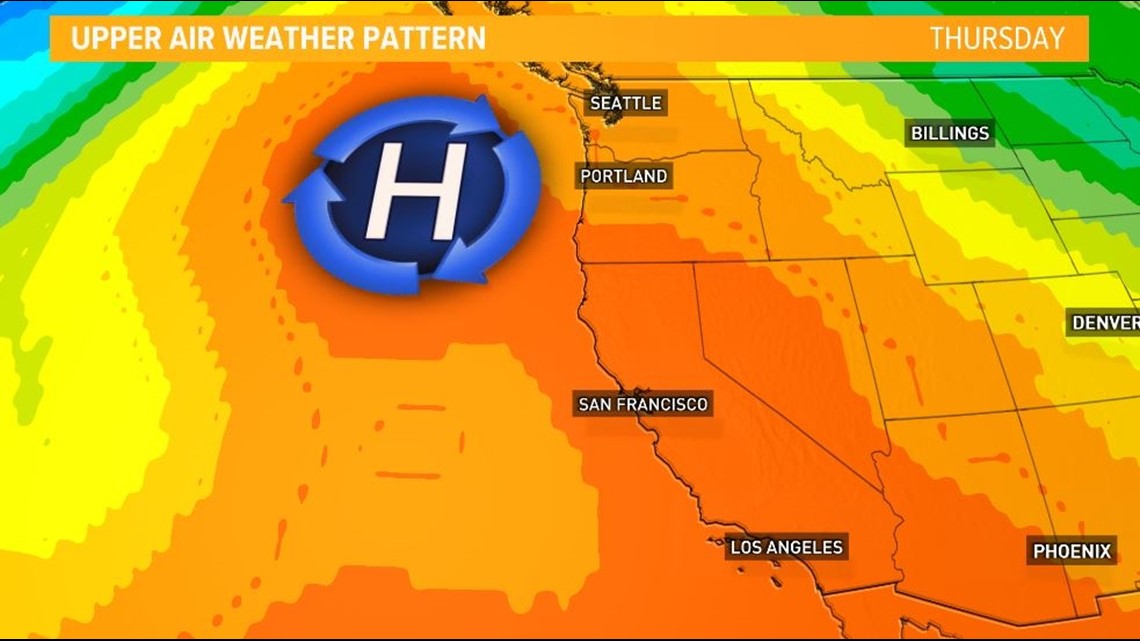 The warmth this week is not expected to be warm enough to cause concern for heat-related impacts. It is important to remember, despite the warmer air temperatures, area bodies of water are still extremely cold which can pose a risk to people and animals.