A Winter Storm Warning for the Washington Cascades expired Friday morning.
Snow accumulation caused multiple spinouts on eastbound I-90 Friday morning near Cle Elum. The roadway had to be shut down for several hours to allow crews to clear the accidents. The roadway has since reopened.
Road conditions have since improved around western Washington. Though snow showers will still be possible into Friday afternoon, no significant accumulation is expected.
Snowfall in the passes
Between Wednesday and Friday morning, Mount Baker received 25 inches of snow. White Pass got 20 inches, Stevens and Crystal Mountain each got 15 inches, and Snoqualmie got 10 inches.
Heavy showers Thursday evening brought the snow levels down and quickly added to the total accumulation. Snow accumulation is expected to taper off Friday evening.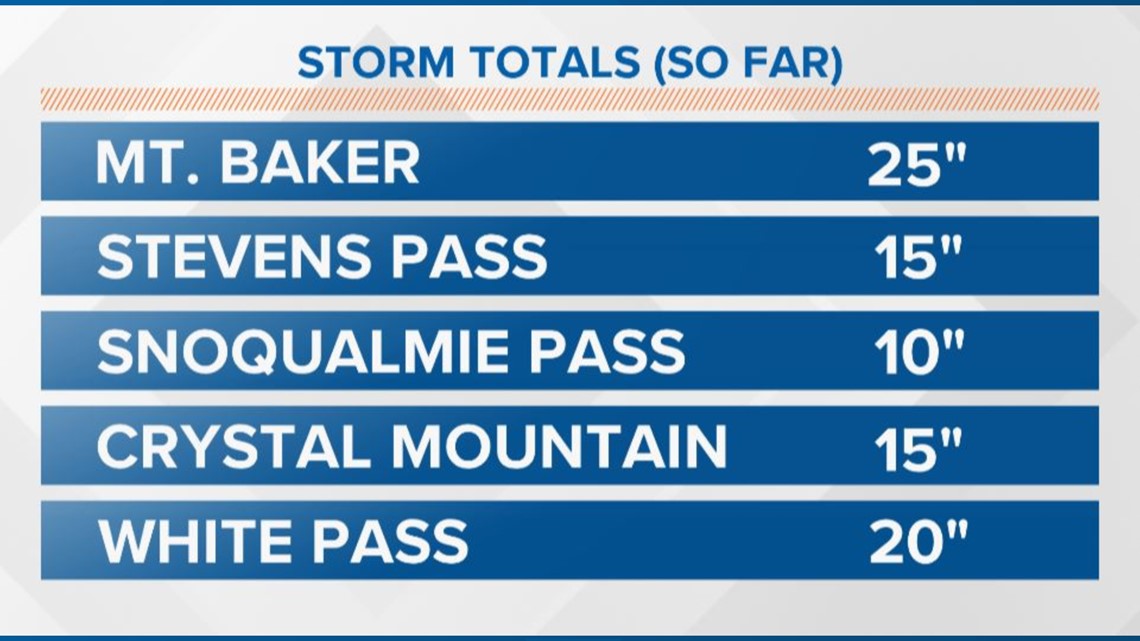 Traffic alerts
An accident shut down the westbound lanes of I-90 at Snoqualmie Pass near Easton Thursday, but the interstate has since been re-opened.
The I-90 corridor through Snoqualmie Pass received a rapid accumulation of 2 inches of wet snow before 7 p.m. After 7 p.m., there was a temporary shift back to just rain at Snoqualmie before the rain once again switched to snow an hour later.
Traction tires were advised for drivers and oversized vehicles are prohibited in the eastbound lanes.
For ski resorts, the snowfall is a welcome sight.
Ski resorts like Crystal Mountain have opened up but are offering limited lifts and runs. As more snow piles up, more and more ski resorts will open more terrain for avid winter sports enthusiasts.
If you're traveling through the passes this week, make sure you have the essentials in your car: A full tank of gas, snowbrush, water/snacks, a first-aid kit and tire chains.
You can monitor conditions and warnings at passes here.
Get pass reports, personalized routes, and traffic alerts right at your fingertips by downloading the KING 5 app!