SEATTLE — Looks like we're in for a treat this week as the weather breaks and gives us some clear skies.
A couple of fun astronomical events could keep you staying up a little longer than planned. The National Oceanic and Atmospheric Administration (NOAA) Space Weather Prediction Center has issued a magnetic storm watch for a 24-hour period.
The bottom line is – you have a chance to see the beautiful Northern Lights late Wednesday night and early Thursday morning.
The Aurora Watch starts at 4 p.m. Wednesday and lasts for a 24-hour period. The darkest part of the evening will give you the best chance to see the Auroras between 10 p.m. and 3 a.m.
National Weather Service Seattle meteorologist Johnny Burg said a few things can increase your chances of seeing the Aurora, though it's tough to call it a sure thing.
Burg said finding an elevated spot with a clear view of the horizon helps because the Aurora will appear low in the sky. You also want to avoid light sources or light pollution in the sky.
He recalled seeing vivid Auroras frequently while working in Alaska, but noted more factors need to align to see them in Washington.
"We've had it happen before where the forecast said this, and a lot of people saw it, and times when the forecast said it'd be good, and nothing happened," he said. "It's kind of like the weather forecast, it can be fickle."
Late Wednesday, the outlook turned less promising, per an NWS tweet.
The Aurora Borealis occurs in the northern hemisphere when a Coronal Mass Ejection (CME) or high-speed solar wind stream emanating from the sun is pointed towards the earth and illuminates from the poles upon arrival.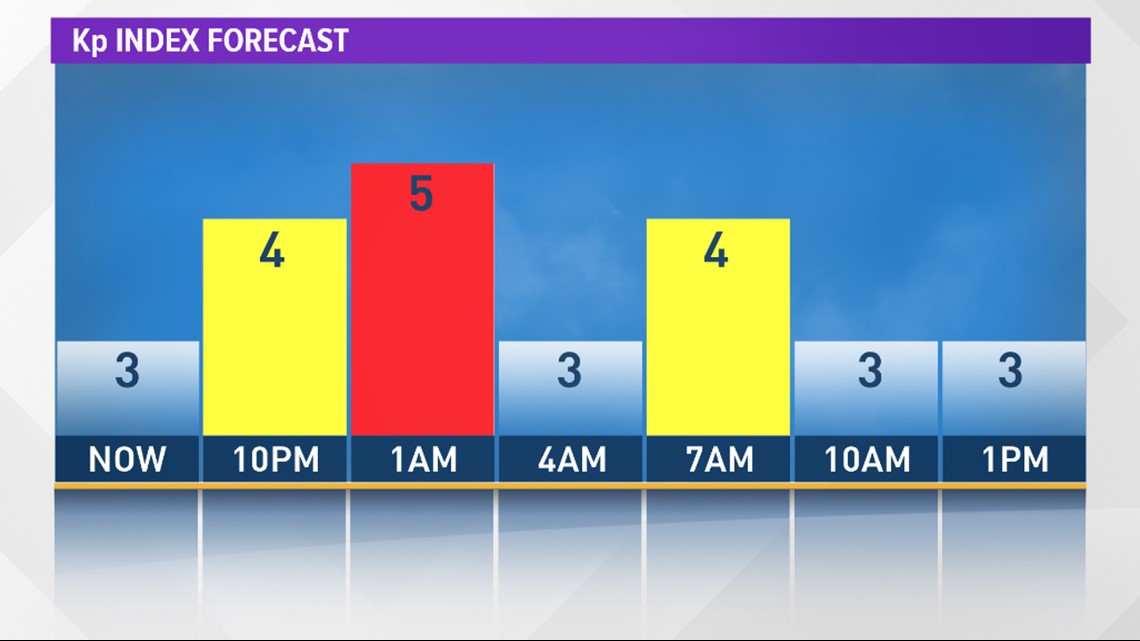 Basically, there are space particles that will enter our ozone layer, creating the fascinating light show. Most of the time these Northern Lights can be seen near the poles, but occasionally, we get a viewing opportunity right here in Washington.
Plan on staying out late Thursday as well. Another astronomical phenomenon called the Unicorn Meteor Storm will take place on Thursday evening. The forecast for both nights call for clear skies and temperatures in the 30s to lower 40s.
Be sure to share your photos with us by posting on our Facebook page or tagging #k5fall on Instagram and Twitter.