SEATTLE — Hazy skies will continue across Puget Sound over the next few days, but it won't be anything like the intense smoky air Washington has experienced in past summers.
Another plume of wildfire smoke is expected to continue drifting into western Washington from the south on Monday and Tuesday, according to KING 5 Meteorologist Rich Marriott. Smoke may also drift south into the northwest interior from wildfires burning in Canada.
"It won't be quite as blue skies as what we're used to," Marriott said.
The smoke is expected to improve Tuesday but will linger until onshore winds push it away Thursday.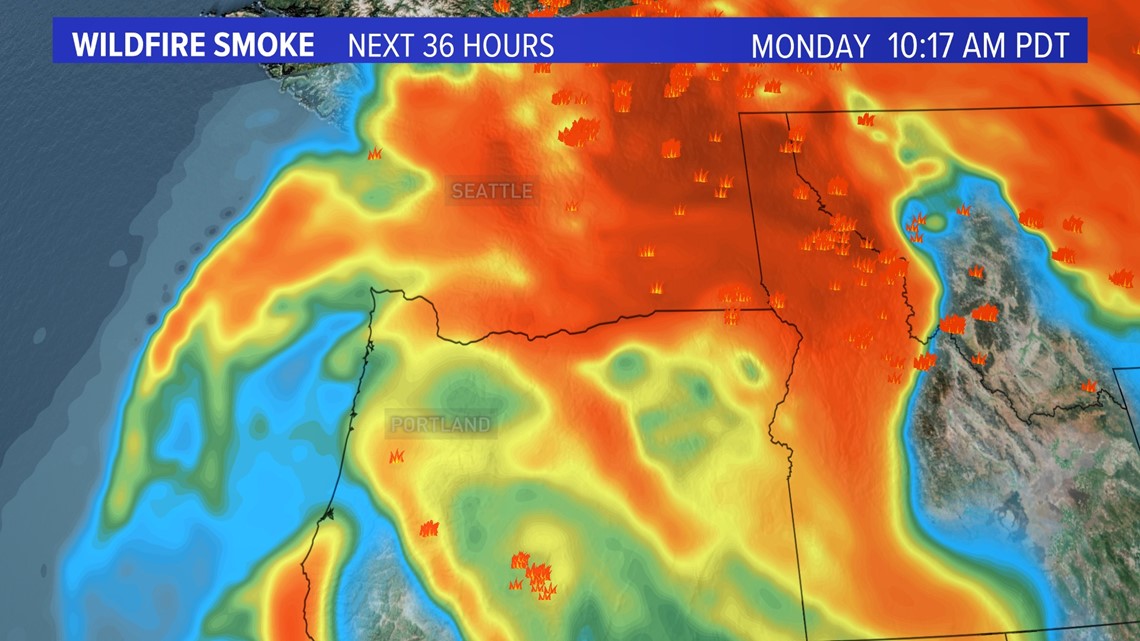 However, the smoke isn't expected to affect air quality in most parts of western Washington. Models show the smoke will be mostly aloft, meaning air quality will be good on the ground. The one exception is the northwest interior, which could see air quality deteriorate to moderate on Monday and Tuesday due to Canadian wildfire smoke.
As of Monday morning, air quality in Seattle was good and was forecasted to remain good through mid-week, according to AirNow, which is a partnership of local and federal government agencies.
Air quality will be a bigger issue in areas east of the Cascades, which has been dealing with ongoing wildfire smoke. Air quality was hazardous Monday in Twisp in Central Washington and unhealthy in Spokane, according to AirNow.
This round of wildfire smoke that is moving into Washington from the south likely comes from wildfires in Oregon or California, according to Marriott. The Bootleg Fire, which has burned more than 400,000 acres in southern Oregon, is the largest in the nation.
More than a dozen wildfires continue to burn in central and eastern Washington, including the Cedar Creek and Cub Creek 2 fires in Okanogan County, which have burned more than 107,000 acres combined, according to the Washington State Department of Natural Resources. Other major fires include the Dry Gulch Fire in Asotin County (80,392 acres) and the Chuweah Creek Fire in Okanogan County (36,752 acres).
High temperatures in western Washington are expected to be in the low to mid-80s through mid-week before cooling off to the 70s on Thursday.
Thursday's weather system will also bring the chance of showers to the region, which could break our dry streak. As of Sunday night, western Washington has gone 48 consecutive days without rain. The record at Sea-Tac Airport is 55 days, which was set in 2017.