Steady rain continues to saturate Puget Sound, increasing the risk of landslides, urban and river flooding, and avalanches.
High winds are also a concern throughout Wednesday, especially to the north. Several trees fell and damaged Fairhaven residence hall at Western Washington University in Bellingham on Tuesday night, according to school officials. One minor injury was reported.
River flooding is a growing concern as an atmospheric river brings heavy rain to the region. Of particular concern are the Green, Tolt and White rivers, according to Doug Williams with the King County Department of Natural Resources and Parks, the agency that monitors and manages flood risk. The Snoqualmie and Nisqually rivers are also being closely watched.
Tolt and Snoqualmie rivers reached Flood Phase 2 by 2 p.m. on Tuesday. King County warned of at least minor flooding in low-lying areas.
Several highways on the Olympic Peninsula were flooded or partially closed due to mudslides Tuesday. Water covered SR 109 at milepost 18 near Ocean City. Crews are also working to clear slides on US 101 near Artic and SR 106 in Union.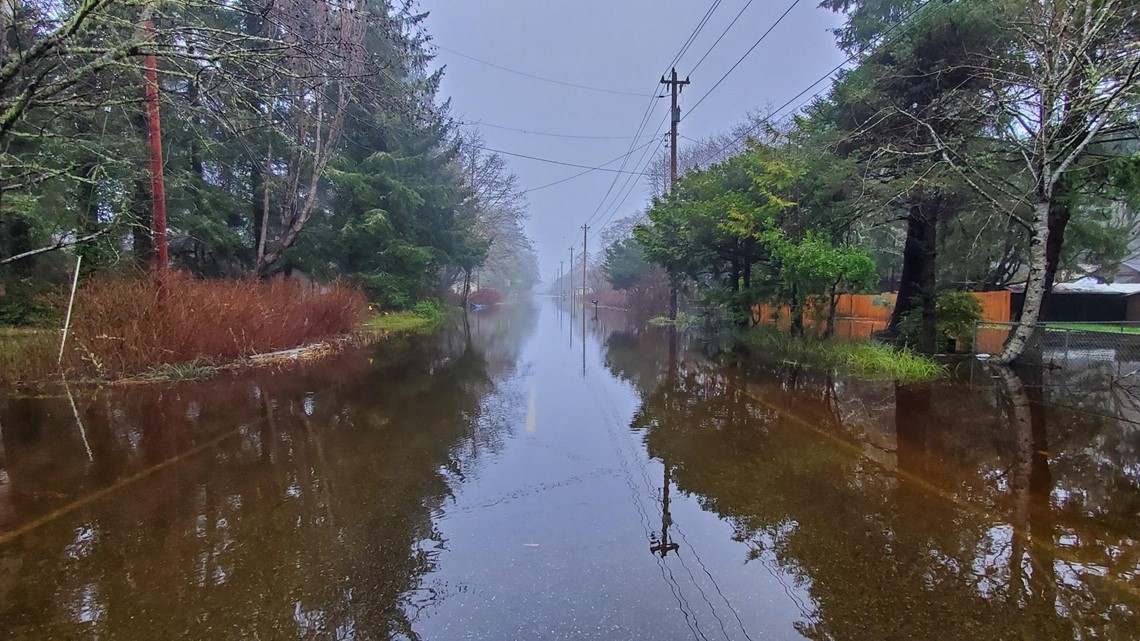 An atmospheric river is a band of heavy rainfall that usually taps into subtropical moisture, previously known as the Pineapple Express, for heavy rain and unseasonably mild temperatures. Atmospheric rivers are the largest freshwater rivers on earth. The average atmospheric river carries twice as much water as the Amazon River flow.
This atmospheric river stretches roughly 2,700 miles, according to the National Weather Service.
The heavy rainfall and mild temperatures will cause local urban flooding and will cause many rivers to begin rising, with some reaching flood stage by mid-week.
The National Weather Service (NWS) issued a Flood Watch for most of western Washington through Wednesday evening. A Flood Watch means there is a potential for flooding based on current forecasts.
A Flood Warning is in effect for the Skokomish River at Potlatch in Mason County until late Wednesday evening. The NWS said the flood stage for the river is 16.5 feet, and the river was at 17.4 feet at 3 a.m. Tuesday. The weather service said the river is expected to rise to 17.8 feet late Tuesday morning, then fall to 17 feet before rising to around 17.3 feet Wednesday morning.
The heavy rain will also once again raise the potential for landslides around Puget Sound.
Snow levels rose from 4,500 feet to around 7,000 feet in the Northern Cascades, which could see between one to two feet of snow through early Wednesday.
As high pressure begins to move in, the showers should decrease during the day on Wednesday and it will be breezy in most spots.
Thursday will be a dry day with some sun after morning clouds and fog. A much weaker front will move through on Friday for a little rain. However, over the weekend, high pressure will settle in for a few days for sunshine after the morning fog and low clouds. Highs will be closer to normal dropping back to the mid to upper 40s.