SEATTLE — California experienced significant flooding and damage from a weather pattern favoring potent atmospheric rivers aimed at the state over the past several days. Residual moisture from one of the atmospheric rivers will shift north toward Washington state Wednesday night.
The atmospheric river is weak and decaying so it won't bring widespread, significant, damaging impacts to western Washington, but it will favor enhanced moisture that could lead to some flooding and increase the landslide risk.
Tracking the atmospheric river
The subtropical moisture associated with the atmospheric river is currently aimed at central California but the moisture moved north just off the coast of Oregon and Washington state on Wednesday.
Moisture associated with this atmospheric river looks to mainly stay just off the Washington coast, which will prevent widespread, significant, damaging rainfall for western Washington.
The atmospheric river will gradually weaken by Friday.
Rainfall forecast
Despite the main impacts from the atmospheric river remaining off the Washington coast, areas of heavy rain are still expected, favoring the Olympic Peninsula through Friday.
The Olympic Peninsula will see a widespread 2-4 inches of rain will isolated amounts approaching or exceeding 6 inches in the Olympic Mountains through Friday. This will cause some minor river flooding across the Olympic Peninsula.
Central and south Puget Sound can expect to see 0.75-1.50 inches through Friday with lighter amounts for north sound into the northwest interior, which could see shadowing impacts, lessening the totals to around 0.50 inches. The Kitsap Peninsula will see around 2-3 inches. Urban flooding is possible, especially in poor draining areas for the Kitsap Peninsula and central and south Sound, including Bremerton, Seattle, Bellevue, Everett, Tacoma, and Olympia.
The Cascade Mountains and foothills will see 2-3 inches of rain with snow levels climbing from 3,000 feet today to 7,000 feet on Thursday. Flooding is possible along rivers and there will be an increased avalanche danger Thursday and Friday with heavy rain on the recent snow.
Rainfall forecast through Friday afternoon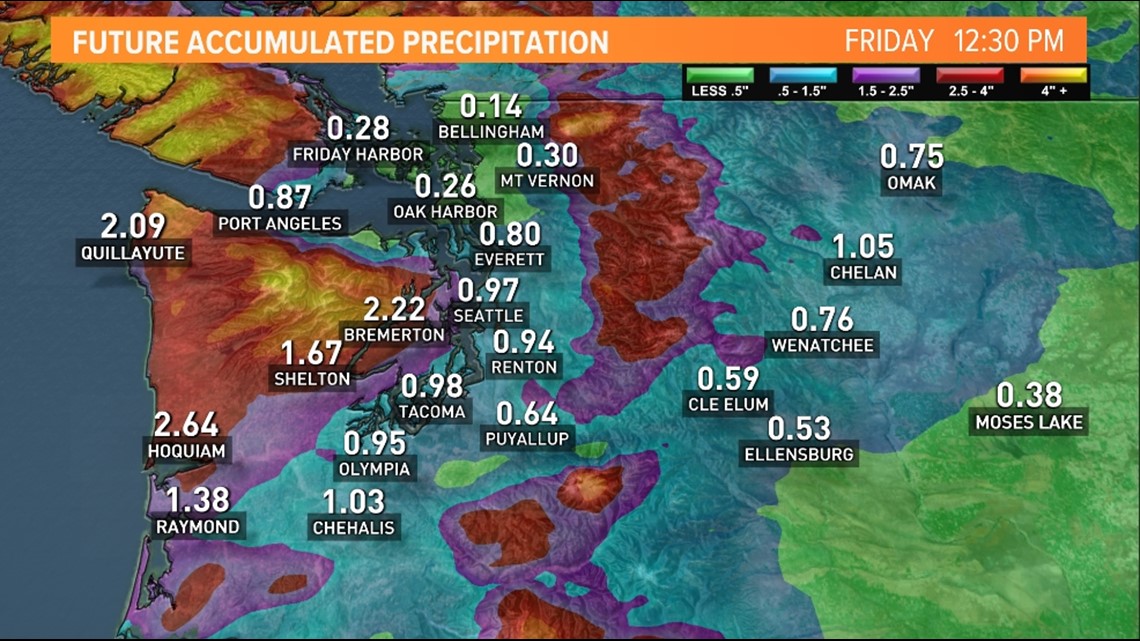 The moderate to heavy rainfall accumulations expected over the next 24 hours will increase the landslide risk across Western Washington. The Seattle National Weather Service has issued a Special Weather Statement due to the increased risk for landslides through Friday.
Rain timeline
Rain timeline: Future radar
The rain will gradually lessen in intensity overnight Thursday but light rain is expected to continue throughout most of Friday morning and afternoon before decreasing in coverage from southwest to northeast across western Washington.
Only spotty rain showers are expected for the upcoming weekend.