SEATTLE — Confidence is growing in another chance for lowland snow this weekend across western Washington, including the eastern Puget Sound lowlands.
A cold, arctic air mass has settled into the region and will remain in place through the end of the work week into the upcoming weekend. This cold air mass will set the stage for another round of lowland snow as moisture moves back into western Washington as early as Saturday afternoon and evening as a Pacific frontal system approaches the coast.
Snow timeline
The initial snow begins across the western half of the Olympic Peninsula Saturday afternoon for areas just inland from the coastal waters, spreading inland into the northwest interior and even the San Juan Islands by late Saturday afternoon.
Future radar Saturday afternoon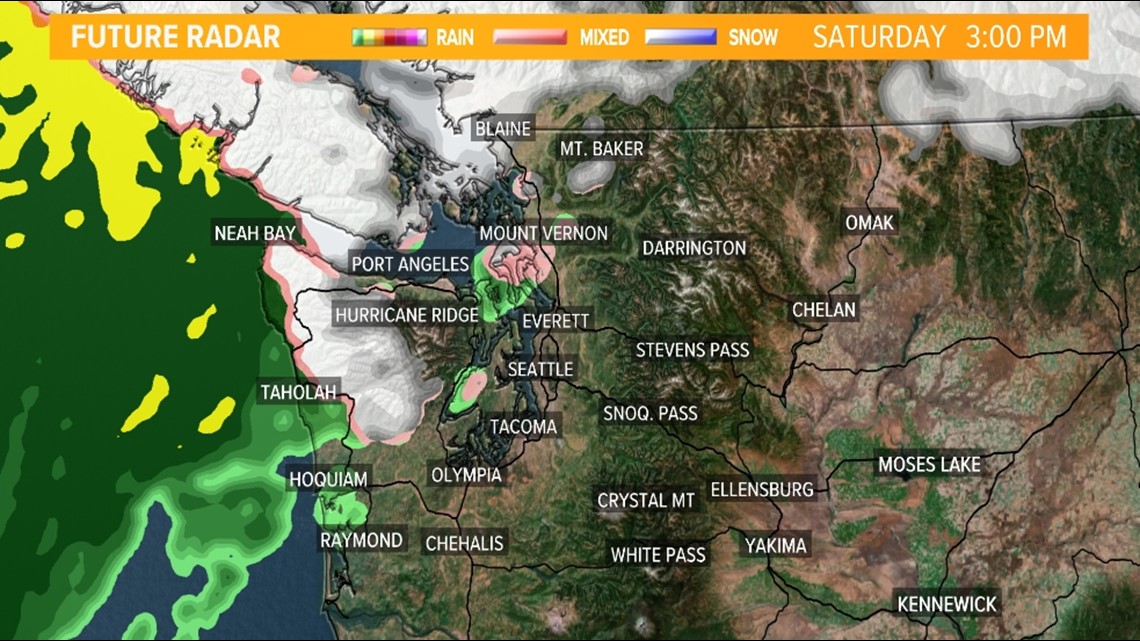 Future radar Saturday early evening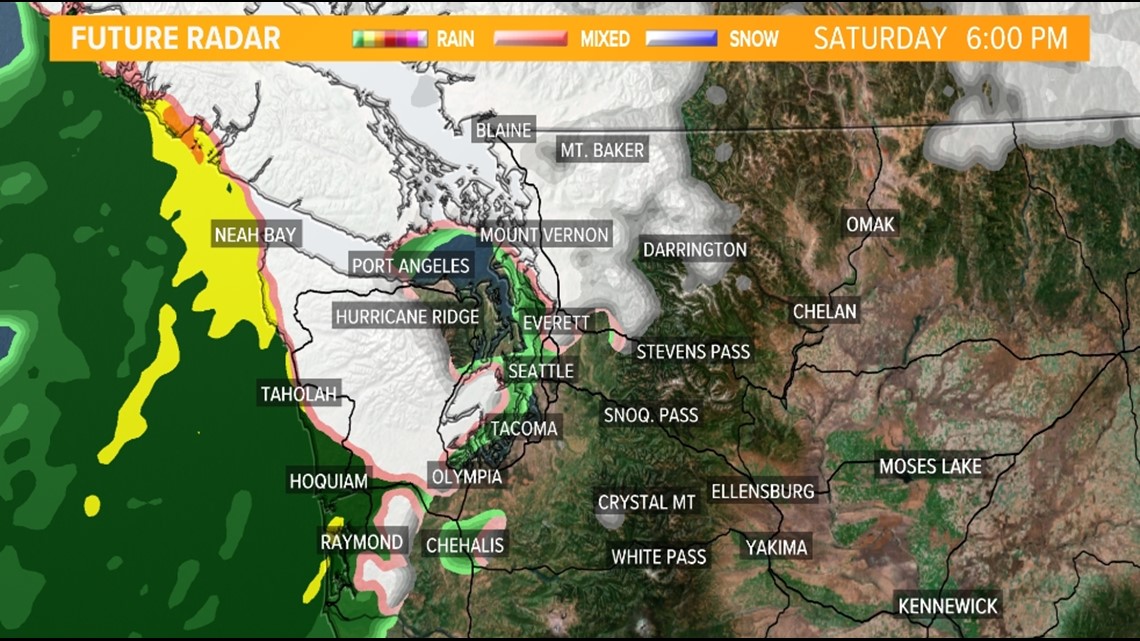 Snow continues to build inland across all of Puget Sound, including Seattle and Everett, as well as the Kitsap Peninsula and southwest interior Saturday evening and night with the snow continuing into early Sunday morning.
Future radar Saturday late evening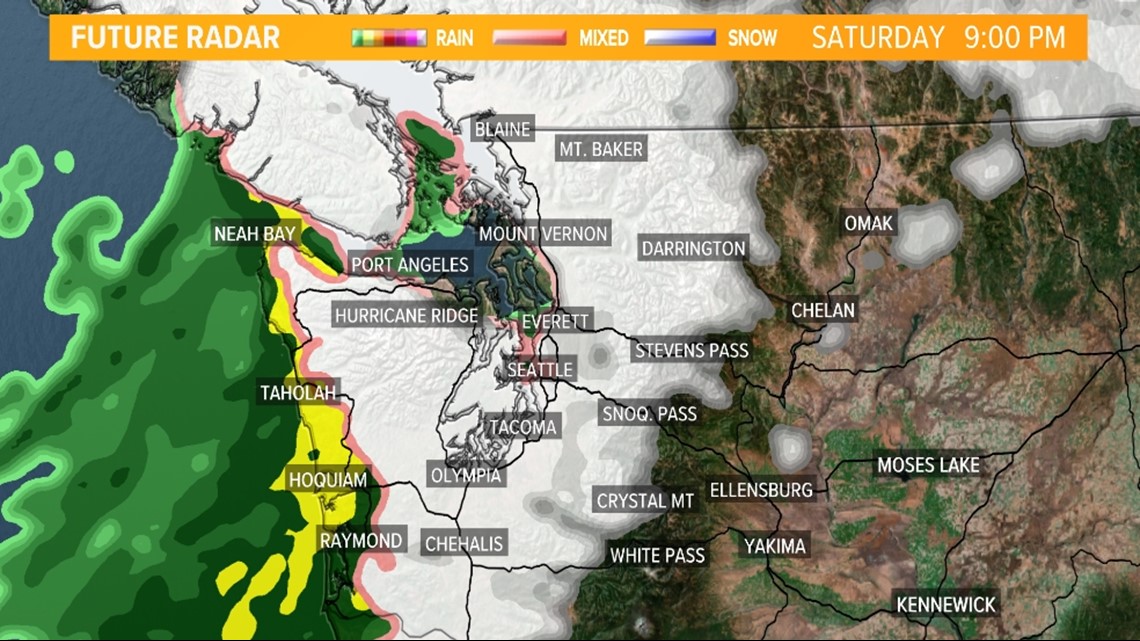 Future radar Sunday morning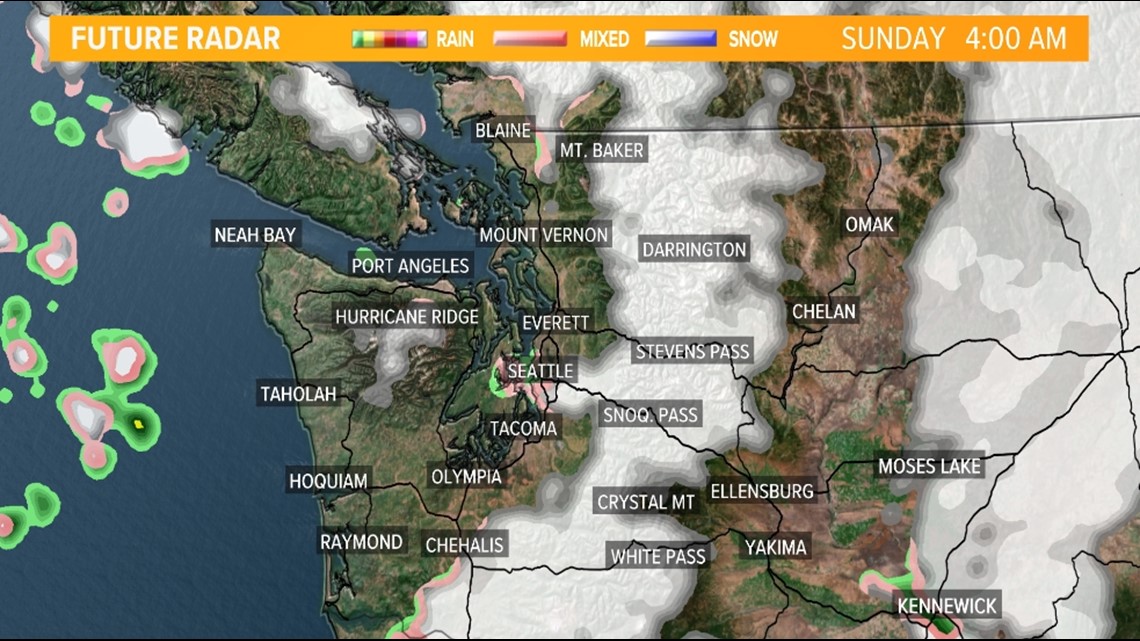 With the initial wave of precipitation, temperatures will be just cold enough to support snow. Temperatures will gradually warm on Sunday, making for a tricky precipitation-type forecast throughout the day on Sunday as some of the snow could switch to a rain/snow mixture late Sunday morning and Sunday afternoon with the additional daytime heating with whatever moisture remains in place.
Additional moisture moves back into western Washington Sunday evening and night, and it's possible the rain/snow mixture will switch back over to all snow Sunday night as temperatures cool with the loss of daytime heating.
This on-and-off again lowland snow or lowland rain/snow mixture is expected to continue at times next week with nighttime and morning snow and afternoon rain or rain/snow mixture.
Snow accumulation outlook
While it's too early to pinpoint precise accumulation numbers with high confidence, it does appear light to moderate lowland snow accumulations are possible with the initial wave of snow Saturday evening and early Sunday morning for some of the western Washington lowlands, including in Seattle and Everett.
This is where around 1 inch of snow is currently expected with isolated higher amounts of up to 2 to 3 inches. A Winter Weather Advisory may be necessary for this timeframe.
It's believed this next system will provide more widespread and more impactful accumulating snow than what the area saw Wednesday and Thursday.
Modeled snow accumulation forecast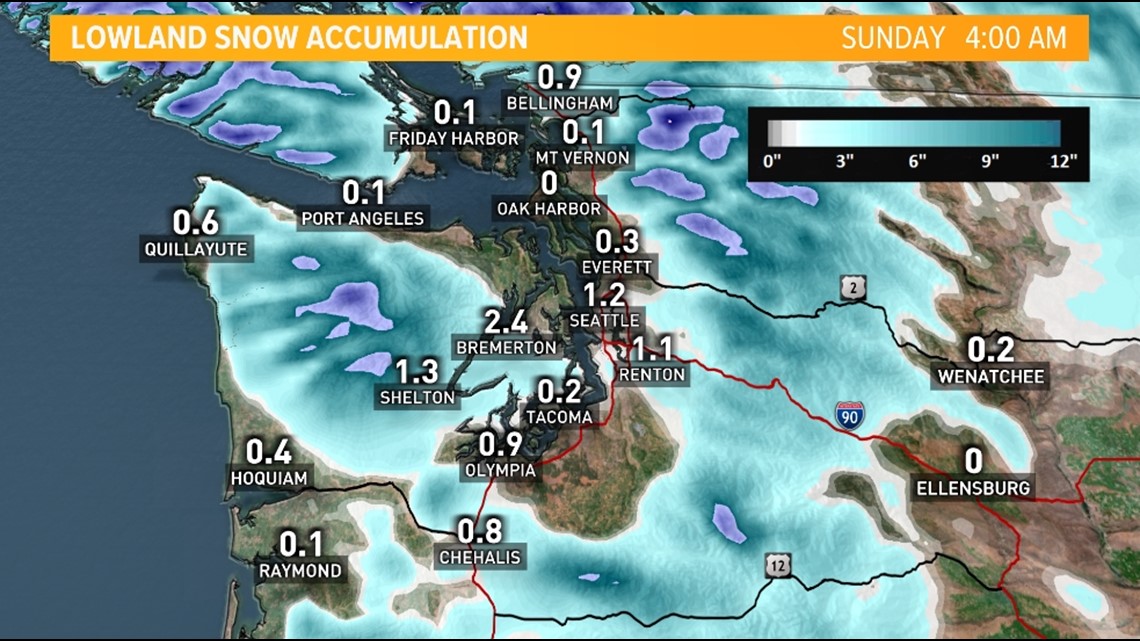 As this snow event grows closer, and there's a better understanding of the temperature profile and precipitation types, the KING 5 First Alert Weather Team will finetune the forecast and produce more hyperlocal snowfall forecasts for the late Saturday and Sunday snow event.
The Cascade passes and ski areas could see around a foot or more of snow this weekend.