SEATTLE — A frontal system that moved through western Washington Tuesday brought lowland rain showers and gusty winds and led to heavy mountain snow into Wednesday morning.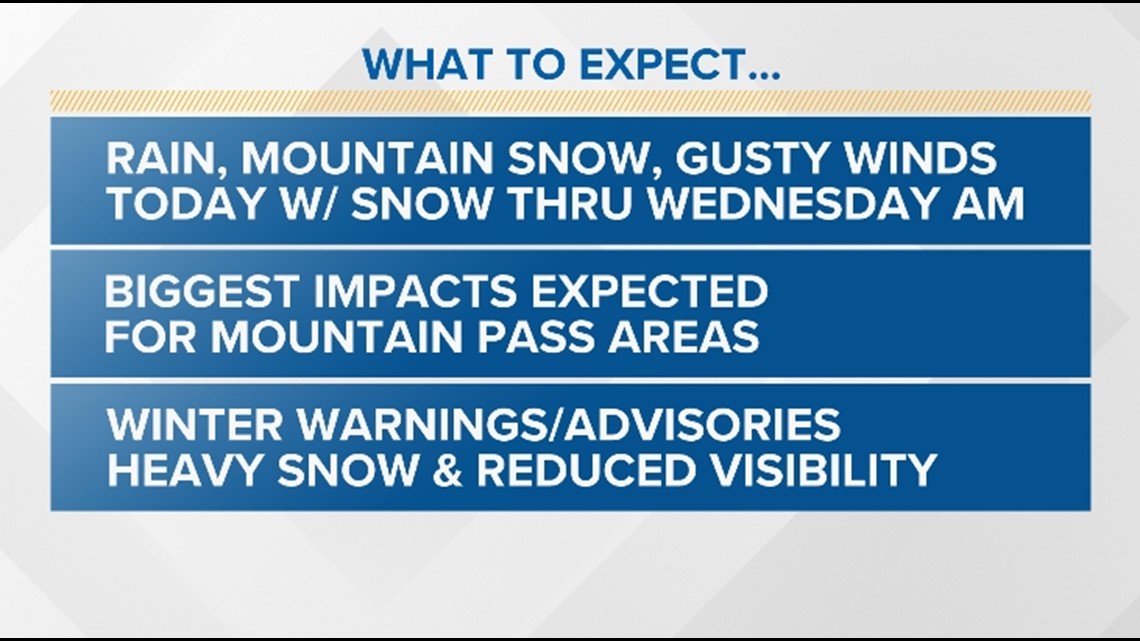 The biggest impact was on the mountain passes where over a foot of snow was expected to fall for Stevens Pass. Even heavier snow was expected for the northern Washington Cascades.
A Winter Storm Warning expired at 10 a.m. on Wednesday for the Cascade Mountains in Whatcom and Skagit Counties above 3,000 feet. Total snow accumulations were expected to be between one to two feet by Wednesday morning.

Farther south for the central and southern Washington Cascades, a Winter Weather Advisory above 3,000 feet expired at 10 a.m. on Wednesday. This includes both Snoqualmie Pass and Stevens Pass. Total snow accumulations were expected to be between half a foot to one foot of fresh snow by Wednesday morning.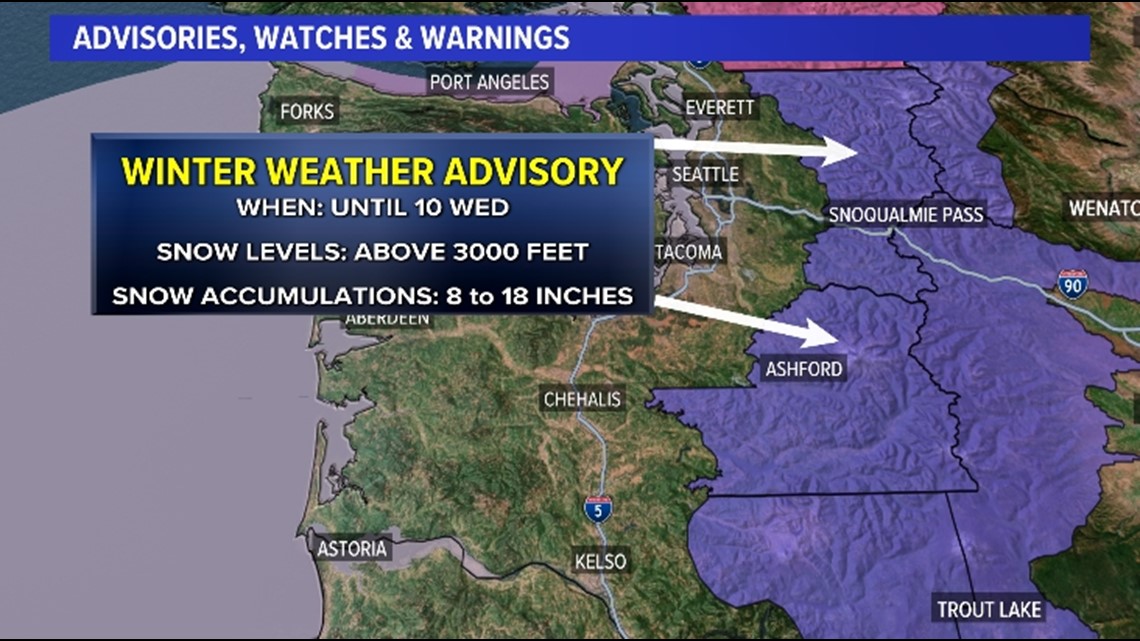 Timeline
This convergence zone produced lightning and small hail along the Snohomish/King county line and dumped periods of heavy snow between Stevens Pass and Snoqualmie Pass.
Snow forecast
The Cascade mountains saw periods of heavy snow with dropping snow levels late Tuesday and by Wednesday morning, snow levels dropped all the way down to 1,500 feet behind the cold front.
The heavy snow accumulations paired with winds gusting between 40 to 55 mph will greatly reduce visibility at the passes, making travel even more dangerous.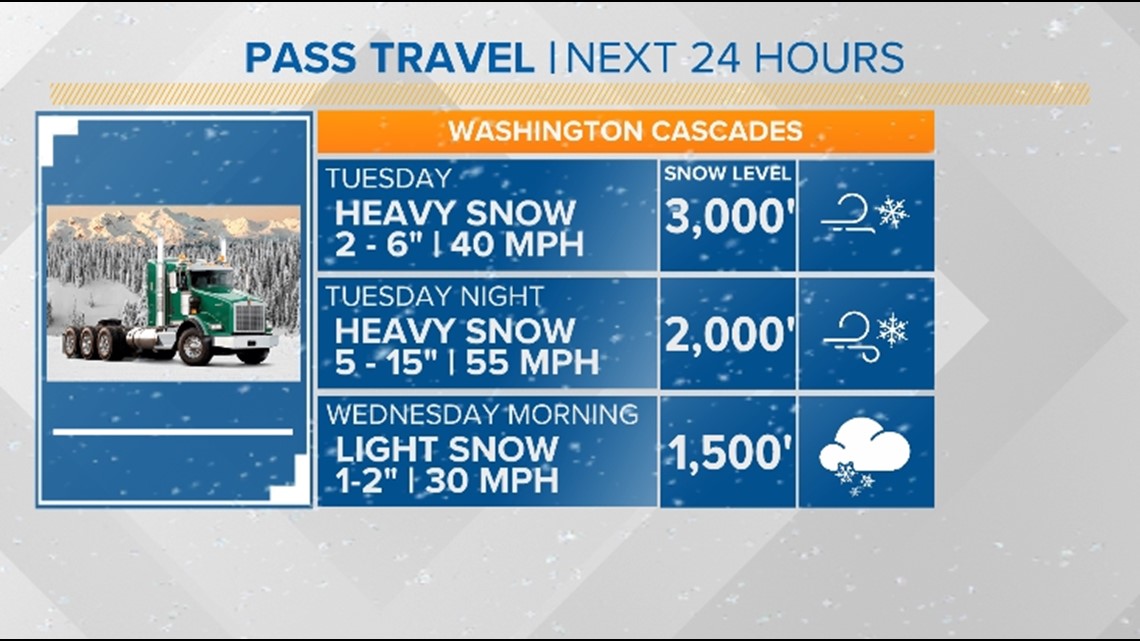 Expected snow accumulations
Snow accumulations of up to a foot were expected for Snoqualmie Pass and White Pass, with potentially well over a foot expected for Stevens Pass. The local ski areas saw moderate to heavy accumulations, too.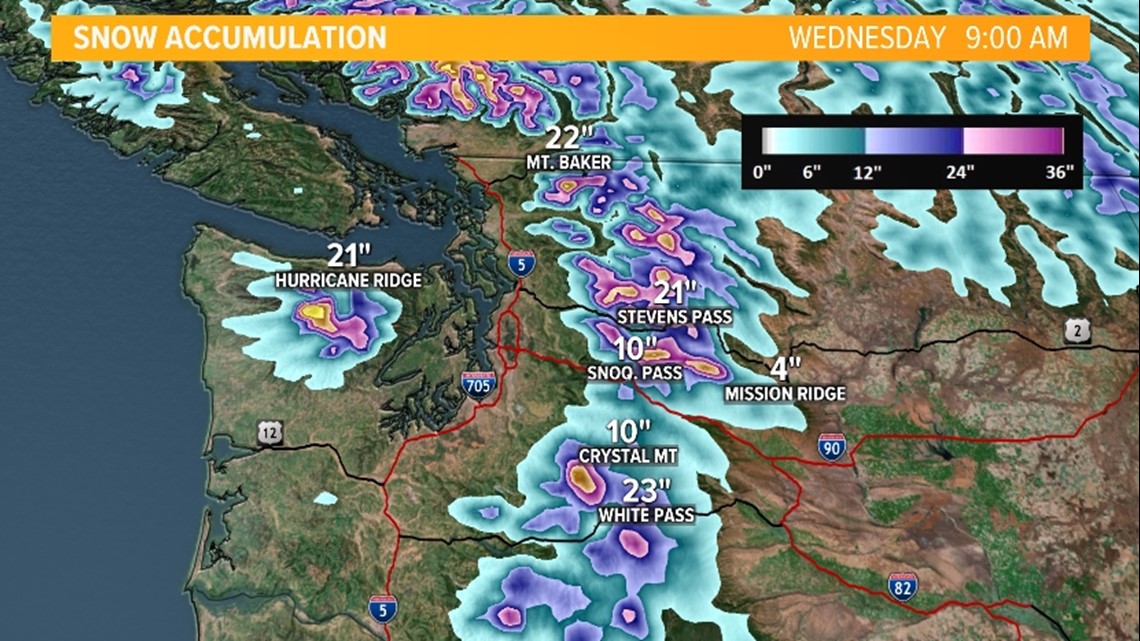 Rain forecast
The heavy rain that fell with the system across the Olympic Peninsula raised the Skokomish River near Potlatch in Mason County to a "moderate" flood stage late Tuesday which lasted into early Wednesday morning with a forecast crest of 17.6 feet around 7 p.m. Tuesday.
The river will fall back below moderate flood stage throughout the day Wednesday.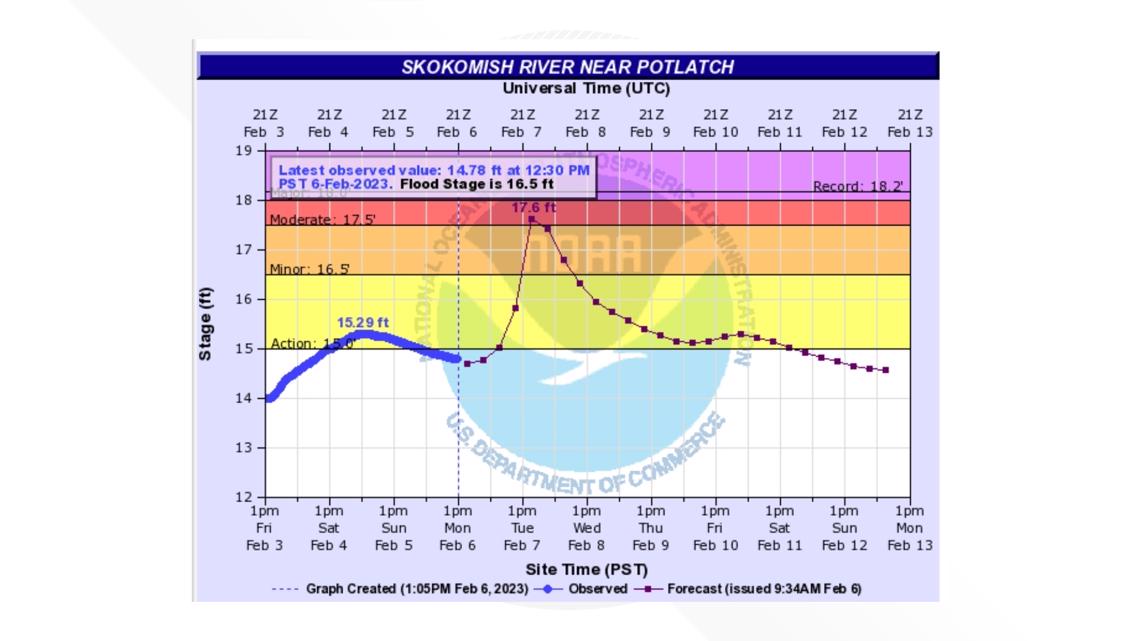 All other rivers will stay below minor flood stage.
Wind forecast
The strong, gusty wind experienced early Tuesday diminished throughout the evening hours and were light by Wednesday morning.