MOUNT HOOD, Ore. — Snow continued to cover the lanes of U.S. 26 at Government Camp Monday morning, with the Oregon Department of Transportation still calling for motorists to try and avoid travel over Cascades passes.
Drivers must use chains or traction tires on vehicles under 10,000 pounds gross vehicle weight. Trucks towing trailers must use chains. Temperatures are in the low 20s with blowing snow.
On Sunday, ODOT reported "extremely hazardous conditions" with a report that "road conditions remain treacherous" on the highways around Mount Hood and travelers should use caution of delay travel until conditions improve.
"The problems seen Saturday continue Sunday, with heavy snowfall, spinouts, high winds bringing down trees and blowing snow severely reducing visibility," ODOT said.
Early Sunday morning, a tree fell and knocked down a sign bridge spanning US 26 near OR 35, blocking all lanes of US 26 until ODOT crews were able to remove the sign from the road.
Photos: Tree knocks down sign bridge on US 26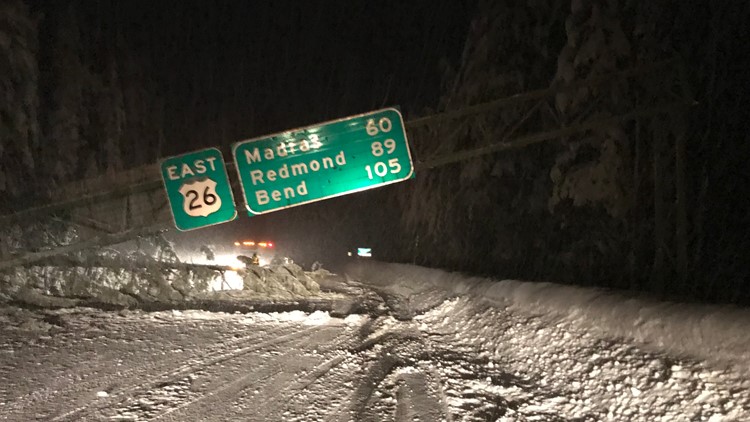 "Travelers between Bend and Portland Sunday should consider avoiding US 26 and use I-84 through the Columbia River Gorge. Travelers on Mount Hood should allow additional travel time and use caution," ODOT said.
Late Sunday afternoon, ODOT reported that OR 230 in the southern Oregon Cascades was closed from Diamond Lake to near Union Creek because of snow-laden trees leaning over the highway. ODOT said there's no estimated time for reopening.
On Saturday, the agency said were numerous spinouts because of heavy snow, high winds and poor visibility.
"Travelers should avoid Mount Hood if at all possible until Monday," ODOT said in the alert.
Sections of Highway 35 have been closed periodically and more road closures may be necessary throughout the weekend.
Snow is hammering the Oregon Cascades, where there is a Winter Storm Warning in effect through Sunday night. Snow levels could drop to 2,000 feet this weekend.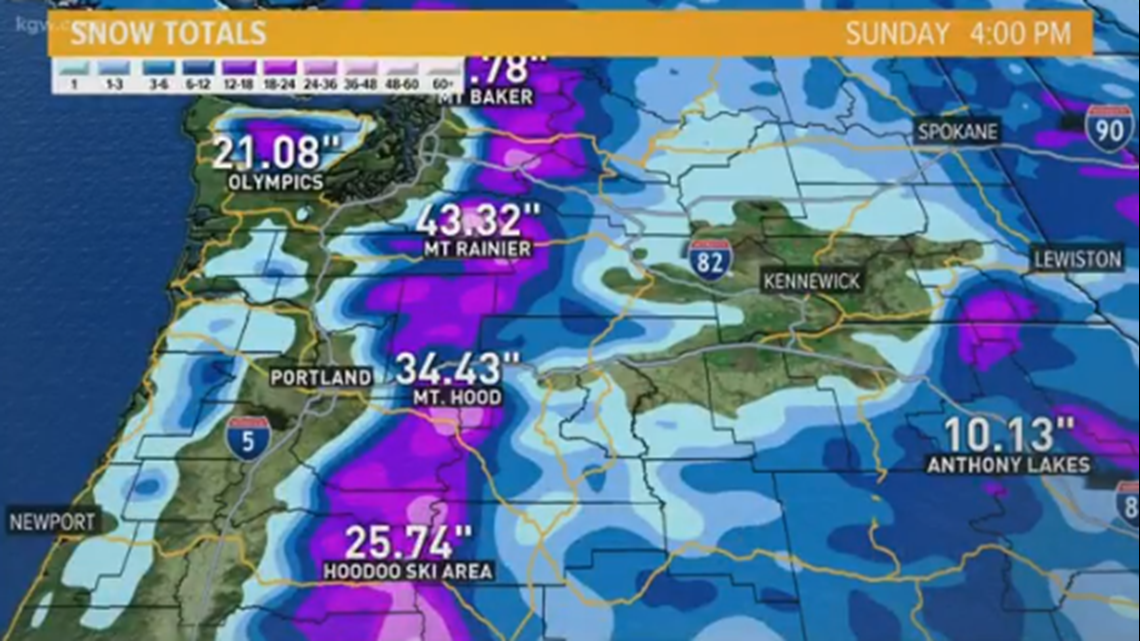 From Friday morning to Saturday morning, 14 inches of snow had fallen at Timberline and Mount Hood Meadows, and 11 inches had fallen at Mount Hood Skibowl. Two more feet of snow is expected in the Mount Hood area through the rest of the weekend.
Mount Hood Meadows suspended operations Saturday afternoon due to high winds. Gusts up to 84 mph were recorded.
An Avalanche Warning was issued Saturday night for the backcountry areas of Mount Hood.