SEATTLE — Anyone wishing for western Washington to turn into a winter wonderland this Christmas could be in luck.
The National Weather Service (NWS) said a mass of arctic air is expected to begin moving into the area Saturday, which could bring snow levels to near sea level.
Rain is in the forecast Saturday morning, but the rain may transition into a rain/snow mix or light snow later in the day. Some areas of western Washington could see light accumulation of an inch or less during the day, but the NWS said areas with surface temperatures above freezing will have limited accumulations.
The arctic air is expected to move further into the Puget Sound region Saturday night into Sunday, increasing the potential for lowland snow. Lowland snow chances are more promising Saturday night through Monday. The NWS said Wednesday morning that snow amounts are still uncertain, "but a few inches are reasonable."
The NWS said between 4 p.m. Friday and 4 p.m. Monday, there is at least a 60% chance Seattle and Olympia will pick up 4-plus inches of snow and a 90% chance of at least 1 inch of snow will fall.
Other lowland areas also have a chance of seeing at least 4 inches of snow by Monday afternoon. As of Wednesday morning, the NWS said there is a 40% chance Port Angeles and Aberdeen could see at least 4 inches of snow, while Bellingham has a 70% chance to see 4-plus inches of snow by Monday afternoon.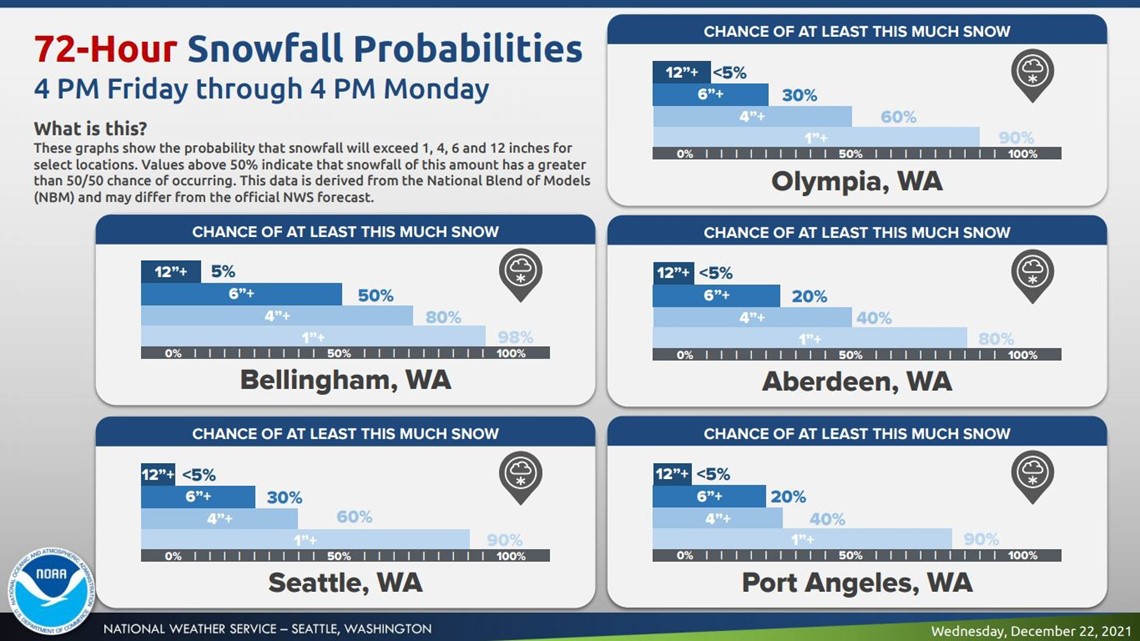 Rain is expected to continue in the lowlands through Thursday. Rain amounts are forecast to range around 0.5 to 1.5 inches, with up to 30 inches of snow in parts of the mountains by Thursday morning.
The NWS issued a Winter Storm Warning until 4 p.m. Thursday for areas of the Washington Cascades and Olympic mountains above 3,000 feet.
Stevens and Snoqualmie passes could see total snow accumulations of 5-15 inches by Thursday evening, according to the NWS. The NWS said Paradise on Mount Rainier and the Mount Baker and Crystal Mountain ski areas could see between 5-30 inches of total snow accumulations, while Hurricane Ridge could see 2-15 inches of snow.
Heavy snow could make traveling over the passes difficult. Anyone traveling over the passes is advised to keep a flashlight, food and water in their vehicle in case of an emergency.
A mix of rain and snow showers is in the forecast Thursday, with snow levels near 1,500 feet. Cooler air filters in on Friday, and a cold north wind will help that cool air push south through Puget Sound. Friday will be cold, blustery, and partly sunny with mixed showers gradually shifting to snow.
By Christmas Day, Dec. 25, temperatures will range from the mid-20s to mid-30s.
The coldest air of the season is expected to arrive in the Puget Sound region next week. The NWS said highs will struggle to reach freezing on Monday and are expected to stay in the 20s through at least mid-week. Overnight lows will be in the teens, with single-digit lows possible in some areas.