Temperatures around Puget Sound could be "potentially dangerous" this weekend and into next week, with the chance of some areas hitting all-time record highs with little to no relief from the heat overnight.
Temperatures are expected to rapidly rise beginning Friday, with highs in the upper 80s to near 90 for much of western Washington, according to the National Weather Service (NWS).
Forecast lows for the weekend around Seattle are expected to remain near 70 degrees, providing less relief from the heat at night.
The NWS issued an Excessive Heat Warning from Friday afternoon until early next week. There will be a "moderate risk" Friday for those sensitive to heat. Saturday through Monday there will be "high risk" for sensitive populations and those without effective cooling and/or adequate hydration.
Highs for areas around Seattle and Olympia on Saturday are forecast to be in the 90s to near 100 degrees or hotter, the NWS said. Since record-keeping began, Seattle has only seen one 100-degree day in June; that was June 9, 1955.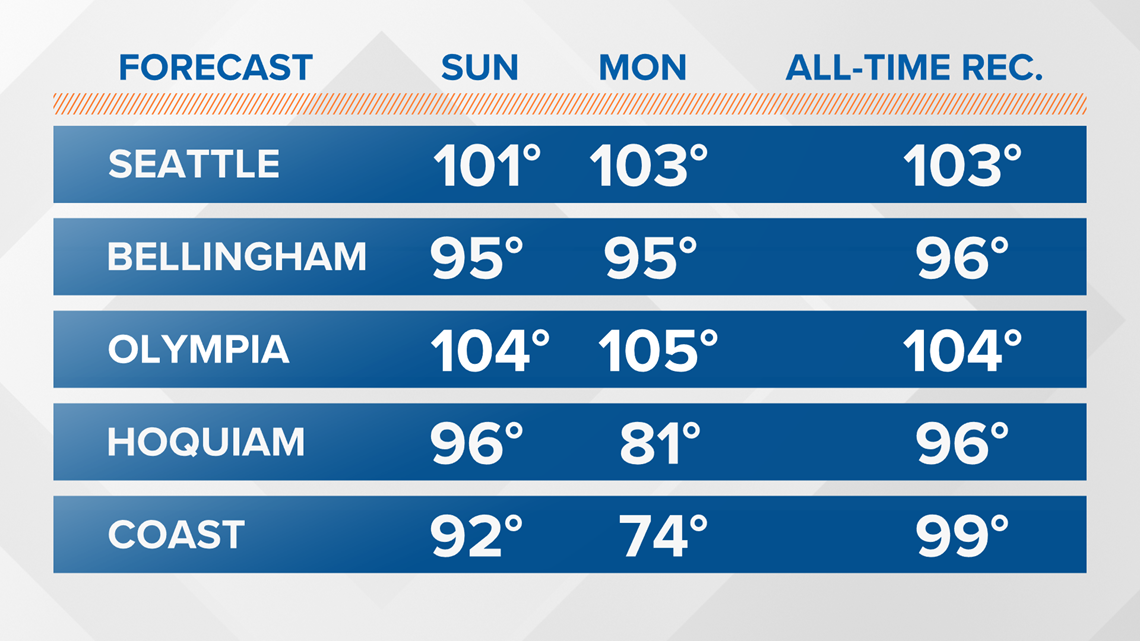 Expect high temperatures in the upper 90s up to 107 degrees or higher over the interior of western Washington Sunday and Monday. The forecast as of Thursday shows Monday as the hottest day of the heat wave for the interior of western Washington, according to KING 5 Meteorologist Rich Marriott.
Areas north of Everett and near the Pacific Coast will be slightly cooler than the interior Sunday and Monday.
The heat wave also brings an increased fire danger due to dry conditions for western Washington, with several Washington counties putting burn bans in effect.
The highest low temperature on record in Seattle was 71 degrees set on July 29, 2009. As of Thursday, the expected low temperature on Monday morning is 73 degrees, the NWS said.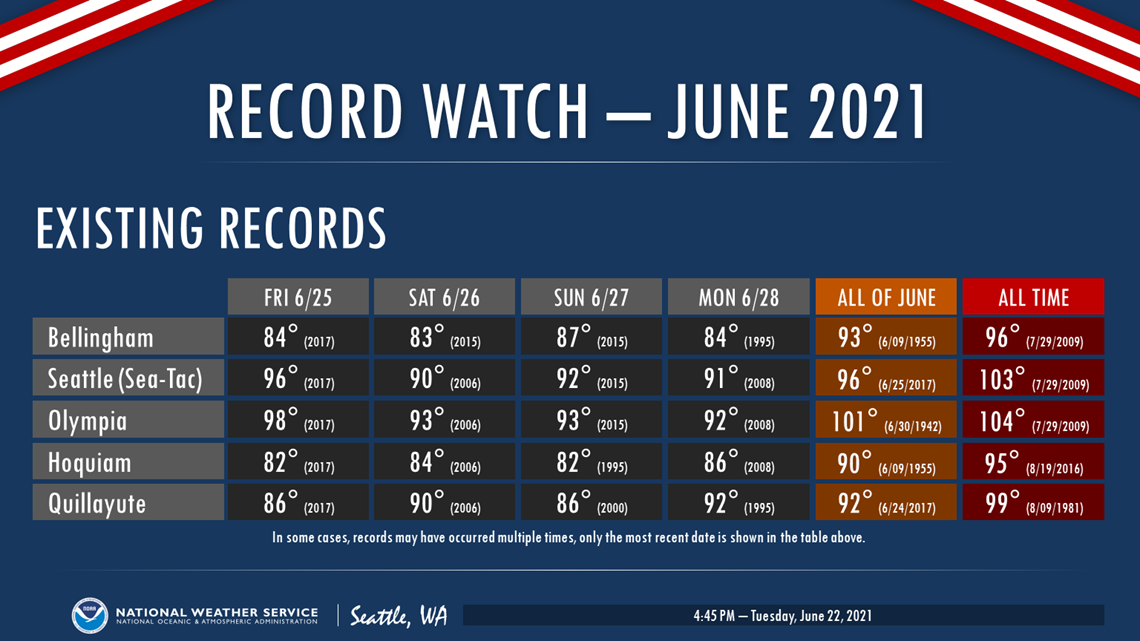 The NWS said to plan ahead and be aware of the upcoming conditions.
During a press conference Wednesday, the Washington State Department of Health (DOH) shared a few tips for staying safe during hot weather events:
Stay indoors and in an air-conditioned environment as much as possible unless you're sure your body has a high tolerance for heat.
Drink plenty of fluids but avoid beverages that contain alcohol, caffeine or a lot of sugar.
Eat more frequently but make sure meals are balanced and light.
Never leave any person or pet in a parked vehicle.
Plan strenuous outdoor activities for early or late in the day when temperatures are cooler; then gradually build up tolerance for warmer conditions.
At first signs of heat illness (dizziness, nausea, headaches, muscle cramps), move to a cooler location, rest for a few minutes and slowly drink a cool beverage. Seek medical attention immediately if you do not feel better.