The NWS said the advisory started at 3 p.m. Tuesday and will last until 5 a.m. Wednesday. Snow is expected above 4,000 feet, with total snow accumulations of 5-17 inches possible.
The Cascade Mountains between Whatcom and Lewis counties are impacted.
Plan on "very difficult travel," the NWS said in the alert.
Rain timeline
The NWS said showers will continue to linger over portions of Western Washington before another weather system moves through the area Tuesday afternoon. A front will move through the region on Wednesday with lingering showers. Multiple fronts will swing through into the weekend, continuing the wet and cooler trend.
Rain is expected to spread over the interior Tuesday afternoon as another front pushes into western Washington.
The cold front will move through quickly this evening, leaving behind only a few showers mixed with some sunshine on Wednesday.
Tuesday and Wednesday
High pressure will zip through early on Tuesday for a break in the rain during the morning, but it will increase again in the afternoon as another front pushes into western Washington. The cold front will move through Tuesday night leaving behind only a few showers mixed with some sunshine on Wednesday.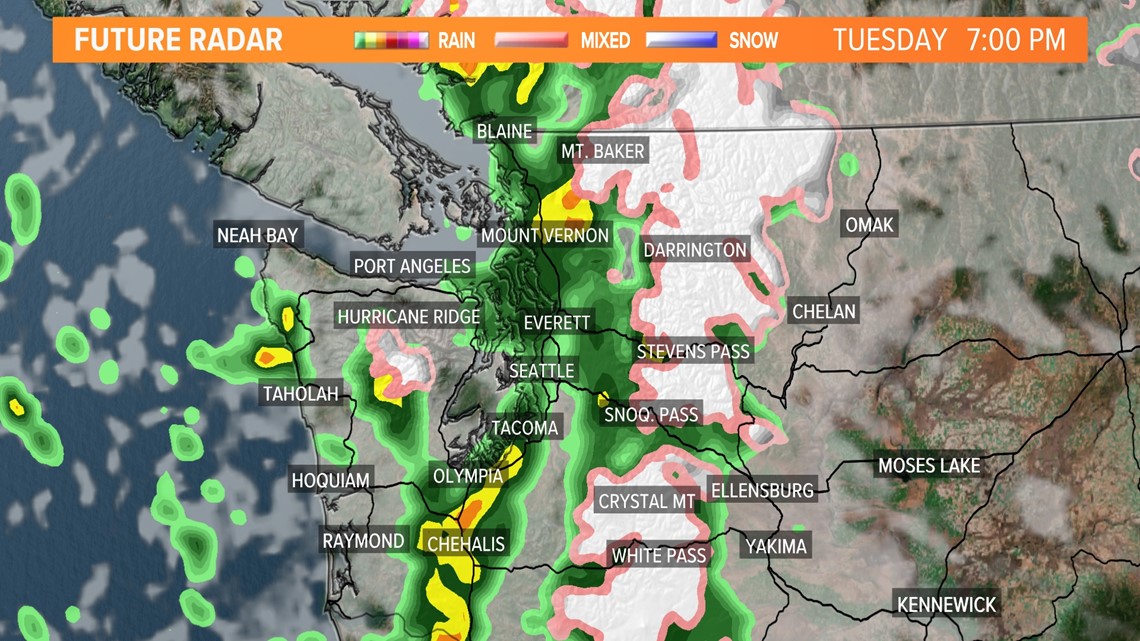 Thursday
Thursday will see a front stall across the northwest corner of the state. Currently, it looks most likely to produce showers north of Seattle and along the north Coast, with a better chance of a little sun as you head into the south Sound. Highs will warm up into the upper 50s and low 60s.
Friday
On Friday, the front moves through western Washington for a rainy end to the work week.
Saturday and beyond
The steady rain will change to off-and-on showers mixed with sun breaks on Saturday.
Sunday will see yet another front move in for a rainy and breezy day to end the weekend and a damp day for Seahawk fans!
Right now, it looks like Halloween next Monday will have a mix of showers and sun breaks with highs in the mid-50s.
It does look like the front moves through western Washington late Friday night and Saturday for a round of rainy breezy weather for the first half of the weekend. It should change to off-and-on showers on Sunday.
Storm impacts
This storm system will bring lowland rain, mountain snow and some gusty winds.
The heaviest rain will fall along the Pacific Coast, Northwest Interior, and the Cascade foothills, where up to 0.75 inches of rain will fall. Elsewhere, most of the Puget Sound lowlands, including Seattle, will generally see around 0.25 inches with some isolated higher amounts of 0.50 inches.
The flood risk is very low, but people near areas with recent burn scars should be aware of the possibility of localized areas of high water and an increased risk for debris flows and landslides.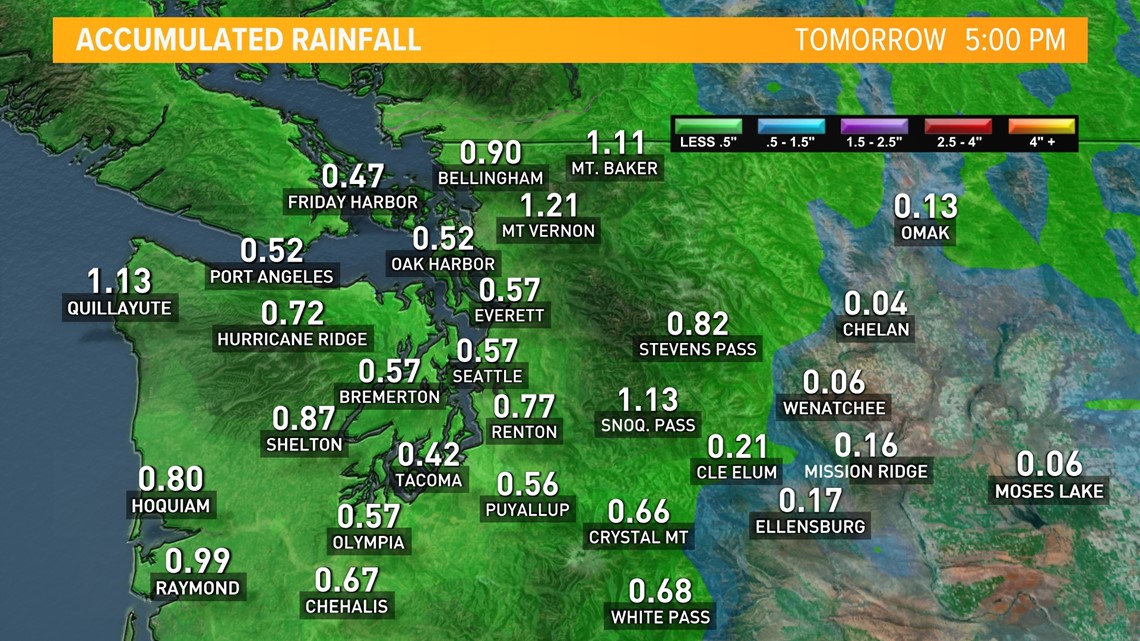 Winter Weather Advisory
The National Weather Service issued a Winter Weather Advisory for the Cascades of Whatcom, Skagit, Snohomish, King, Pierce and Lewis counties, including Stevens Pass and Paradise. The advisory is in effect from Tuesday at 3 p.m. to Wednesday at 5 a.m.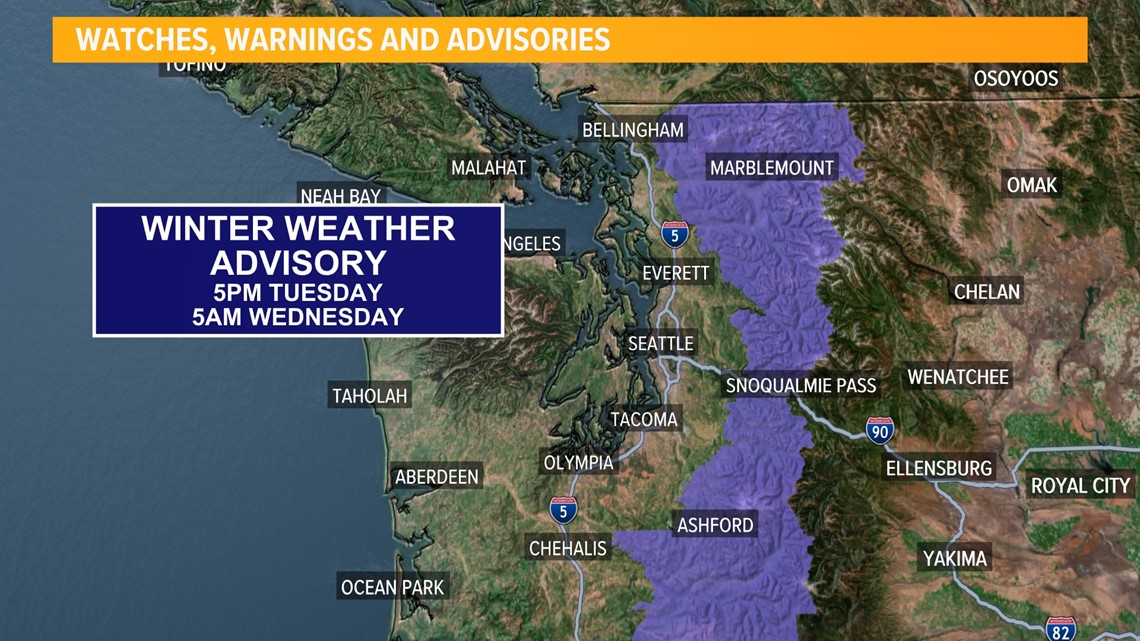 Snow is expected above 4,000 feet, and total snow accumulations between 5 to 17 inches are expected. The heaviest snow amounts will be above 4,500 feet, and higher snow totals are possible for the Northern Cascades.
Drivers should prepare for "very difficult travel" in the area.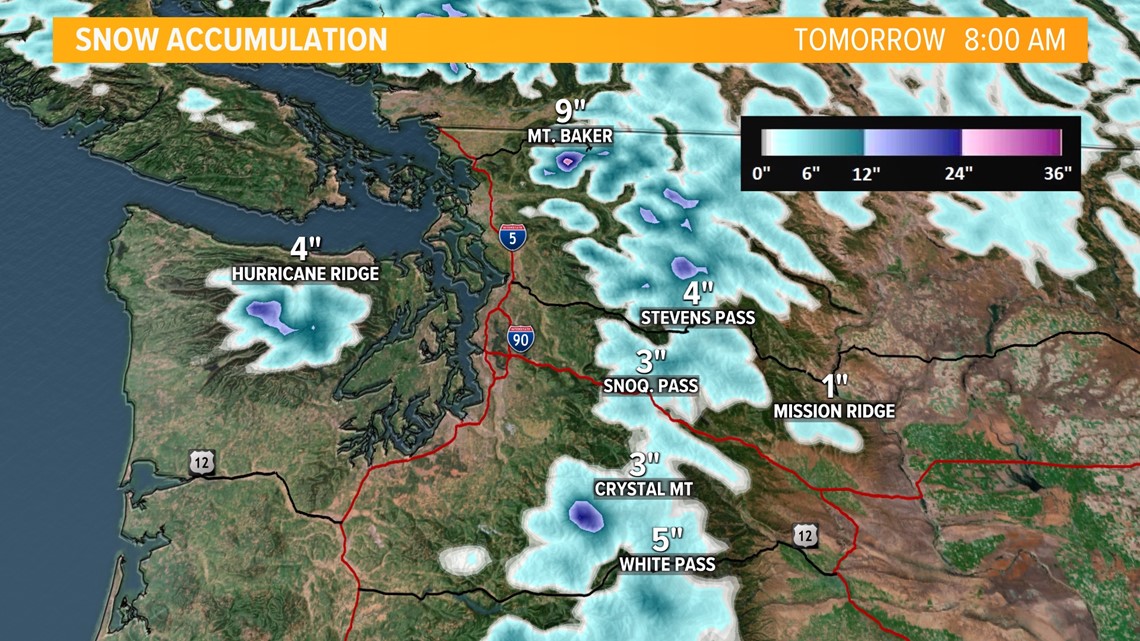 Maximum wind gust forecast
This system will have more wind with it than this past Friday's system.
While these wind gusts are unusually high for this time of the year, with foliage on trees and stressed trees from the dry summer, it could be enough to bring down small branches, which could cause isolated power outages.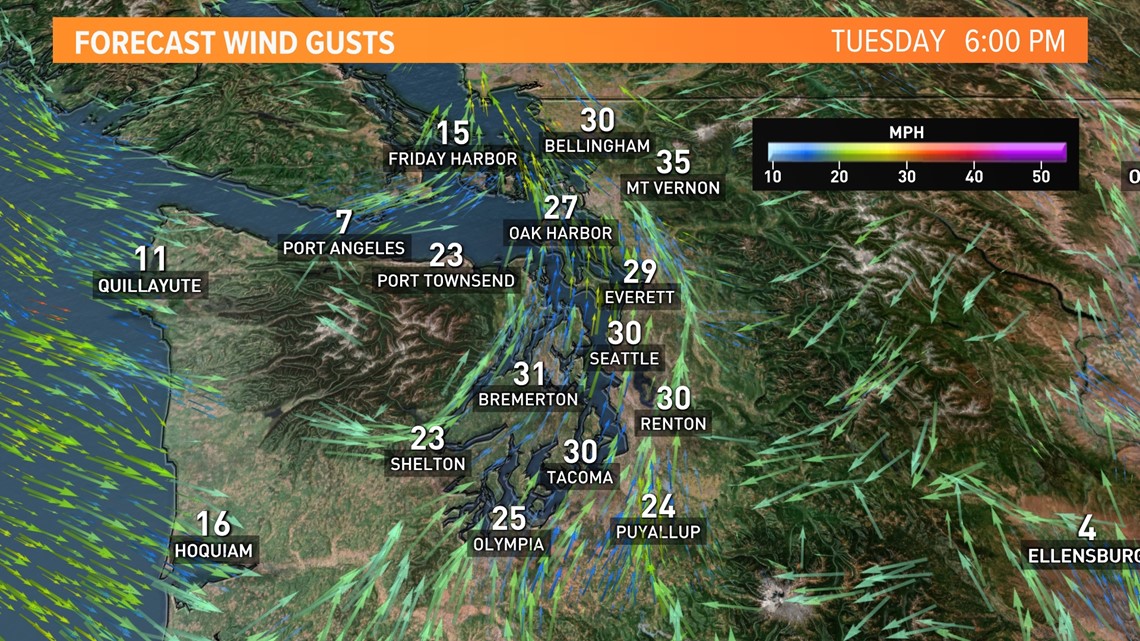 Burn bans lifted
Pierce County lifted its burn ban at 8 a.m. Monday after the recent rain and future forecast indicating more rainfall was on the way.
The county said lifting the burn ban does not affect areas in Pierce County where burning is prohibited because of environmental or pollution laws or in areas where the local fire district limits or prohibits burning.
Burning is restricted to natural vegetation from the burn site only, the county said in a release. The burning of garbage, paper, or other refuse is strictly prohibited.
That means people who have a current residential burn permit for yard debris will now be allowed to burn, but the burn pile must not exceed 4 feet x 4 feet x 3 feet. Recreational fires are allowed in approved fire pits without a burn permit. However, the fire pit must be constructed of noncombustible material such as concrete or metal and shall be a minimum of 25 feet from structures, according to the county.
Officials said a recreational fire by definition is a cooking fire or campfire using charcoal or firewood. These fires may not be greater than 3 feet in diameter and/or 2 feet in height. Water must also be immediately available.
The county said residents living in Arlington, Brier, Darrington, Edmonds, Everett, Granite Falls, Gold Bar, Index, Lake Stevens, Lynnwood, Marysville, Mill Creek, Mountlake Terrace, Monroe, Mukilteo, Snohomish, Stanwood or Sultan should contact the local fire department for more burn restrictions.
Starting Wednesday, Skagit County lifted its burn ban on residential yard and land-clearing fires.
Within unincorporated Skagit County, burn permits are required for piles exceeding 4 feet by 4 feet. Burn permit requests may be submitted by phone at 360-416-1840 and will be processed in the order received.
Residential yard and land-clearing fires may contain only natural vegetation (leaves, grass, and tree trimmings). Garbage, household trash, lumber, building construction waste, or demolition debris may not be burned.
The county said to contact the local fire department for burn restriction information if your property is within an incorporated city or town, or within an urban growth area.
If you have questions about open burning in Skagit County, you can call the Skagit County Fire Marshal's Office at (360) 416-1840, or visit the Outdoor Burning website.
Driving safety tips
The extended forecast shows the wet weather pattern is here to stay meaning at some point you will hit the road with wet, slick surfaces. Roads will become slick at times from the rain due to the build-up of dust and oil on area roadways after a very dry summer.
When it rains, it forces fluids, such as oil from cars, to the top of the road's surface making the roads very slippery. This is of particular concern after long dry stretches.
This is an important reminder to take a little extra caution on the road.
Here are five things you should keep in mind before hitting the road
Slow down, watch your speed and avoid using cruise control
Keep headlights on in the rain, day and night
Increase the distance between you and the car in front of you
Check tire tread, pressure, and your brakes
Replace windshield wipers on a regular basis