SEATTLE — Residents in King, Pierce and Thurston counties had the opportunity to participate in a test of the ShakeAlert earthquake early warning system Thursday morning. The ShakeAlert system, which will be capable of delivering alerts directly to wireless devices, will soon be a part of the state's earthquake warning system.
The wireless emergency alert test was sent at 11 a.m. Thursday. Washington Emergency Management said residents who wanted to participate needed to opt-in for the test and should not assume their carrier enrolled them automatically.
Anyone who opted in for the test received an alert at 11 a.m., which read in part, "TEST of the Earthquake Alert System."
The ShakeAlert system was developed by research universities in California, Oregon and the University of Washington, along with the U.S. Geological Survey.
The system uses a network of sensors that detect the start of an earthquake and calculates magnitude, location and the expected amount of shaking. It sends the information in real-time to distributors that send out alerts to cellphones and the internet.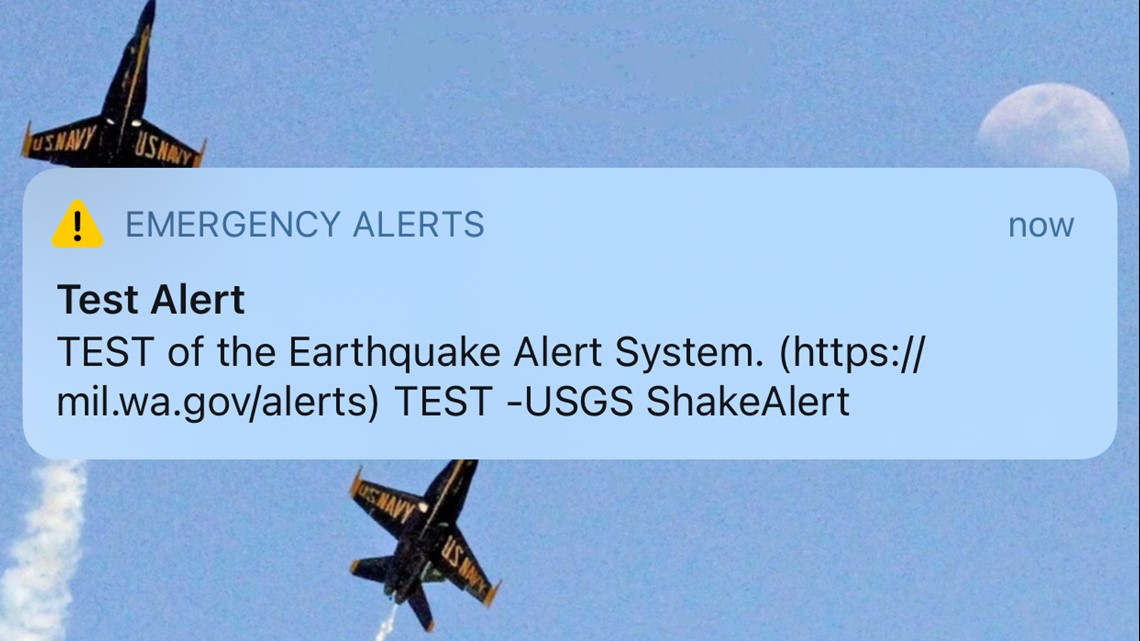 "Within seconds of detecting an earthquake, if it's going to be a damaging, strong earthquake where people will feel it and most likely get hurt, it will send out an alert," explained Maximilian Dixon, with Washington State Emergency Management. "If people get an alert they should drop, take cover and protect themselves because the shaking will be coming soon."
How much warning you get depends on how far away you are from where the earthquake started. In some cases, you may only get a few seconds of warning, in others, a minute or more. But even a few seconds of warning could be enough to get under a table or away from windows.
Washington state and Oregon were supposed to get the technology last year, but the launch was interrupted by the coronavirus pandemic. The earthquake early warning system is already sending public alerts in California.
On Thursday afternoon, Dixon called the test a success, despite some technical issues: an apparent bug may have prevented enrolled Verizon phones from receiving the test alert. He expects officials to know more early next week, as they sift through the data.
"So far, we've gotten a lot of participation, and great feedback," he said. "Few things we did run into, our website crashed, but we were able to quickly resolve that situation, and lesson learned. So we'll have a better capacity for future alerts and events."
Dr. Stephen Morris, an ER doctor at Harborview Medical Center in Seattle, signed up for the test and received the alert. He reflected on what difference a few seconds could make for someone performing surgery or a delicate procedure.
"Certainly in our setting in a hospital, it can make a big difference," he said. "Our main priority obviously is safety in a hospital. So if we have patients that are in an unsafe position at the time that a warning would go off, we would be able to temporize that and get them into some sort of safe position. The classic is in the operating room where the patient may have a part of their body exposed, we could cover it up."
Washington's Emergency Management Division highlighted the surgery aspect – and also other possible responses: automatically opening firehouse doors so equipment isn't stuck inside, shutting water valves to prevent catastrophic water supply loss, and slowing trains to reduce the chance of derailment.
"This is extremely important because folks will be able to receive a warning, to give them a few seconds to be able to drop cover and hold on before shaking arrives," Dixon said.
Seattle Public Schools (SPS) explained it doesn't include the alert in its formal earthquake plan now, though the district is monitoring the development.
"Not yet," said Benjamin Coulter, assistant manager of SPS Safety and Security Department. "It's still very much in the preliminary phases. We're interested to see what the results of the test are, and will be partnering closely with the Seattle Office of Emergency Management to get their guidance as well."
Morris is glad for any added help – even if it's still working out the kinks.
"We're all very, very excited about improving our ability to weather an earthquake that we believe is going to come at some point, better than we would be able to do without any warning," he said.
Receiving the test alert required users to opt-in, though the real thing is a different process. Because of variances between brands and software on mobile devices, state officials recommend going to your notification settings and ensuring all emergency alerts are turned on.
Thursday's message was only a test of the wireless system and did not broadcast on television or radio.
The alert system is expected to officially launch in Washington in May.