ANCHORAGE, Alaska — There are no reports of deaths or serious injuries after a powerful 7.0 earthquake rocked Anchorage, Alaska's largest city. The quake shook and damaged structures and roadways across the city, and shaking was felt as far as Fairbanks, which is 350 miles away.
The U.S. Geological Survey said the earthquake Friday morning was centered about 7 miles north of Anchorage. It struck at 8:29 a.m. local time, which is an hour behind Seattle.
The National Tsunami Warning Center canceled a tsunami warning issued for coastal zones of southern Alaska. There was no tsunami danger for Washington and Oregon.
The AP reports the governor was inside an elevator when the quake struck. Walker said he's surprised the elevator did not stop. He said lights on the control board were blinking and things were falling from the ceiling. Walker said water pipes at his own home broke and he stopped there briefly to shut off valves, before starting an aerial tour of the damage.
The governor says he spoke with President Trump and was assured by the White House that help was on the way.
Anchorage Police Chief Justin Doll said parts of a scenic highway that heads from Anchorage toward mountains and glaciers have sunken and "completely disappeared" following the earthquake. Doll also said Friday that there has been damage reported to bridges.
There have been roughly 70 aftershocks since the 7.0 magnitude quake. Several of the tremors registered at 4.8 and above, the largest of which was a magnitude 5.7.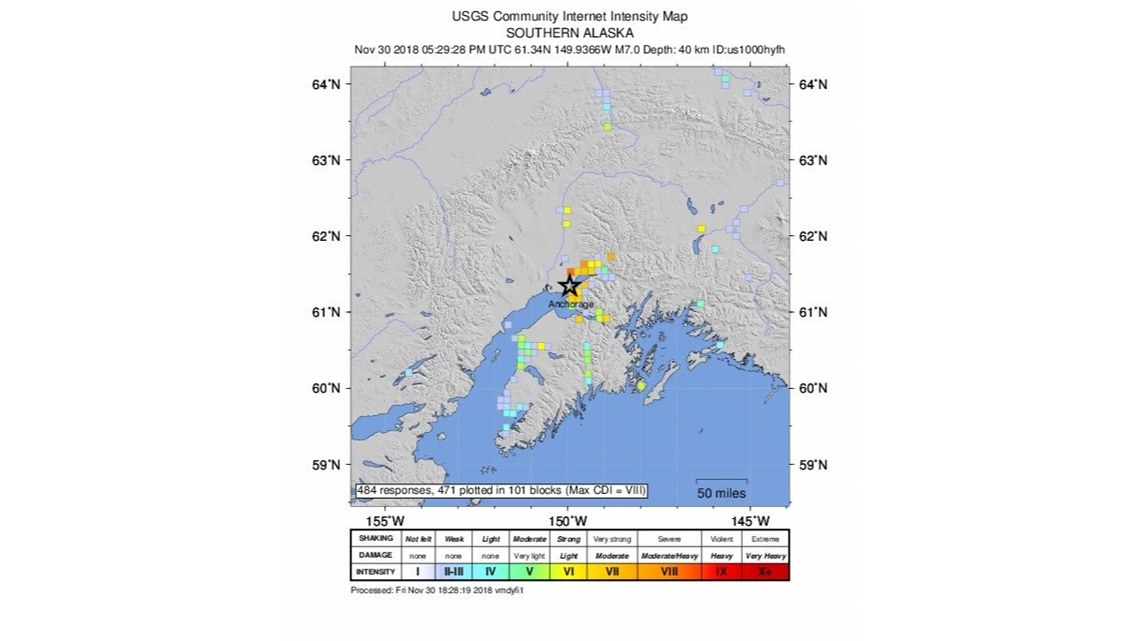 Operations have resumed at Ted Stevens Anchorage International Airport. Not all airlines will be servicing the airport, so check with your airline if you're flying or expecting a visitor in or out of the main Anchorage airport.
The Alaska Railroad suspended all operations amid "severe" damage at their Anchorage Operations Center and unknown track conditions throughout the state.
External Affairs Manager Tim Sullivan said the operations center lost power and is experiencing flooding following the quake Friday that rocked Anchorage and surrounding areas.
He said: "It's tough to run trains when you have no dispatch."
The operators of the 800-mile trans-Alaska pipeline said they shut the system down as a precaution following the earthquake in southcentral Alaska. A spokesperson with Alyeska Pipeline Service Company said there is no known damage to the pipeline.
The Alaska Department of Health and Social Services said all three Anchorage hospitals are open and accepting patients. All elective surgeries have been canceled for today. The Providence Alaska Medical Center said in a statement there was not a large influx of patients after the quake rocked Anchorage Friday morning.
An Associated Press reporter working in downtown Anchorage saw cracks in a 2-story building after the quake. People went back inside buildings after the earthquake but a smaller aftershock a short time later sent them running back into the streets again.
A man who just moved to Kenai, Alaska was home alone and soaking in the bathtub when the quake hit. Brandon Slaton said the water started sloshing in the tub and then he was tossed out by the force of the waves.
Slaton said his 120-pound mastiff was thrown off balance and fell down the stairs. Slaton said, "It was anarchy. There's no pictures left on the walls, there's no power, there's no fish tank left. Everything that's not tied down is broke."
He grabbed a pet fish and put it in another bowl. Then Slaton said it got eerily quiet. His children, 11 and 16, were evacuated from school.
Another lawyer, Hank Graper, was driving when the quake struck. He first thought his vehicle had a flat tire, then thought it was exploding. He realized it was an earthquake after he saw traffic poles swaying.
Graper called it the most "violent" earthquake he's experience in his 20 years in Anchorage.
Photographs posted to social media sites showed damage that included collapsed ceiling tiles at an Anchorage high school and buckled roadway pavement in places.
Cereal boxes and packages of batteries littered the floor of a grocery store after the earthquake Tuesday morning that rocked buildings in Alaska's largest city, and picture frames and mirrors were knocked from living room walls.
President Donald Trump has tweeted that the federal government "will spare no expense" helping Alaska following the 7.0-magnitude earthquake that shook Anchorage.
Trump on Friday tweeted "you have been hit hard by a 'big one'" and asked residents to follow officials' directions.
Former Alaska Governor Sarah Palin's home was apparently impacted by the earthquake, according to a tweet from the former GOP vice presidential candidate.
"Our family is intact - house is not...," Palin tweeted. "I imagine that's the case for many, many others. So thankful to be safe; praying for our state following the earthquake."
Alaska averages 40,000 earthquakes per year, with more large quakes than the other 49 states combined. Southern Alaska has a high risk of earthquakes due to tectonic plates sliding past each other under the region. According to the U.S. Geological Survey, the Pacific plate is sliding northwestward and plunges beneath the North American plate in southern Alaska, the Alaska Peninsula and the Aleutian Islands.
On March 27, 1964, Alaska was hit by a magnitude 9.2 earthquake, the strongest recorded in U.S. history, centered about 75 miles east of Anchorage. The quake, which lasted about 4½ minutes, and the tsunami it triggered claimed about 130 lives.
The USGS originally reported a 6.7 earthquake before reducing it to a 6.6 and then increasing it to a 7.0.