SEATTLE — Western Washington will likely experience its longest stretch of consecutive 90-degree or hotter days by the end of the weekend.
With a forecast showing the chance of topping out at or above 90 degrees at Sea-Tac on Sunday, that stretch of six straight days above 90 would set an all-time record at Sea-Tac for the past 77 years.
The Excessive Heat Warning remains in place for much of the greater Seattle area through Saturday and the Excessive Heat Advisory, is in effect for much of the surrounding areas. They were originally set to expire Friday night.
Highs in the 90s are forecast to possibly last through Sunday. Overnight lows will be in the low to mid 60s, which will bring little relief from the heat.
The National Weather Service (NWS) issued the advisories warning residents that the extended heat could pose a moderate to significant risk of heat-related illnesses, "especially those who are heat sensitive and those without effective cooling or adequate hydration."
The Excessive Heat Warning is in effect until 9 p.m. Saturday for several areas of the Puget Sound region due to "dangerously hot conditions with high temperatures," the NWS said. The warning includes areas of Snohomish County north of Everett, King County and the east Puget Sound lowlands, Pierce County south of Tacoma and areas near Bremerton and Silverdale.
At least four daily record high temperatures were broken in western Washington Tuesday. The NWS said Bellingham (90), Olympia (97) and Seattle (94) all broke previous daily high records. The temperature reading for Seattle is taken at Sea-Tac International Airport. The NWS said its Seattle office also set a new daily high-temperature record of 94 on Tuesday.
A Heat Advisory is also in effect until 9 p.m. Saturday for much of western Washington not included in the Excessive Heat Warning. The NWS said the advisory includes the Lower Chehalis Valley Area, western Whatcom County, the Hood Canal area, the southwest Interior and western Skagit County.
Friday will be the driest day of the year. Sea-Tac has only had measurable rain 4 times in 76 years — and it looks like today will make it 77 years. Most of our top 10 driest days have occurred in the last week of July and the first two weeks of August.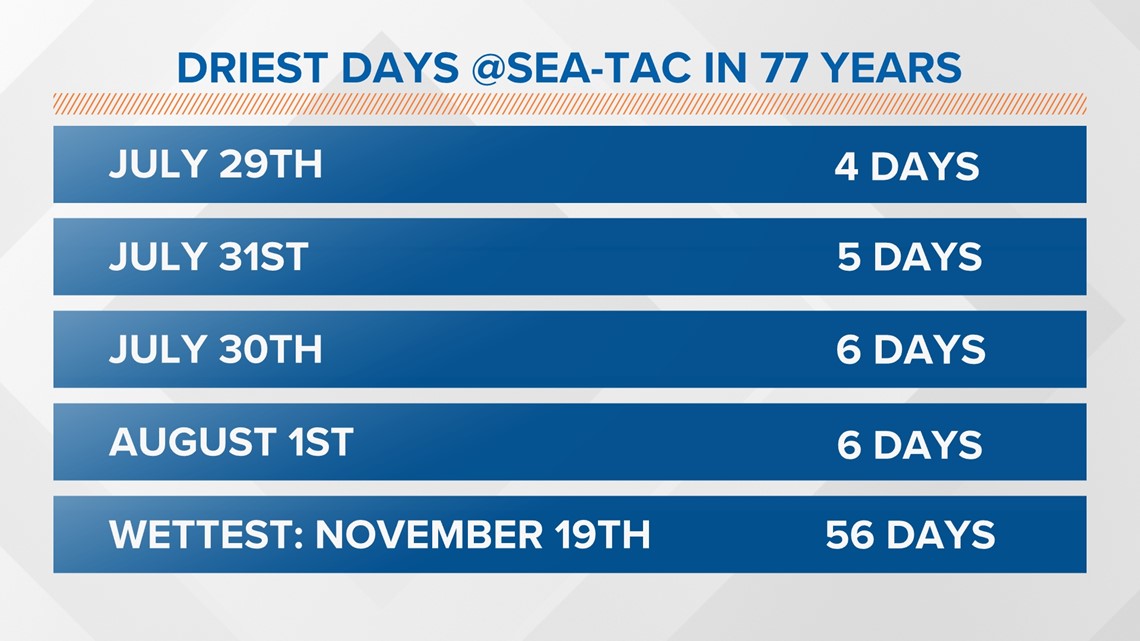 Most areas will see temperatures in the lower 90s, but some mid-90s are also possible for south Sound and the southwest Interior. It cannot be completely ruled out that one or two of the typically warmer areas will see highs reach the upper 90s.
While highs are forecast in the 90s, overnight lows are expected to be in the mid-60s through Thursday night.
While this heat event won't rival the June 2021 historic heat wave in terms of an all-time record high of 108 degrees, daily high-temperature records occurred this week.
What to expect
As mentioned, this event won't see as extreme of temperatures as June 2021, but this heat wave could last longer.
The heat wave in June 2021 only lasted three days with temperatures above 90 degrees. In 2021, Sea-Tac hit 102 degrees on June 25, 104 on June 27, and the all-time record high of 108 on June 28.
This current heat wave will last five, possibly six days with temperatures around 90 degrees or hotter. This is a big feat. The observation station at Sea-Tac Airport has only recorded 10 instances of four or more consecutive days of 90 degrees or hotter. The record is five days back in 2015 and 1981.
The current forecast stretch of 90-degree or hotter days is expected to be the longest stretch of consecutive days dating back to 2018.
Sunday still looks like a few degrees of cooling, but we still have a chance of topping out at 90 or a little above at Sea-Tac. This would give us six 90-degree or warmer days in a row which would set an all-time record at Sea-Tac for the past 77 years.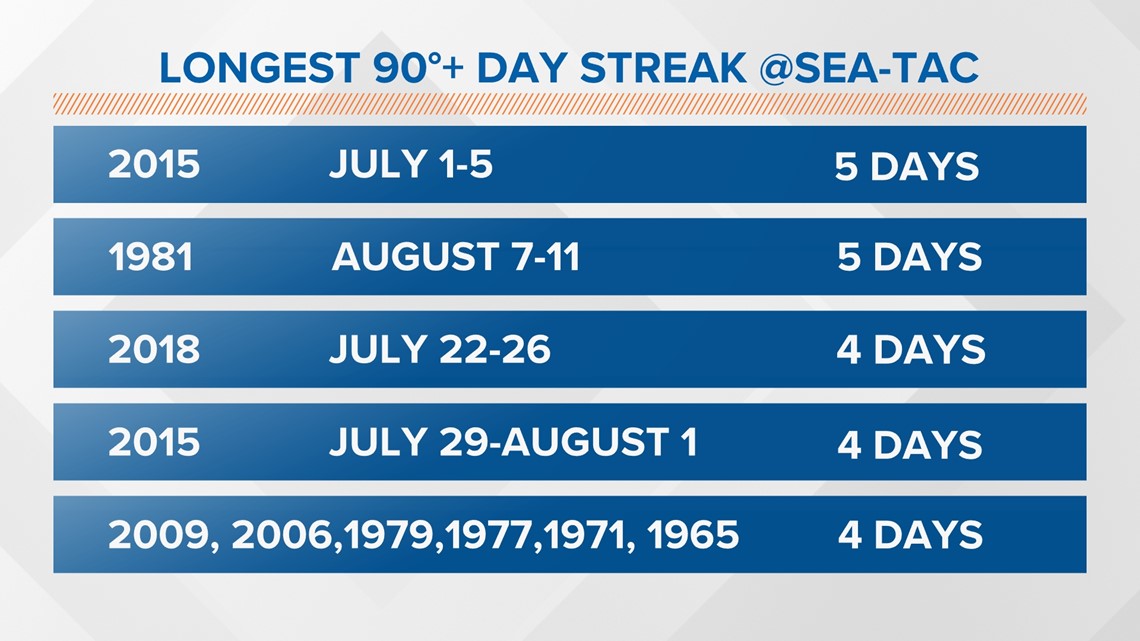 Not only will western Washington see hot temperatures, but the entire Pacific Northwest is expecting the heat to turn up a few notches.
This heat wave could be dangerous for those who are sensitive to heat, especially those who do not have ways to effectively cool themselves.
In response to the heat, several cooling centers are in place around the Puget Sound region for residents who are homeless or who do not have air conditioning or a place to cool off.
Many cooling centers are at community centers and libraries, but officials also suggested residents go to places like shopping malls to try and beat the heat.
Those looking to find cooling centers near them can visit wa211.org or dial 211. People are encouraged to call ahead to make sure cooling centers are open and find hours of operation.
It does appear temperatures will come down a few degrees into the 80s by the weekend. The average high this time of the year is in the upper 70s.

Make sure you're taking the proper safety precautions for yourself, your family, your neighbors and your pets.
Signs of heat exhaustion:
Faint or dizzy
Excessive sweating
Cool, pale or clammy skin
Rapid, weak pulse
Muscle cramps
Nausea or vomiting
Treating possible heat exhaustion:
Get to a cool, air-conditioned place
Drink water
Take a cool shower or use a cold compress
Throbbing headache
No sweating
Red, hot, dry skin
Rapid, strong pulse
Possible loss of consciousness
Nausea or vomiting
If you or a family member is suffering from heatstroke, immediate attention is necessary, so call 911.
Download the KING 5 app to check the interactive radar near you, as well as the latest forecast, cameras and current conditions.