Summer is in full swing for Western Washington. July will end with a stretch of toasty temperatures and sunshine.
Western Washington could face more heat advisories this week. Temperatures could dip into the 90s again before the month ends.
Expect to more heat advisories issued in the next few days as the hot weather continues. We may not see significant cooling until the middle of next week.
Most of July has been above normal temperature so far. We've had 15 days of hotter than normal weather, five days cooler than normal, and just two days within a normal range. The normal high is 77, which is as warm as our average high gets.

Although it is uncomfortable for a lot of us, hot weather in the latter half of July and the first part of August is not unusual. In fact, our all-time record hot days have occurred in the last two weeks of July.
We hit 100 degrees at Sea-Tac on July 20, 1994. Our all-time record at Sea-Tac was on July 29, 2009 with a sweltering 103 degrees.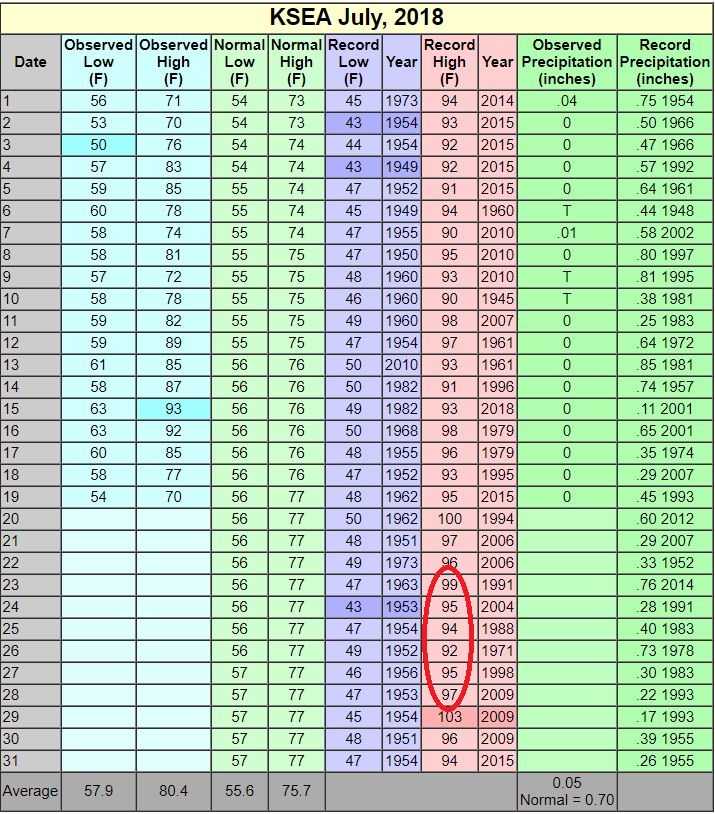 If we do hit 90 all this week, we will tie a record for most consecutive days of 90 degrees or warmer. The most we have ever had before is five days in a row in 1994 and 2015. Interestingly, there were four consecutive days of 90 or warmer in 2015 as well, but that was the summer of "The Blob," which was overall an unusually warm summer.
Since 1945 there have been seven instances of four consecutive days of 90 degrees or warmer - the earliest was in the summer of 1965.

Although 90 isn't that hot to the rest of the country, western Washington is famous for not being set up for hot weather. Few homes have air conditioning, and overall we just aren't used to it. All the usual hot weather cautions apply, especially keeping people and pets well "watered."

Keep in mind the extended hot weather will cause wildfire danger to rise across the entire state, so be careful with fire.