The worst of Tropical Storm Gamma was in the rearview mirror on Monday as the storm continued to weaken off the northern coast of Mexico's Yucatan Peninsula. Yet, even in its weakened state, forecasters said it could produce some disruptive impacts through midweek.
Over the weekend, Gamma lashed Mexico with inundating rain and damaging winds following its formation late Friday from Tropical Depression 25. According to The Associated Press, the storm is responsible for at least six fatalities in the southeastern part of the country as the storm produced landslides and flash flooding.
In the state of Tabasco, one person reportedly drowned while another victim was swept away by floodwaters, The AP said. The landslide occurred on a mountainous slope in the state of Chiapas. Four people, including two children, were killed when the landslide buried a home, according to The AP's report. About 3,400 people were evacuated to shelters in Tabasco.
Gamma made landfall at 12:45 p.m. EDT on Saturday near Tulum, Mexico, a town located along the southeastern coast of the peninsula as a strong tropical storm with maximum sustained winds of 70 mph. It was just below the threshold for Category 1 hurricane strength, which is when maximum sustained winds are anywhere from 74-95 mph, when it crashed onshore.
AccuWeather Hurricane Expert Dan Kottlowski said that the storm made landfall too quickly for it to become a hurricane. If it had taken several hours longer to move ashore, it likely could've reached hurricane strength.
The U.S. National Hurricane Center (NHC) said that a weather station at Xel-Ha Park, along the Yucatan coast just north of Tulum, reported sustained winds of 55 mph (89 km/h) and wind gusts up to 68 mph (109 km/h).
An AccuWeather Local StormMax™ wind gust of 80 mph was felt across the northeastern Yucatan Peninsula on Saturday as Gamma made landfall near Tulum.
Any additional wind impacts from Gamma should be considered minor, but gusty winds could still be strong enough to cause some power outage by knocking down tree branches.
The highest rainfall total reported so far from Gamma was father inland in Valladolid, Mexico, located in the central part of the peninsula. About 8.15 inches (207 mm) was reported there. The city of Merida, the capital of Mexico's Yucatan state, reported around 5.8 inches.
Forecasters predicted additional rainfall totals of 1-2 inches across much of the northern and western Yucatan Peninsula into Tabasco, while 2-4 inches of rain is expected to encompass the northwestern Yucatan to eastern Tabasco. An AccuWeather StormMax™ of 12 inches is possible in the northern Yucatan.
As of Monday afternoon, Gamma was struggling to hold on as a tropical storm with maximum sustained winds of 40 mph and was located about 165 miles east-northeast of Progreso, Mexico. A tropical storm warning was in effect for areas north and west of Cancun up to the town of Dzilam, Mexico.
AccuWeather meteorologists say Gamma is expected to move over the northwestern part of the Yucatan Peninsula this week and is likely to fully dissipate by Wednesday night or Thursday. They said strong wind shear had largely stripped any convection away from the center of Gamma and direct interaction with land should bring a complete demise of the system.
"Gamma is not gonna be much of a storm the next couple of days," Kottlowski said, noting that there was too much dry air and wind shear.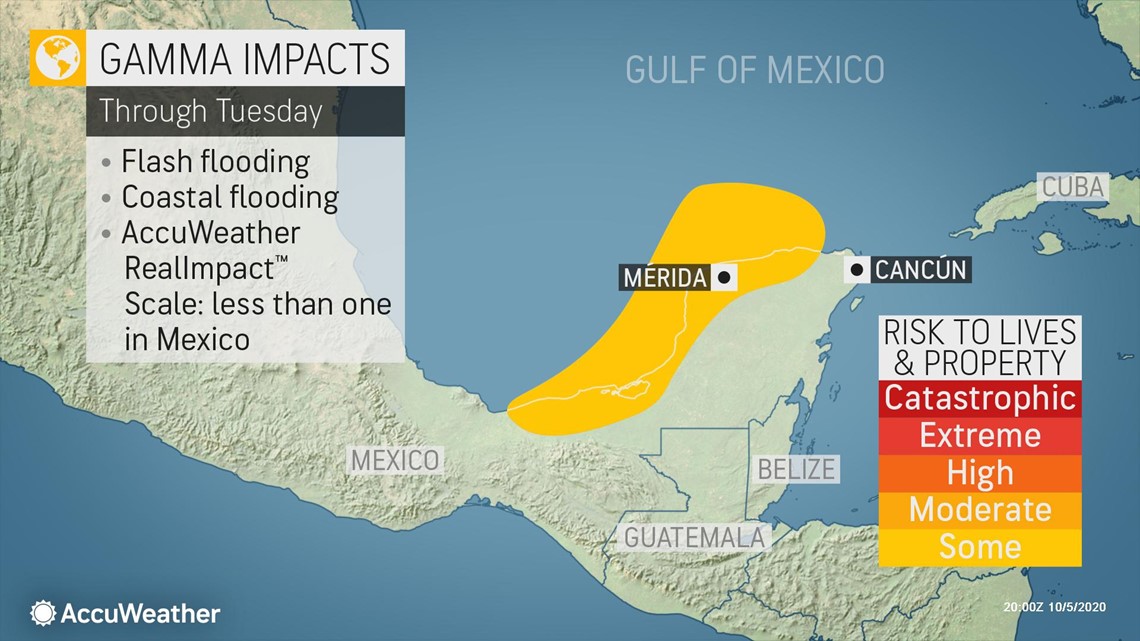 "However, rainfall from Gamma will linger over southeastern Mexico much of this week and that can lead to flooding problems," Kottlowski said.
Gamma struck an area well-known for its resorts. According to The AP, more than 41,000 tourists were in the state of Quintana Roo, located on the Caribbean coast and home to the city of Cancun. The area had only recently opened up to tourists as a result of the COVID-19 pandemic.
Gamma is the 24th named storm of what's been a hyperactive Atlantic hurricane season. The 2005 Atlantic season is the only other time in history that forecasters have had to break out the Greek alphabet to name tropical storms or hurricanes.
As the system fades away, forecasters have shifted their focus to the Caribbean and the 25th named storm, Tropical Storm Delta, which is expected to become a hurricane in the Gulf of Mexico in the coming days before taking aim at the central Gulf Coast of the U.S.
Forecasters say that around midweek, what's left of Gamma could be pulled into Delta as Delta tracks into the Gulf.