State Route 203 closed Saturday morning between Carnation and Duvall for crews to work on assessing the cause of an embankment settlement that occurred on Feb. 18 and led to cracks in the road.
"We need to make sure we understand the failure mechanism so when we design the fix to correct the problem we're going to do the right thing the first time," said Chris Johnson, maintenance and operations manager at the Washington State Department of Transportation.
Since WSDOT closed the southbound lane, the settlement area expanded about 150 feet, according to Johnson. About 850 feet of the embankment has now settled leading to rough road conditions. The pavement separated up to 5 inches in places.
WSDOT closed a portion of the road between Northeast 124th St. in Duvall and Northeast Carnation Farm Rd. in Carnation at 8 a.m. Saturday, Feb. 29 to 6 p.m. Sunday, March 1.
Local traffic can still access SR 203 as far south as Northeast Stillwater Hill Rd. and as far north as NE 88th St.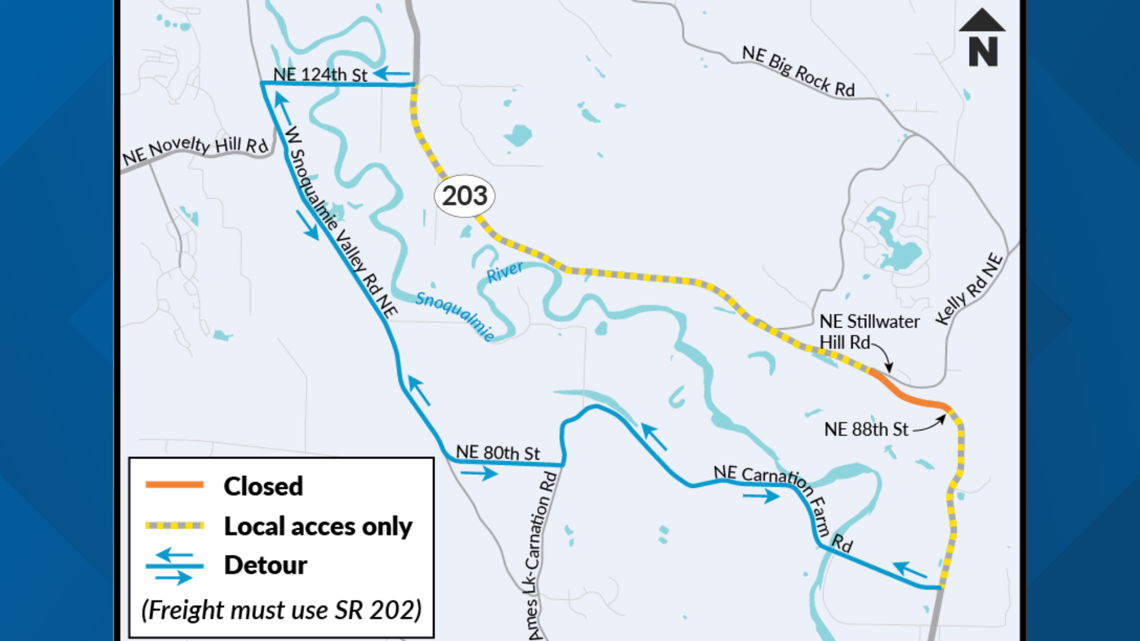 Geo-technical engineers from WSDOT will drill into the northbound lanes to install monitoring equipment, which measure the water table and analyze soil.
Road monitoring will look at how the hillside is moving, the water content of the soil beneath the road, and determine the type of material on which the road is build.
WSDOT officials will use this information to help develop a road repair plan to be implemented. It could take another one to three months to determine what the fix will be, according to Johnson.
"It's not going to be a short-term process," Johnson said.
At this point, Johnson hypothesized the embankment settlement could have been caused by the amount of rain in January and early February, which may have led to rising water tables. Seattle got 9.23 inches of rain over 28 days in January, tying the record for most number of days of January rainfall.
Travelers will be required to follow a signed detour during the weekend roadwork.
"We just ask people to be patient," Johnson said. "We all wish we weren't here, but here we are."