OKANOGAN COUNTY, Wash. — A stretch of State Route 20, also known as the North Cascades Highway, will likely be closed through at least July, and possibly longer, due to multiple wildfires burning in the area. A section of the highway originally closed July 12 and has been extended multiple times.
The Washington State Department of Transportation (WSDOT) said SR 20 is closed between milepost 165 and milepost 185, which is west of Mazama in the Methow Valley. WSDOT said drivers should plan to use US 2 or I-90 to travel across the state.
WSDOT said emergency crews requested the closure for safety and so equipment could be staged to battle the fires.
Emergency responders are at the closure points, and WSDOT asked drivers not to attempt to go around the closures. WSDOT said there are "no nearby alternate routes around the closure," and no U.S. Forest Service roads or additional side roads are open to allow access.
"Trying to get through a closed road puts you and others in the area at risk. There are literally fires burning nearby. You should be avoiding that, not driving into it," WSDOT said in a blog post.
As of Wednesday, Diablo Lake and the Washington Pass overlook are open and accessible since both locations are west of the closure. However, WSDOT said drivers would not be able to go much further than Washington Pass, including into the Methow Valley.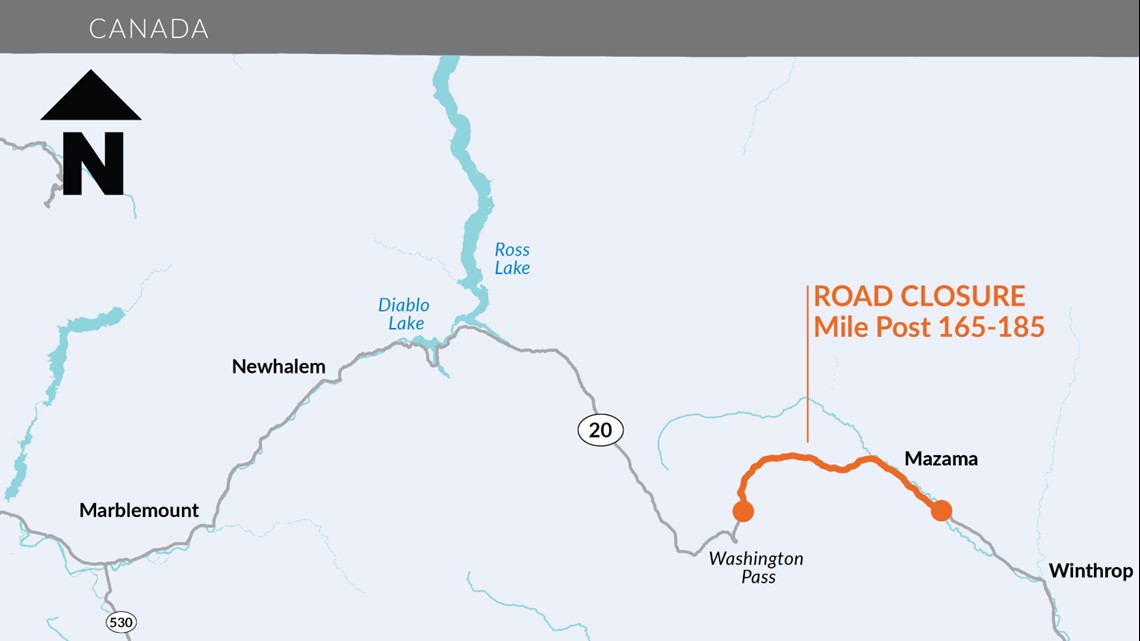 Many residents use SR 20 for travel between Skagit and Methow valleys after it opens in the spring. WSDOT said it typically takes about three hours to get from the Seattle area to Winthrop using SR 20, but alternate routes are available.
According to WSDOT, the most common way is:
I-90 eastbound for about 82 miles to exit 85.
Take US 970 northbound toward Wenatchee.
Continue on US 970/SR 10 for about 10 miles. This turns into US 97, which you'll stay on for about 35 miles northbound.
Merge onto eastbound US 2/northbound US 97 and US 97 north will take you into Twisp/Winthrop.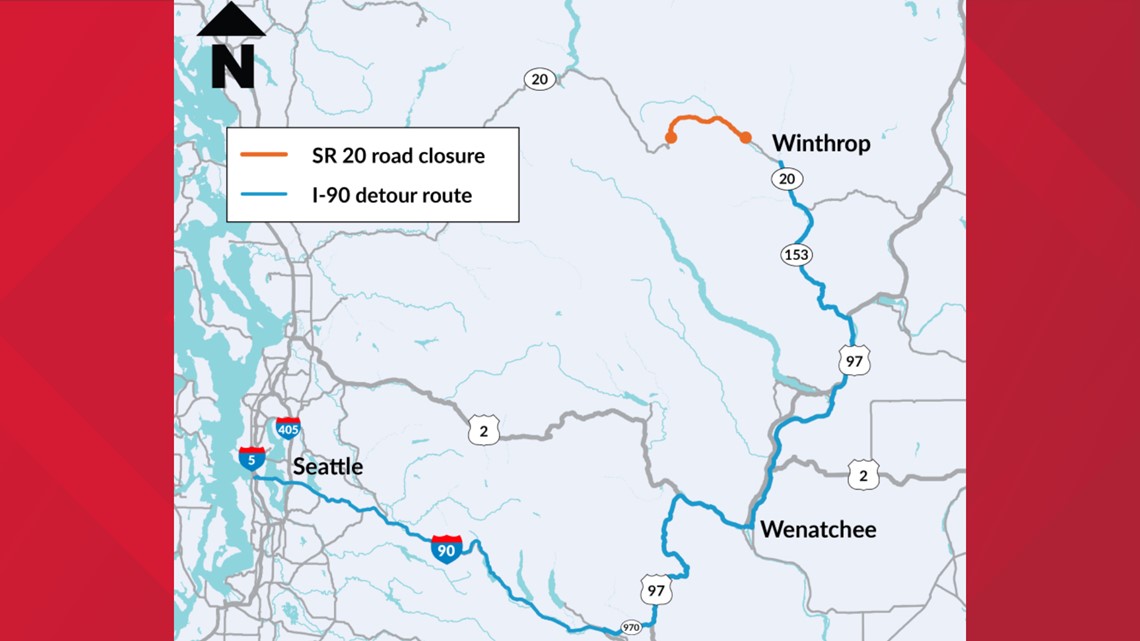 Drivers can also take US 2 over Stevens Pass and go through Leavenworth:
Take I-5 northbound to Exit 194/eastbound US 2 in Everett.
Continue on US 2 for 107 miles, over Stevens Pass, and through Leavenworth to Wenatchee.
Take the US 2/US 97 north ramp to the junction of US 2/97 and SR 28 in East Wenatchee and go left onto US 2/US 97 toward Orondo/Okanogan.
Continue 57 miles toward the junction of US 97/SR 153 south of Pateros and take a left onto SR 153 west to Winthrop. Continue for 40 miles to Winthrop.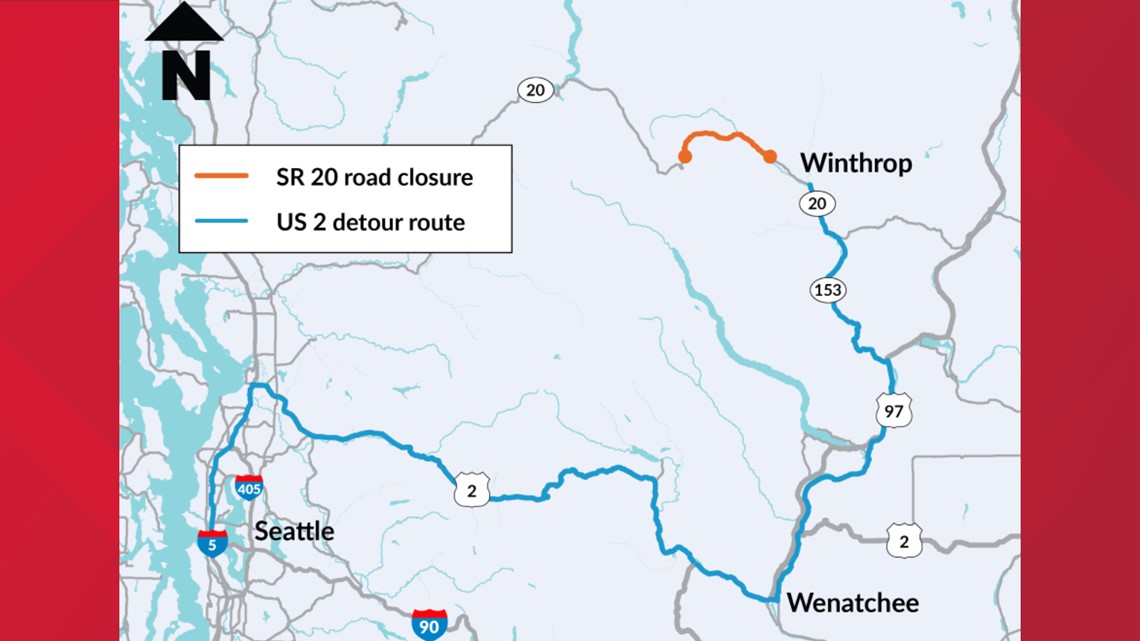 "We understand that there's never a good time to close a road, especially a very popular summertime route like SR 20," WSDOT said. "We would love to have this route open, but safety of those responding to the fires and for the public is always No. 1. So until we get the all-clear from the emergency responders battling to keep us all safe, the road must remain closed, and we appreciate your understanding and cooperation."