CAPE CANAVERAL, Fla. -- SpaceX's Falcon Heavy rocket blasted off Tuesday afternoon from the same Florida launch pad used by NASA nearly 50 years ago to send men to the moon.
With liftoff, Falcon Heavy became the most powerful rocket in use today.
Its three boosters and 27 Merlin engines roared to life at Kennedy Space Center at 3:45 p.m., providing more than 5 million pounds of thrust to get it all off the ground. It was all just in the nick of time before the close of its 4 p.m. launch window.
Not only did the rocket lift SpaceX CEO Elon Musk's red Tesla Roadster into orbit -- with a dummy "Starman" at the wheel -- two of the three boosters flew back and landed upright at Cape Canaveral Air Force Station.
The 15-story boosters landed at the same time, side by side, about eight minutes after liftoff with incredible pinpoint accuracy.
Thousands of people watching along the Space Coast were greeted with few sonic booms as they reached the ground.
There was no immediate word on whether the third, center booster managed to touch down on a floating platform 300 miles offshore in the Atlantic Ocean.
The highly-anticipated launch is merely a test in many ways. SpaceX engineers expect the next stage to happen some six hours after launch with an engine firing to send the red Tesla into an orbit as far out as Mars.
Photos: SpaceX launches Falcon Heavy rocket, sticks 2 landings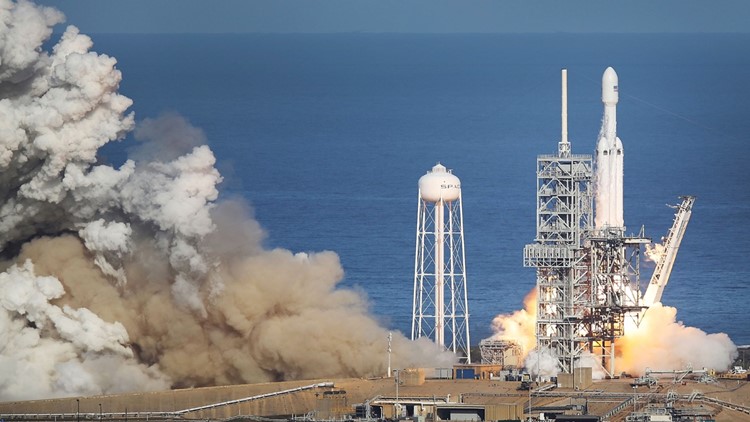 Musk has previously said he hopes to send people to colonize the Red Planet with a rocket even larger than Falcon Heavy called the "BFR," or Big Falcon Rocket.
Although a brilliant blue sky over NASA's Kennedy Space Center makes for a picture-perfect launch day, winds off the ground and in the rocket's path have been strong all afternoon. Officials project a 3:45 p.m. launch time, and there's reason to be optimistic: Falcon Heavy is being loaded with fuel.
A launch window is set from 1:30-4 p.m. Tuesday, Feb. 6, but several delays pushed the timing close to toward the end of the window. A scrub today means it's possible Falcon Heavy could launch during a window Wednesday.
Photos: SpaceX's Falcon Heavy rocket sits at NASA launch pad
Follow along with 10News' team of reporters and photographers covering the event on Twitter. At launch, stick around WTSP.com for live coverage or visit our 10News Facebook page.