Mountain goats have been spotted on top of Rattlesnake Ledge near North Bend weeks after goats were transported to the area from Olympic National Park.
Rika Osawa, who saw a goat perched on top of the ridge overlooking Rattlesnake Lake earlier this month, said it appeared suddenly and started walking towards her.
"He was beautiful, but I respect wildlife and backed away to give him space," she said. "My heart was pounding due to excitement from this close encounter!"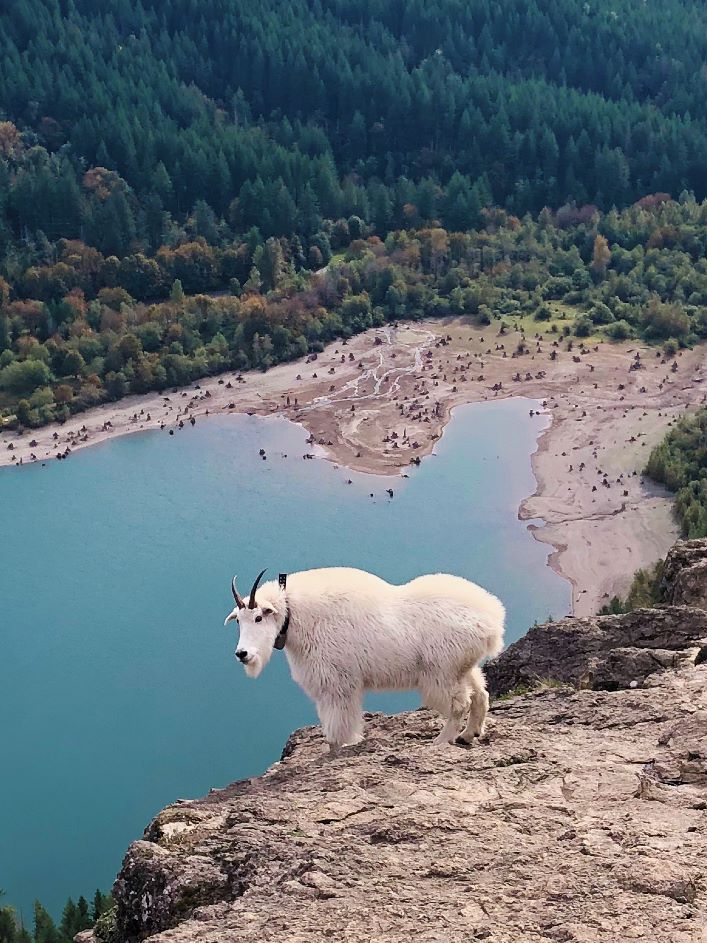 Rattlesnake Ledge is part of the Cedar River watershed, which was one of the five areas in the Cascades that wildlife officials released 98 goats in September. The watershed, which is owned by Seattle Public Utilities, covers 90,638 acres.
Nineteen goats were released into the watershed about 15 to 20 miles southeast of Rattlesnake Ledge, according to Washington Department of Fish and Wildlife (WDFW) spokesperson Rachel Blomker.
Blomker said there have been individual goat sightings over the years, but the ones people saw recently were from the relocation.
Adult goats were fitted with GPS collars, and juveniles wear radio collars so officials can track their progress.
"The nanny (female) goat that many people saw this past weekend near Rattlesnake Ledge went back to higher elevation on Sunday 10/7 and was last monitored being near McClellan Butte, which is the perfect place for her to be!" Blomker said in an email.
The goats were removed from the Olympic Peninsula as part of an effort to remove the non-native creatures from the national park and bolster mountain goat populations in the Cascades, where they are native.
Officials from WDFW, the National Park Service, and the U.S. Forest Service captured the goats using tranquilizer darts and airlifted them to alpine habitats over a two-week period in September.
Two more two-week translocation periods are planned for 2019. Efforts to move the goats may continue into 2020, according to the U.S. Forest Service.
Overall officials plan to relocate about 725 mountain goats.
Mountain goats are typically shy but can become accustomed to people on popular hiking trails, according to WDFW. They may seem docile, but mountain goats can get aggressive towards each other and sometimes towards people.
In 2010, a hiker in Olympic National Park was fatally attacked by a goat, which is one of the reasons the goats are being relocated.
If you do come across a mountain goat on a hike, WDFW recommends keeping about 50 yards distance, not offering food, and urinating at least 50 yards away from a hiking trail. Don't try to touch a mountain goat, and if one gets close, yell, wave your arms, or throw rocks in its direction.