A hunting practice banned by Washington voters two decades ago continues to this day. Hound hunters are used to protect stands of commercial timber from the destructive habits of black bears. But a year-long KING 5 investigation shows the bears, killed for tree damage, may not be causing any problems whatsoever.
Hunting bears with dogs, outlawed in 1996 by the voter-approved Initiative 655, happens every spring in Washington. Animal rights advocates who backed I-655 decried the practice as cruel and unsportsmanlike. Hounds chase bears over long distances, exhausting them and allowing hunters to zero in for a final kill. Dogs are then rewarded by chewing on the bear. Bears are typically already dead or near dying.
Hunting bears with dogs is perfectly legal under an exception built into I-655. The provision in the law allows hound hunting to continue for the protection of property, but critics and experts say the legal loophole is being abused by the state and timber farmers against the letter and spirit of the law.
The official codification of I-655 – RCW 77.15.245 – includes the following allowance: "Nothing in this subsection shall be construed to prohibit the killing of black bear, cougar, bobcat, or lynx with the aid of a dog or dogs by employees or agents of county, state, or federal agencies while acting in their official capacities for the purpose of protecting livestock, domestic animals, private property, or the public safety. A dog or dogs may be used by the owner or tenant of real property consistent with a permit issued and conditioned by the director."
The controversy centers on an interpretation of what it means to to protect private property. It's pitting the Washington Department of Wildlife against its own staff and the backers of I-655.
"I think it's disgusting and it's frankly quite surprising to me that the Department of Fish and Wildlife would be so open violating a state initiative that the people of this state resoundingly approved," said Lisa Wathne, who spearheaded the I-655 campaign 20 years ago while working for PAWS. Today, she is the Captive Wildlife Specialist for The Humane Society. Her group's efforts to ban recreational hound hunting in Washington won with 63 percent of the vote.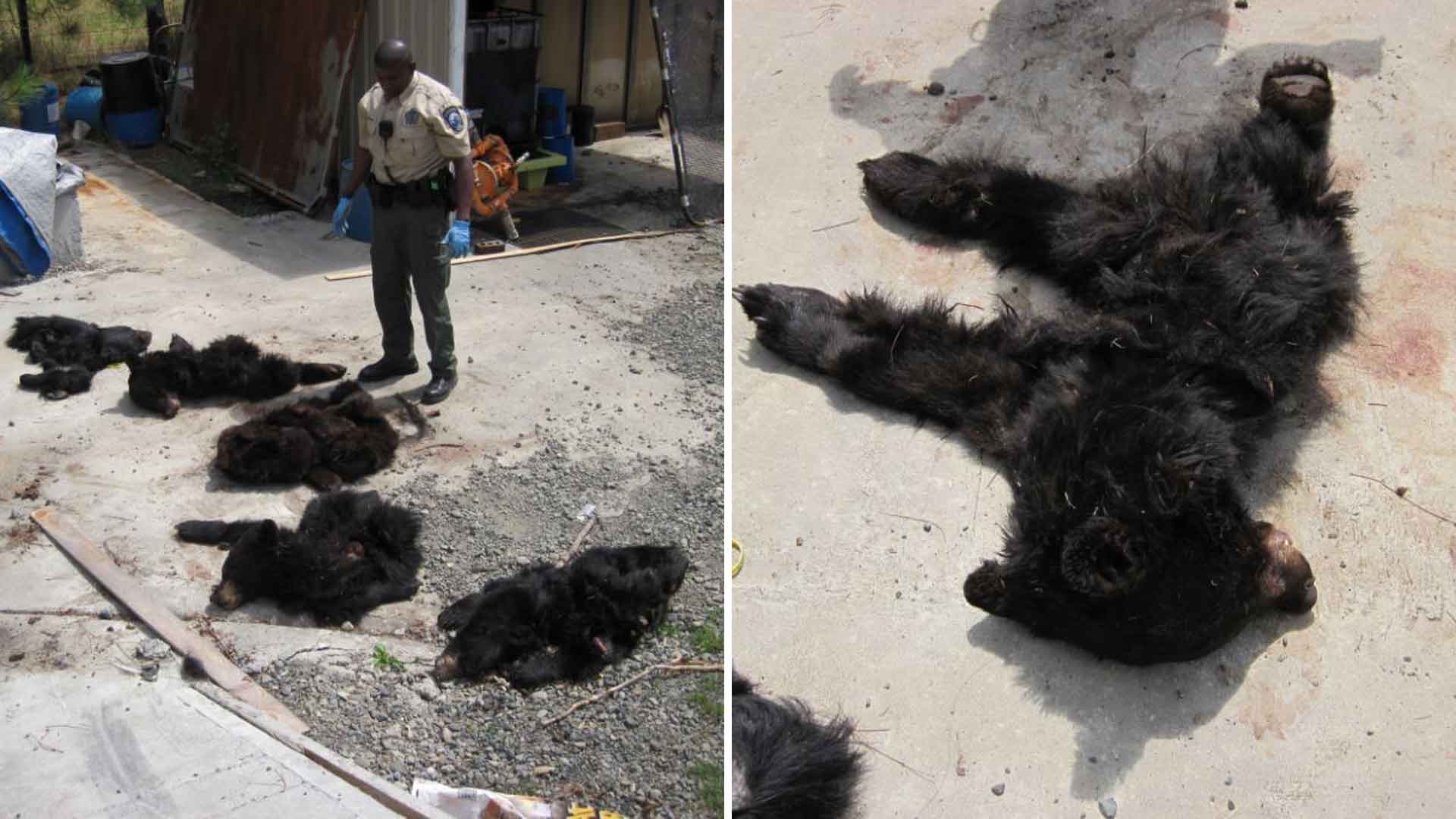 Wathne was comfortable with the loophole in I-655 that allowed hound hunting to protect property by removing problem animals.
"They were to be very specific and for specific animals, not for a wholesale thinning of a population by any means," she said.
In the case of bears, the allowance is used every spring on timber farms. Bears are hungry when they come out of hibernation, and trees offer a quick, high-calorie snack thanks to syrup underneath the bark. When the bears peel the bark, though, they can damage or even kill trees. Trees between the age of 12 and 25 years old are the most vulnerable. The Washington Forest Protection Association (WFPA) blames bears for millions of dollars in damage every year.
Timber farmers argue they need to protect their trees from bears that are damaging their product. But KING 5 found the springtime bear hunts on timber farms are not focused on targeting problem bears. Hundreds of internal staff emails and documents obtained by KING 5 show that the program centers on reducing the overall number of bears in vulnerable tree stands, not – as state law requires – removing specific bears known to be damaging trees.
A man who has hunted for the Bear Timber Depredation Management Program (BTDM) for decades said the program is being abused, at the expense of non-offending bears. He describes a system that has evolved into an elite hunting club rather than a damage-control program. It didn't start that way, he says. He's noticed a trend that's taken the program away from its original intent.
"The idea was to take the problem bear and there was no pressure on you to get out there and kill as much as they are now," the man said. He asked us not to disclose his identity for fear of retaliation against his family and his dogs.
For decades the man has used his dogs to hunt bears, helping kill hundreds of them. But he said he's concerned that both large industrial timber foresters and small forest landowners are no longer concerned with targeting problem bears. They just want to kill bears, he says, and WDFW enables it while clouding the hunts in secrecy.
In recent years, declared kills on timber farms have resulted in the reported death of about 100 bears. Other years, the number of bears removed has hovered around 200. But a year-long KING 5 investigation concludes those official tallies could be considerably inaccurate, as the bear hunts on private lands have historically occurred with little oversight. Even the state's wildlife enforcement officers say the system is so broken that there's little they can do to enforce hunting rules.
This hunter says he's never once crossed paths with wildlife police while hunting bears on timber land.
"The old saying is, if you don't see it, you don't have to think about it," he said. "It's just like, OK, it's all-out war guys."
When foresters find one damaged tree, WDFW grants a permit to kill two bears. Permits are also granted on what's called "historical damage" from the previous year. That means a forester can get a renewed permit to kill bears the year after they find fresh damage. They do not have to prove bears are causing any new issues. It doesn't matter if several bears were already killed for the damage in the year prior.
Stacks of emails KING 5 obtained through public disclosure show state employees are also alarmed about the program. In a late 2016 internal email, a WDFW biologist wrote about timber giant Weyerhaeuser, "They are viewing the bear damage program as a means to suppress the overall bear population and therefore, reduce damage. I get why, as a timber company, they would want to do that but that is not the way this program was designed."
In another 2016 staff report, a wildlife specialist argues Weyerhaeuser is creating a large hunting area. Several complaints KING 5 uncovered show that timber companies stack permits beside each other to maximize land areas for the hunt. The wildlife specialist who wrote the report says it goes against the program's intent "to avoid killing more bears than necessary."
A WDFW biologist wrote in one email dated November 7, 2016: "It seems like the system in place is just being manipulated by those who want to be able to run their dogs and to some extent by timber owners/individual foresters who are facilitating it…it seems like they don't even want the bears, just the chance to pursue them."
Another WDFW biologist wrote in a 2014 email, "Only one-quarter of bears killed have bark in their stomach." An additional 2016 internal report to WDFW management says the system is "purposely being abused," but staff are discouraged from revoking privileges.
The hunter we interviewed believes the program has turned into a secret fraternity where power and politics provide an exclusive bear hunting season – the only one left in Washington for hunters who want to use dogs. Timber farms benefit by reducing the potential for damaged trees, he says, while hunters get to run their hounds. They're chosen by the timber companies and approved by Georg Ziegltrum, the longtime head of WFPA's Animal Damage Control Program.
"If given opportunity they all girdle trees and they all are 'problem' bears in damage areas," Ziegltrum said.
For Ziegltrum, every bear has the potential to peel.
"Intraspecific stress (too many bears in one given area) may have more to do with timber damage than one 'guilty' ingenious bark peeler," he said. "I-655 is doing exactly what it is supposed to do. The WDFW understands our problem and is closely and effectively working with our industry. Regulations for bear removal are plentiful and heavy. All damage is witnessed and approved by WDFW. I have a 100 percent compliance record with the agency for years and I'm proud of it."
KING 5 learned that foresters often tell hunters not to discuss the hunt, for fear of public outrage.
"Some of the foresters want you to kill, kill, kill – no matter what. Even the foresters have kind of a game between 'em to who gets the trophy every year for the most bear killed," the hunter said. "Just like one forester said, 'All I want to know is about the first bear and the last bear. In between, I don't care.'"
Internal WDFW emails and reports reveal that kill permits are given to timber farms before wildlife specialists verify damage. A program administrator wrote in a 2014 email, "Timber companies have put pressure on the program to issue first, then verify." Another staffer wrote in 2015, "Often times the permit has been filled before the Conflict Specialist has gone out to the site to even verify." In another 2015 email, a wildlife specialist said, "I have not been able to verify the preliminary damage prior to them taking two bear."
Sources told KING 5 that procedures like this, aimed at speeding up the permitting process, are unique to the bear damage program even though elk damage, for instance, is far more common statewide. Reports also show that, sometimes, staff arrive to alleged damage sites only to find "no significant damage at all." But it's too late, as bears authorized for kill might already be dead.
One state biologist wrote in a 2016 email, "This is not the way this program was designed."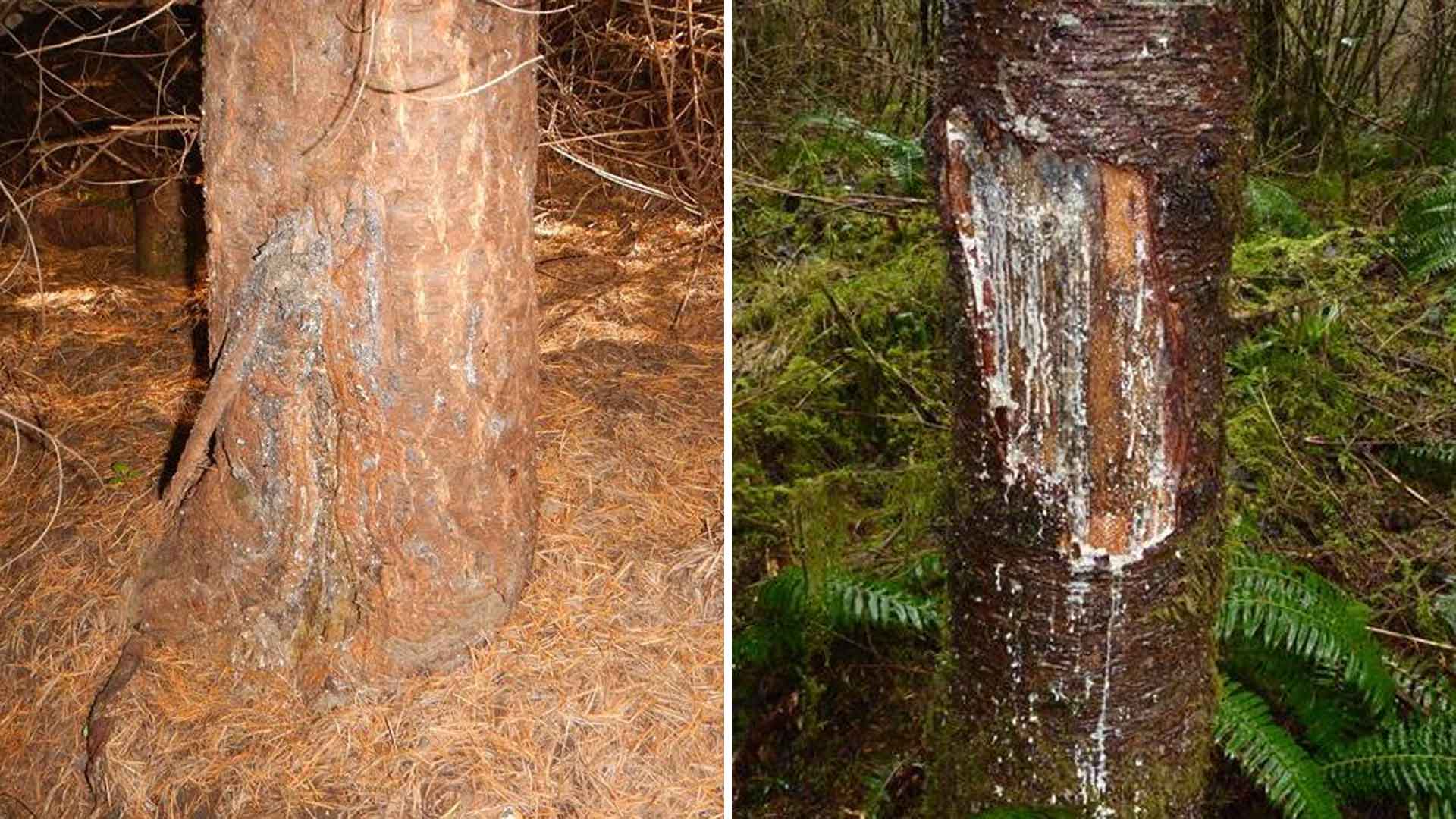 For Ken Miller, the damage is anything but insignificant.
"Brown spots all over the hillside and those were dead trees," he said while pointing toward a ridgeline in Oakville, southwest of Olympia.
Miller is a small forest landowner, which means he farms far less land than an industrial company like Weyerhaeuser. His tree farm borders the Capitol State Forest near Olympia, which is prime bear habitat. He took us on a long and bumpy drive to see his trees, though land he says foresters protect from development. He thinks his profession is often the object of unfair negativity, criticized for killing trees and sometimes the wildlife that hurts profit. He argues, more often than not, bears benefit from tree farming.
"It really is cool to be a tree farm," he said. "We're doing great stuff for the environment."
Miller and his wife saw their farm as an investment in their retirement or grandchildren's education. The couple and their son planted 18,000 trees by hand in three months. They each planted 500 a day.
"I made bags we wore around our waist," said Ken's wife, Bonnie. "We were really proud of ourselves. We had some nice trees. Then all of a sudden, we found something."
What they found alarmed them – dozens of trees damaged by bears.
"I was desperate, in a panic, because our financial wherewithal for our retirement years was on the line," Ken said. "That's big money. That's like someone stealing money out of your 401(k)."
Ken admitted that he was so desperate that he asked a hunter to kill bears in secret. He says that was 15 years ago, and he hasn't broken any rules since.
"Maybe I'm not totally proud of it, but I would do it again if I was in that same situation and that was the only option I had to protect my property," Ken said.
He said there are too many bears for available habitat, and he believes he is drowning in a permitting process that prevents him from killing bears fast enough to protect his trees. For Miller, small forest landowners suffer unduly from bear damage and need more help from the state, given that a few damaged trees represent a much greater percentage of lost investment compared to industrial farms.
If the program is about population control as critics argue it is, he says, WDFW is failing.
If there were fewer bears, and the state eased the path toward removing them, Miller believes he would have fewer problems.
Ninety-percent of the damage is typically reported in Regions 5 and 6, which includes Pierce, Cowlitz, Lewis, Wahkiakum and Clark Counties. The bear harvest during timber hunts tends to be about 35 percent of the bears harvested in those regions during the general season. WDFW does not include the timber hunt harvests in the information shared with the public on its website.
"I think we under harvest bears, probably, in this state as a whole," said WDFW Game Division Manger Anis Aoude.
In an interview that lasted two hours, KING 5 asked Aoude and his WDFW colleague, Stephanie Simek, about the Bear Timber Depredation Management Program. A couple years ago, the program's oversight was handed from Enforcement to the Wildlife Program. Aoude and Simek created a subcommittee comprised of biologists, conflict specialists, enforcement officers, and foresters in order to forge new paths toward better management.
It was the moment when many staffers hoped chronic abuses of the program would finally see change, internal sources told KING 5. Today, that hope has turned into increased frustration. As one employee wrote in a November 2016 email, "Wow, I am blown away that the same issues keep occurring over and over with absolutely no consequences. It seems absolutely crazy that we have taken the time to careful (sic) develop all of these rules and they aren't being followed."
"We're trying to find a way where folks can still grow timber and harvest it and bears can still be on the landscape," Aoude said. "We hear the criticism. We take it to heart. We are working to improve things."
For Aoude, any bear that lives near vulnerable trees is a potential problem.
"You're never going to know what bears are peeling and what bears are not," he said.
He pointed to efforts at tightening restrictions like reducing the hunt zone from a 5-mile radius to a 3-mile radius. That way, he and Simek said, hunters don't kill bears far away from damage.
In an email Simek sent on April 15, 2015, she told several foresters, "Remember that the presence of a bear on your property does not mean it has or will cause any damage."
And yet, Simek and Aoude support allowing hunters to use hounds for killing bears before damage ever occurs. When trees are between 15 and 30 years old, they are most susceptible to bear peeling. Aoude says it makes for efficient property protection to reduce the number of bears in timber stands of that age class.
"Once the damage has occurred, you're almost too late," he said. "So if you had damage the year before, you can almost guarantee you'll have damage the year after. Because not only are those trees peeled and could be peeled further, there are trees next to them that are the same age."
The hound hunting ban allowed bear populations to grow problematically and hurt the state's ability to manage the carnivores, Aoude said.
"It's unfortunate that the tool was removed by legislation, because it is one of the most effective ways to pursue and harvest bears," he said.
Aoude defended the practice of killing two bears per permit as well, even if no fresh damage was found, by calling it an efficient way to give good customer service.
"And at this point, bears are doing fine in the state. Their populations are doing just fine and there's really no need for us to be concerned with individual woodlots," he said.
As for allegations the system is abused by foresters, Simek says, it's an unfair characterization.
"I think it's an overgeneralization. People say what they want to say and what they want to believe," Simek said.
Still, people like Wathne and others are concerned WDFW's approach violates the law. That's because they believe the spirit of I-655 only allowed for hound hunting when animals are actively causing damage. They believe voters wanted to ban the practice for population control, and allow for it only when an animal proves it's a problem.
About 40 hunters participate in the program annually, but the vast majority of bears are taken by a few dozen. By comparison in the same regions, the recreational bear season sees about 3,500 hunters buying licenses to harvest bears later in the year. Their success rate is far lower than the hound hunters.
If someone wants to know how many bears are killed on tree farms, though, it's not so easy to find. WDFW does not include the data on its website with other bears harvested in general seasons.
That's why KING 5 filed a request for the number of bears killed each year since 2004. Our research shows, in some years, the state's authorized the killing of as many as 334 bears for timber damage alone. That was in 2011. It was the highest number of permits granted in the records we obtained. The total amount of bears harvested on the 2011 permits was 182, with 66 females and 116 males killed. The lowest year for permits written was 2016, with 162 bears authorized for removal. Of the total allowed, 86 were reported killed; 27 were females and 59 were males.
Without exception, male bears are killed far more often than females. Typically, hunters kill nearly double the amount of male bears as female bears. For WDFW bear expert, Rich Beausoleil, that's concerning since data shows the offending bears are more often hungry females, many with new cubs. Male bears, however, may be targeted for their size.
"What we're finding from the removal statistics that are coming in is that males are being targeted. Females are dying too, but more males than females. That makes us wonder, are we targeting the right bear?" he said.
Beausoleil said the state has used hunter data to estimate the bear population until recently. Hunters are supposed to turn in a tooth from the bear for research, but they only do that 20 percent of the time. That's why Beausoleil's recent research project is showing that the long-held belief Washington has 35,000 bears is wrong. He estimates the number is much closer to 20,000. The average bear has an annual survival rate of about 80-90 percent, but on timber farms, that number drops to 60 percent.
Though the number of bears killed for causing timber damage typically totals only 10 percent of the bears killed every year statewide, Beausoleil says the number is much higher when considered from a more localized perspective.
"We could see harvest rates at 40 percent, and that's higher than we'd like to see. That can cause a population decline, if that's not what we want to do as an agency," he said. "So, it's really important not to look at it on a washed-out statewide view or even on a regional view, but to zoom and see what's going on, because this could be your backyard, and you might have an interest in knowing the bears are OK where you live."
Timber farms are invaluable assets for protecting wildlife in the state, Beausoleil says. That's why he hopes collaboration with foresters and better program management will provide opportunity for change.
"These lands that private timber provide, provide habitat in a big way. There's a lot of land out there that's helping wildlife," he said.
KING 5 told former state legislator Hans Dunshee about its investigation of the bear depredation program. Dunshee, a Democrat from Snohomish, served as the 44th District state representative for two decades and was a fierce supporter of I-655 and opposed several attempts to repeal it.
"You're not authorized by the will of the people to just exterminate all bears in an area, because they might be a problem," he said. "This program violates the initiative because it focuses on population. It assumes population is a problem not a problem animal."
Dunshee believes the state's abusing its power and violating voter trust, all while setting a bad example.
"We're all supposed to follow the law. If government doesn't follow the law, then citizens say, 'We don't have to,'" he said. "The department is destroying the trust of everybody, and it's creating lawlessness."
And that's exactly what we found WDFW staff are concerned about, as well.
"I've had more than one officer tell me, 'I'm not going to work these anymore,'" said retired WDFW Captain Murray Schlenker.
Schlenker retired from WDFW police last year. He calls the rules confusing and inconsistent.
"You can go out and knock yourself out as a law enforcement officer, but cases aren't going to get anywhere," he said.
Our investigation found hunters caught breaking the rules aren't held accountable. They're almost always allowed to keep on hunting. In a 2014 case involving one of the program's most prolific hunters, an enforcement officer recommended the state ban an offending hunter from killing bears on timber farms.
Here's what happened: Hunters get one yellow tag per bear they're allowed to kill. That tag is supposed to be immediately clipped onto the bear's ear so that it cannot be reused, a policy aimed at preventing hunters from taking more bears than allowed. This particular hunter was located nearly four miles from the kill site, the bear gutted and packed in a box used to transport dogs. But the hunter had the tags in his pocket.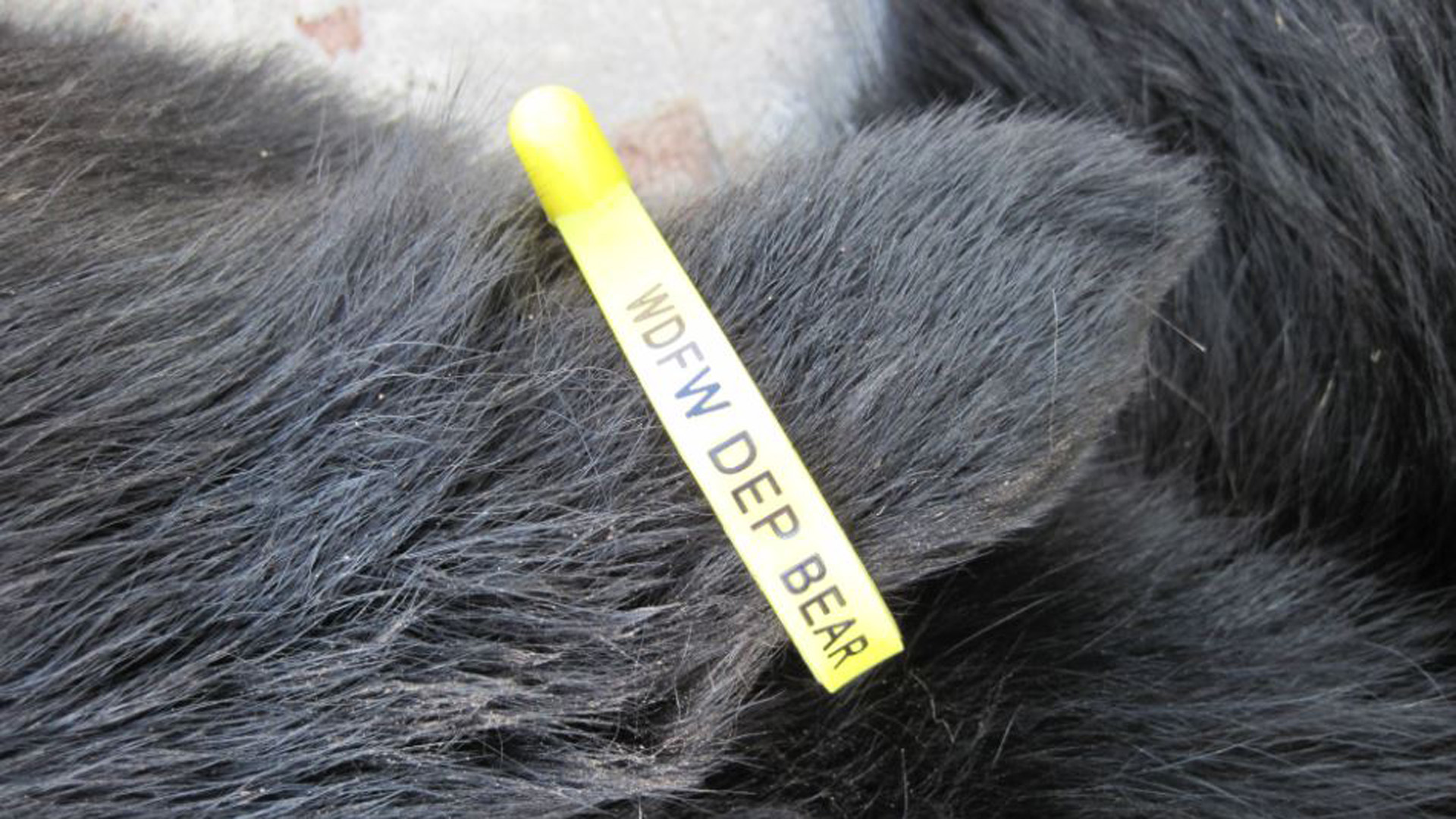 Though the officer who filed the case told management the hunter should not be allowed to hunt on timber permits any longer, WDFW management did nothing. That hunter continues to be one of the most active in the program
KING 5 obtained an email written by the enforcement officer at the time. He complained, "My frustration level is at an extreme," because hunters "pick and choose" what rules to follow.
"That level of frustration is there for them and they don't want to try good faith, conscientious effort and have it thrown back at them. That's very demoralizing from an employee standpoint," Schelnker said.
"It's becoming harder to get good people out there, but we still have the good people: the good hound hunters, the ethical hound hunters, the people who play by the rules. We still have them working for us," Ziegltrum said.
Ziegltrum, director of WFPA's Animal Damage Control Program, is the one who gives final approval or denial of all hunters allowed on the BTDM permits. Aoude said that if hunters are legally allowed to harvest bears in Washington, WDFW has no power to deny their participation in the program. Ziegltrum does that.
"There is a very strong incentive for these people to stay in line," he said. "They recognize we are the only game in town."
As for the hunter caught with tags in his pockets, Ziegltrum says it was an honest mistake.
"This guy is still hunting, because we explained the situation to the state agency, and this young gentleman did not get himself into trouble," he said.
Last year, WDFW Wildlife Program Manager Sandra Jonker wrote a letter of commendation to honor a hound hunter for exceptional efforts. "In particular I want to thank you and your hunting party for your help over the years…for ethically responsible hunting behavior," she wrote.
It belongs to the same hunter who said the timber hunts are so mismanaged that ethical hunters are being forced out, leaving behind those willing to bend the rules.
"And, the way the foresters think, is that they will have to do it our way because we're the biggest employers in the state," he said.
He's not against hound hunting. He thinks dogs, with their keen sense of smell, are the best way to target problem bears. But dogs only do what their handler wants, and he says too often, foresters and hunters just want blood.
"These guys don't have no respect for wildlife. The more they get, they think the better hunter they are," he said.
Dunshee believes WDFW's management of the BTDM program could set the agency back in its efforts to unite culturally and politically disparate groups in Washington, often divided over wildlife.
"I think it destroys the trust in the agency. The agency is doing good things on wolves and cougars. I think this destroys the good will that's been built between rural communities and animal welfare advocates," Dunshee said. "I think the legislature should do an investigation. The evidence you have should be laid out for the public to see. I think it ought to be dealt with and if there are people in the upper management who have been burying this story, I think they ought to be held accountable."
For Wathne, it's criminal. She believes WDFW has turned a problem bear into a hunting season. She calls that poaching.
"And the department is enabling it. They are putting their stamp of approval on it apparently. You bet it's poaching. It's a violation of the law," she said. "The initiative itself is very clear. So, perhaps it's time to go to the Governor."
In a staff report filed by a WDFW animal conflict specialist concern is voiced over the long-term effects of the timber farm hunts. In some Game Management Units, between a quarter and a third of the bears are killed because of tree damage. The report said, "During a conference call it was brought up that conflict staff in Region 5 does not support killing 2 bears per permit because we do not know the population effects. That statement was countered with the argument that if we don't know the populations (sic) effects then why not allows (sic) two bears per permit? Is this consistent with this agency's mission?"
In other documents KING 5 obtained, employees expressed concern that the bear hunts on timber farms reduce the available bears for harvest during recreational seasons, when hunters are paying for licenses that support the budget of WDFW.
"I think that as an agency we should be concerned with the fact that in the south Cascades in 2015 we had a recreational bear harvest of 99, but in 2016 we had a depredation harvest of 37. That is 27 percent of the recreational harvest, and we are talking about 3,600 recreational bear hunters versus a handful of hound hunters. The success rate for recreational hunters was 2.7 percent. I can't help but wonder if taking these bears through the depredation hunt it isn't taking away an opportunity from thousands of other recreational hunters who are purchasing a bear tag," a WDFW biologist wrote in 2016.
Another staffer wrote in the same thread, "the system in place is just being manipulated."
"We are not providing people with recreational opportunity," Ziegltrum said.
Wathne met with Ziegltrum in the 1990s to discuss I-655. She met with many stakeholders as they molded the allowance for hound hunting to reduce tree damage. She believes the intention of the law was clear, not just for her but for WDFW and the timber industry. There should be no misunderstanding, she says, the loophole was never meant to cull bear populations.
"And what does it say to the people of Washington state?" Wathne said. "The Department of Fish and Wildlife doesn't give a damn about what you voted for or about the bears of this state."
Since KING 5 initially broadcast the investigation, Conservation Northwest has made a public appeal to WDFW for transparency on the issue, voicing concern that the use of the hunts violate I-655.
CLARIFICATION: The original script said hunters do not have to buy a bear license like recreational hunters to participate. We've since learned they do have to buy a bear tag but they do not use it for this hunt.