LANGLEY, Wash. — A team of researchers have found having a young orca's grandmother around improves survival of the offspring.
A study published last week in the "Proceedings of the National Academy of Sciences" tests the "grandmother effect'" in Southern and Northern Resident killer whales off Washington state and British Columbia. They believe whales that have gone through menopause are uniquely able to help raise the youngsters.
"Why humans and some species of whales go through menopause remains an evolutionary puzzle," the team wrote. "In humans, postreproductive females gain genetic benefits by helping family members—particularly increasing their number of surviving grandoffspring."
The study used decades of photo census records of the two populations to study survival of individual whales and connected family groups through observation. And they found if a grandmother whale died, it reduced the survival of her "grandwhales" in the two years following her death.
"The statistics showed they were healthier and lived longer when they had a thriving grandmother," said Howard Garrett, co-founder of the Orca Network.
Dr. Deborah Giles, a killer whale researcher at the University of Washington Center for Conservation Biology, said the study confirmed decades of observations.
"They're incredibly socially bonded animals," Giles said.
She said it's a fascinating relationship, because whales can live decades after they cease reproducing – killer whales have evolved one of the longest post-reproductive spans outside humans.
She recalled an aerial photo of J2 (also known as "Granny") from 2016 sharing fish with J45 – her apparent great-grandson. J45's mother had recently died, and he was not yet old enough to thrive without support. Though J2 was thin and towards the end of her life, she helped the younger relation.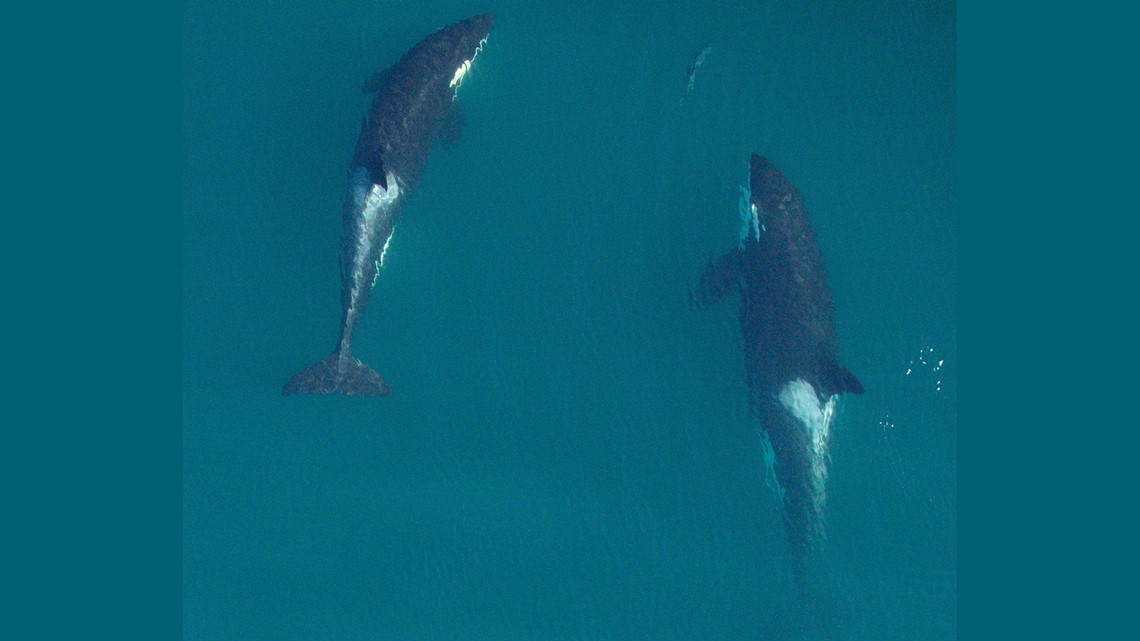 "It sticks out to me, because this is an animal in here late 80s, maybe old as early hundreds," said Giles. "She's clearly trying to keep that fish in the pathway of her relative so he'll eat it."
"She knew what she was doing," said Giles. "She could have eaten that fish in one bite, but she chose to corral it toward him so he'd grab it."
The study also notes the importance of grandmother whales in lean salmon years when the female leaders serve as "repositories for ecological knowledge."
"The impact of losing a postreproductive grandmother is highest in years with low and moderate salmon abundance," the team wrote.
"The grandmothers have that long perspective, the multi-decade look at where the salmon have been, the nooks and crannies," said Garrett. "…So they're constantly in that role of guide, mentor, teacher. They share not only their food, but their traditions, their ways. And the young learn, and stay with it."
There are 73 Southern Resident whales we know of, Giles said, and of that, there are just four grandmothers remaining – one in J pod, one in K pod, and two in L pod. She worries that these grandmothers will only become more important to the endangered Southern Resident killer whales' survival.
"They are the matriarchs of their families," Giles said. "They're the holders of the knowledge. And by losing them, it's like we're losing the institutional knowledge."
Garrett also hopes deeper knowledge of the whales' behaviors will encourage people to help protect them.
"I think the study helps people learn more detail, more higher resolution if you will, of how they live and who they are," he said. "They really are individuals with their own identities, their own roles, their own place in their societies and in their families. And the more we get to know them in that kind of intricate detail, the more we feel close to them, and want to help them in any way we possibly can."