SEATTLE — Ever dream of quitting your nine-to-five and hitting the road?
That's exactly what Cat Carroll and Aaron Colburn are about to do.
"We're just gonna go travel around the country," said Cat.
The couple has been refurbishing a 2007 Ford bus, turning it into a camping palace. The bus even has its own Instagram, @Stu.the.bus.
There, you'll see Stu's transformation from yellow short bus to green adventure bus.
Some of Stu's innovations are pure genius: like the outdoor hot water shower. Aaron just opens the window, spins the sink faucet around, and presto – outdoor showerhead!
There's also a travel table with plumbing pipes as a base, a composting toilet, and a sound system, complete with a sub-woofer under the shoe rack. Post Malone and Kendrick Lamar are some of the artists on Stu's road trip playlist.
Aaron and Cat are musicians as well – they met on the drum line at Washington State University. After moving to Seattle Cat worked in a physical therapist's office, Aaron delivered pizza and drummed for Blue Thunder, the Seattle Seahawks drum line.
Until they quit to refurbish Stu – and live in him.
"Basically, we were priced out of Seattle, the rent's super high in Greenlake, and we just wanted to travel around and get outside and climb while we're still young and not super tied down, and this was our best solution," said Cat.
"Everywhere we can drive," said Aaron.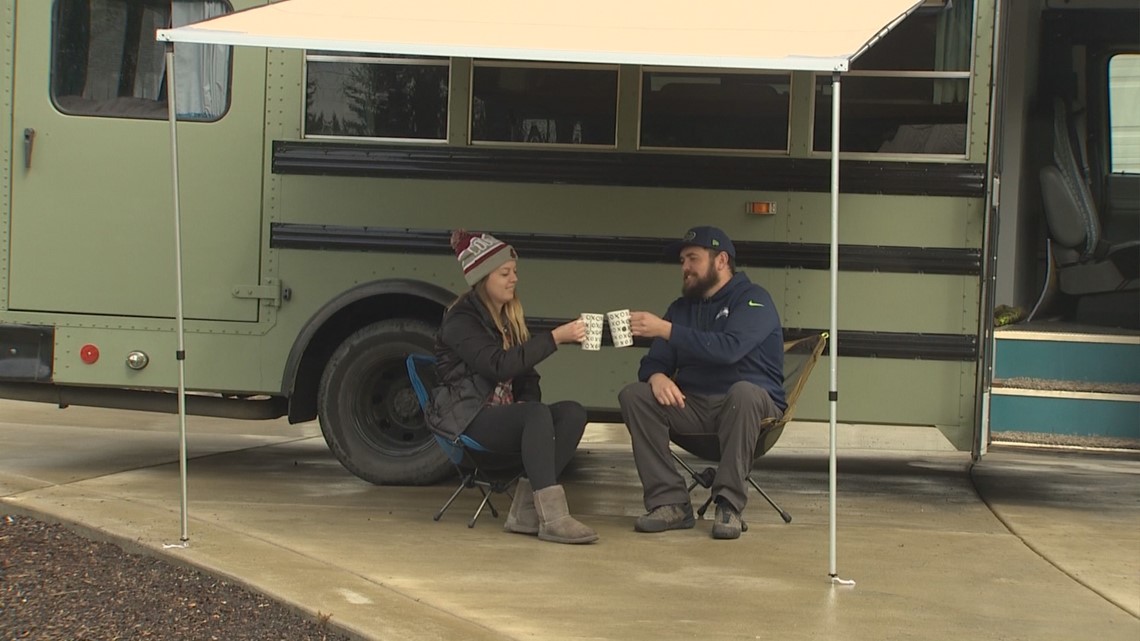 They say they don't feel homeless as they trade a roof over their heads for wheels on the road.
"We prefer to think of it as we own our own home," Cat said. "Yeah, we flipped it on that. We're houseless but not homeless." Added Aaron.
Besides -- they're bringing the important stuff with them. Each other. And a small drum kit in a suitcase. Think of it as the Stu the Bus version of music around the campfire.