SEATAC, Wash. — May is Bike Everywhere Month.
Sponsored by the Seattle Department of Transit, Bike Everywhere Month is designed to get people of all skill levels outdoors and biking.
EVENTS
Twice each month between May and September, bicycle weekends will take place on Lake Washington Boulevard, with other events being held throughout the month of May.
During bicycle weekends, Lake Washington Boulevard will be closed to cars from 10 a.m. Saturday to 6 p.m. Sunday, between Seward Park and Mount Baker Park. Bicycle weekends are put on by Seattle Parks and Recreation.
May: 20-21; 27-28
June: 17-18; 24-25
July: 1-2; 15-16
August: 19-20; 26-27
September: 2-3; 16-17
TRAILS
For those looking for a more advanced or longer ride, AllTrails lets riders filter by difficulty, length, scenery, and activity.
More advanced rides included on the site are Rattlesnake Ledge Trail, listed as moderately difficult, with an elevation increase of 1,459 feet. The full trail totals 5.3 miles and usually takes bikers just over three hours.
Mount Fremont Lookout Trail is another moderate ride totaling 5.7 miles with an elevation increase of 1,108 feet. The average time to complete the Freemount trail is just under three hours.
Mount Si Trail is listed as a hard trail at 7.5 miles with an elevation gain of 3,336 feet.
MARINERS GAMES
The park has secured parking for over 150 bicycles in the Mariners Garage located on Edgar Martinez Drive east of Occidental Avenue. The best part is that bicycle parking in the garage is free of charge. Additional bike racks are available next to the garage on the west plaza and on the Centerfield Gate Plaza on the north side of the stairs.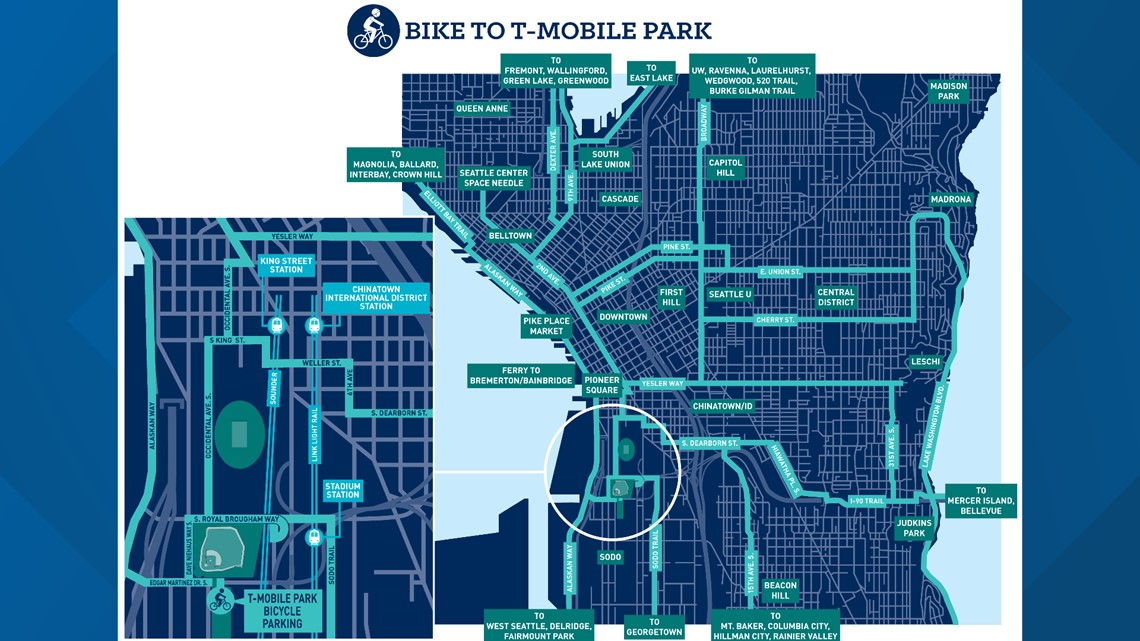 The Mariners said bicyclists are advised to avoid chaining bicycles to parking meters, trees or other objects that might impede pedestrian and vehicle traffic around the ballpark. Bicycles blocking, walkways, stairways, elevators, sidewalks or building entrances will be immediately removed by the Seattle Police Department, according to the Mariners.
WHY BIKE?
Washington was named the most bicycle-friendly state by the League of American Bicyclists for seven years in a row. The Washington State Department of Transportation encourages biking as a more sustainable and traffic-reducing way to commute.
According to the University of Montana, biking is one of the healthiest ways to exercise. It burns calories while building strength and increasing balance. It builds endurance, helps define and tone muscles, increases cardiovascular fitness, reduces anxiety and depression, and increases blood flow and oxygen to the brain.
Motor vehicles produce over 30% of carbon dioxide emissions in the U.S., and over 80% of carbon monoxide emissions according to the University of Montana.
You can learn more about the benefits of biking, Bike Everywhere Month, and where and how to ride in Seattle's bike guide.