SEATTLE — Seventy years after it officially opened, Northgate Mall is about to get a major makeover.
On Thursday morning, work crews, project leaders, and elected dignitaries officially broke ground on the first piece of NHL Seattle's renovation of the decades-old shopping complex.
Phase 1 of the project will include NHL Seattle's $80 million, three-rink training facility and team headquarters. The 172,000-square-foot complex will host the to-be-named franchise, as well as provide community rinks to build the sport. They will be the first ice rinks within the Seattle city limits.
The building is set to open in 2021, around the same time that Sound Transit opens a neighboring LINK light rail station. A new pedestrian bridge over I-5 will connect neighborhoods to the east and west.
Simon Property Group, which owns the mall site, has been working for years to kick start the major redevelopment, which also has plans for a central park, hotel, mixed-use buildings, and additional housing. There are also plans to build two new roads.
Photos: NHL Seattle training facility at Northgate Mall renderings
All of it will encompass the existing site of Northgate Mall and transform the retail hub, which, like other shopping centers, has struggled to evolve in the age of Amazon and online shopping.
Northgate Mall opened April 21, 1950, as the first regional shopping center in the United States, according to Simon Properties.
Simon Development President Michael McCarty was at the ceremony and joked he never thought he would be dealing with a hockey team at a mall.
"But that's what changed here. You never know what shape you're going to take," McCarty said. "Some people tell me it's like a novel – never know how it's going to end."
But this book was being written before NHL Seattle entered the picture. McCarty says his firm, which owns the site, was working on executing its grand vision for the last three years and jumpstarted the plans for Link Light Rail to Northgate.
"We're not getting out of the mall business," McCarty said. "We're very committed to the mall business, but we're committing to changing it to what the consumer wants."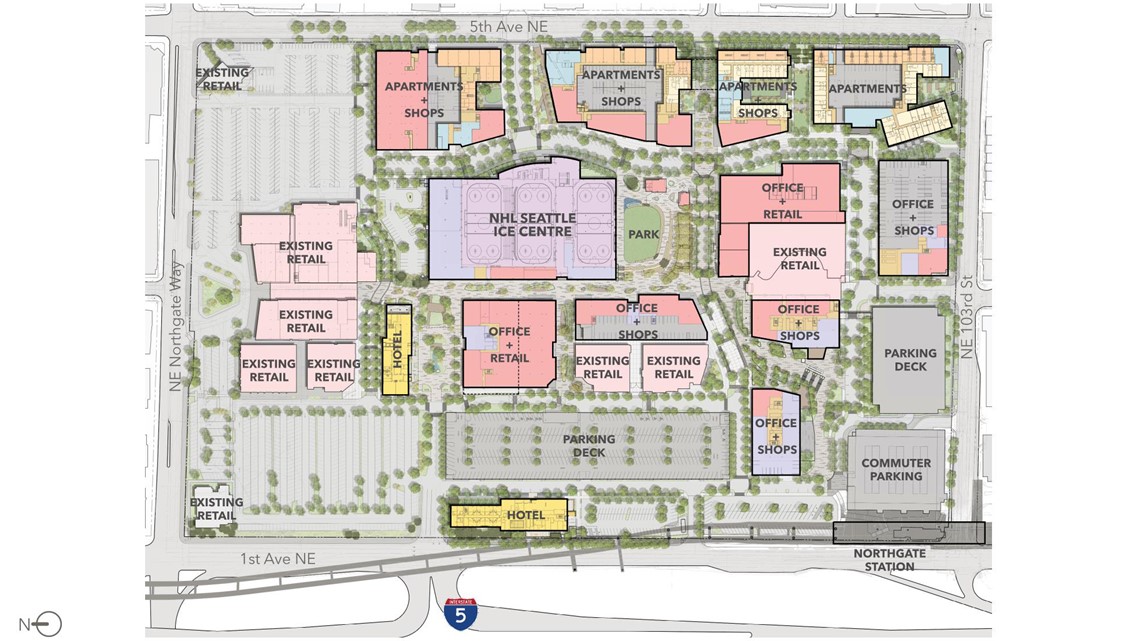 That includes building the first of two hotels on the property. Simon's latest plans involve groundbreaking on one of the two hotels by this year and executing the full vision by mid-decade.
Seattle City Councilmember Debora Juarez helped broker the deal for her district.
"Growth is like risk," Juarez said. "You're always going to have it – it's just how you manage it."
Juarez says it was important to her to take advantage of the changing circumstances in order to keep jobs within North Seattle.
"Look at all the jobs it's creating and not just construction," she said.
The Northgate NHL development came after negotiations between the organizations and multiple cities, including Tukwila. Juarez said it was important that Seattle, which does not have an ice hockey rink, to get the building.
"The Mariners go somewhere to train, Seahawks go somewhere else to train. If we're going to have a world class city and a team, they should have their training facility in Seattle proper," she said.
Before the official event, King County and the City of Seattle announced a new partnership to build 232 new affordable housing units on one of Metro's existing Northgate parcels. That project is scheduled to break ground in 2022.