Here are the Seahawks players to draft and avoid in fantasy football leagues
Metcalf is being drafted in the 4th round of fantasy football leagues this season. Is he worth the draft pick?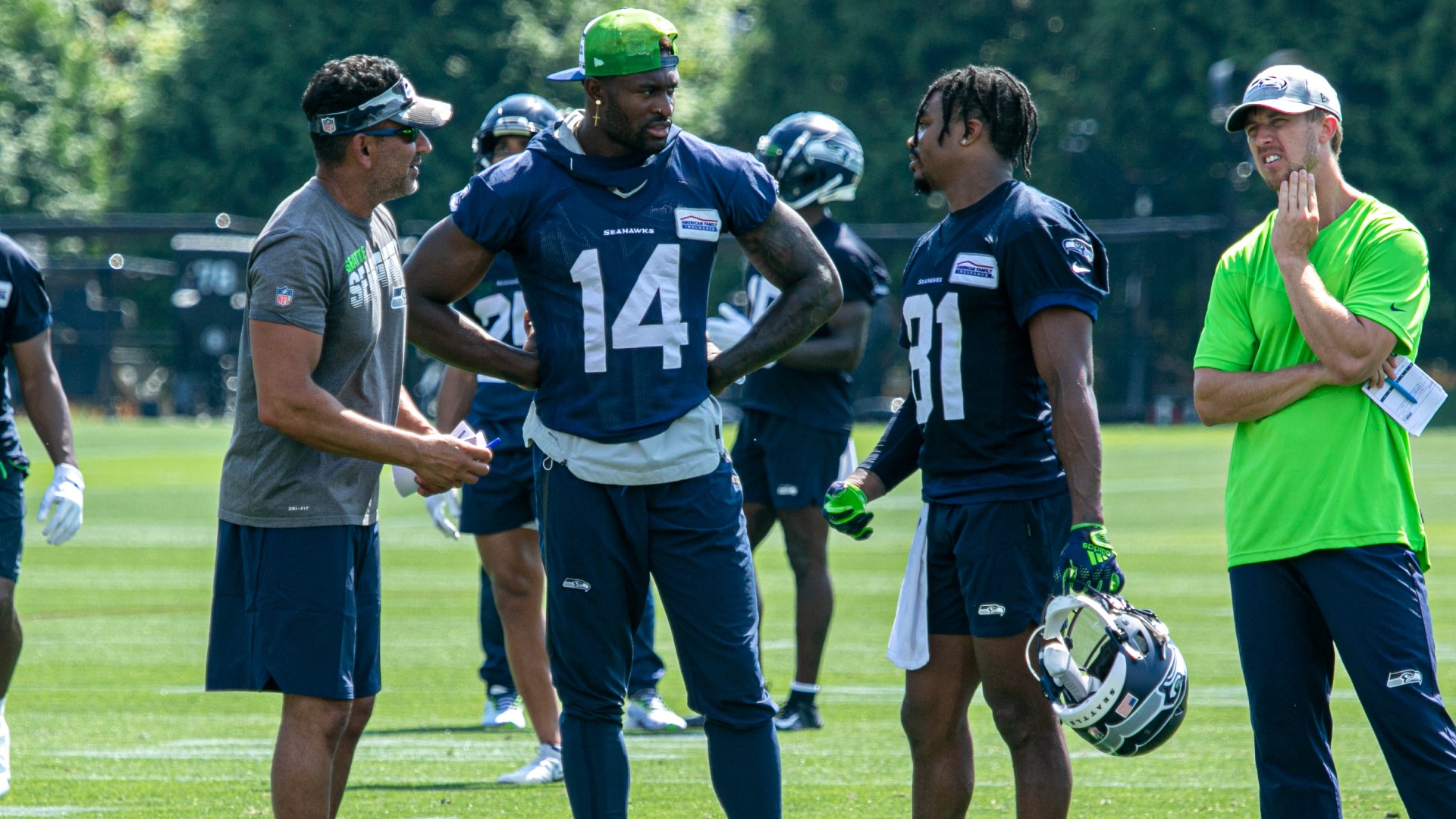 Welcome to another fantasy football season!
Labor Day weekend marks the unofficial "draft weekend" for fantasy football aficionados, which means there are two or fewer weeks to get up to speed for your draft.
If you've been enjoying the Seattle summer sun in lieu of tedious fantasy football preparation (we don't blame you for that decision in the slightest!), KING 5 is here to help with breakdowns on the relevant Seahawks players drafted in fantasy football leagues this season.
The following players are sorted in order of where they are typically drafted in leagues.
Average Draft Position (ADP), where the player is typically selected in fantasy football leagues, is from Fantasy Football Calculator. The projected round is based on standard 12-team leagues.
Fantasy points are based on points per reception (PPR) and four-point per passing touchdown leagues.
DK Metcalf
:
ADP: 4th round (43rd overall), 16th wide receiver drafted
2021 stats: 75 receptions, 967 receiving yards, 12 touchdowns, 241.7 PPR fantasy points
Fantasy outlook: In his third season, Metcalf reverted to his rookie levels in yards per game and yards per target after his All-Pro sophomore season. Russell Wilson injured his finger during the 2021 season, missing games for the first time in his career, and Metcalf's productivity dipped across the board.
Now Metcalf heads into the 2022 season with the worst quarterback situation of his career. (At least he got paid!)
His draft price, however, still puts him among the elite WR2 options in the league. Metcalf is being drafted ahead of Mike Williams on average, which does not feel right when you consider the Seahawks' middling offense will suppress production.

KING 5 SEASON PREVIEW: 5 important storylines for the Seahawks
Skip the price tag on Metcalf and draft another wide receiver in a better offense in the fourth round.
Rashaad Penny
:
ADP: 6th round (72nd overall), 29th running back drafted
2021 stats: 749 rushing yards, 6 rushing touchdowns, 6 receptions, 48 receiving yards, 121.7 PPR fantasy points
Fantasy outlook: Rookie Kenneth Walker III's injury that sidelined him for the final two preseason games gives Penny a leg up in the running back depth chart to begin the season.
The 26-year-old, maligned by nagging injuries over his career, finished the 2021 season as one of the best running backs in the league. Here's his last five games in rushing yards: 190, 170, 135, 39 and 137.
His spike in production came at the perfect time for managers, too, with Penny chipping in six touchdowns during the fantasy football playoffs.
You can draft Penny in the back half of the sixth round as the 29th running back, which feels fair given his injury history. If he can fend off Walker III in the second half of the season (and avoid injury), Penny is in line to deliver steady RB2 value in a run-heavy offense.
Kenneth Walker III
:
ADP: 8th round (87th overall), 35th running back drafted
2021 stats (college): 1,636 rushing yards, 18 rushing touchdowns, 13 receptions, 89 receiving yards, 1 receiving touchdown
Fantasy outlook: Walker III's hype took a hit when he underwent a "procedure," sidelining him for the rest of the preseason.
Aside from the quarterback situation (and his preseason injury), Walker III found himself in an ideal environment for a rookie running back. He's playing on a team with a head coach that loves to run the football, alongside a running back who has not remained healthy for a full season, and his team spent a high second-round draft pick as another vote of confidence.

KING 5 SEASON PREVIEW: Can Seahawks win with a run-heavy game plan?
The Seahawks invested high enough draft capital - he was the second running back selected in the 2022 NFL Draft - to justify giving the rookie plenty of chances down the stretch.
His preseason injury was a setback for sure, but you can draft Walker III at a discount in the eighth round of fantasy football drafts. His stock may slip further in the next two weeks as managers worry about an extended absence. Still, this is a nice price tag for a young running back with a ton of physical ability that figures to get better when your fantasy football season matters most.
Tyler Lockett
:
ADP: 10th round (111th overall), 43rd wide receiver drafted
2021 stats: 73 receptions, 1,175 receiving yards, 8 touchdowns, 238.5 PPR fantasy points
Fantasy outlook: OK, it's time to be honest here.
Lockett's price - drafted as the 43rd wide receiver on average - does not make any sense. He's beaten Metcalf in receiving yards (3,286) and receptions (255) over the last three seasons and nearly matched him in touchdowns (26) despite being 50 pounds lighter. Last season, when both receivers did not have Wilson for long stretches of the season, Lockett remained consistent (seven games with over 90 yards) while Metcalf (just three games with over 90 yards) regressed in every category. He has also one of the highest single-game upsides in the entire league.
Lockett is in the exact same offensive situation as Metcalf, yet he's being drafted a full six rounds later. (Why though?)
Considering cost, Lockett is the much, much better value for your fantasy football drafts. Take him as your fantasy team's fourth wide receiver and smile.
Noah Fant
:
ADP: 19th round (217th overall), 25th tight end drafted
2021 stats: 68 receptions, 670 receiving yards, 4 touchdowns, 159.0 PPR fantasy points
Fantasy outlook: Fant is not being drafted in your typical 12-team fantasy football league.
If you forego an elite tight end early, Fant could be a low-cost (read: essentially free) tight end option at the end of the draft.
In 2021, Fant earned 90 targets and 24.6% of Denver's passes in the red zone according to Player Profiler. The 24-year-old played on nearly 87% of all snaps for the Broncos and even ran in the slot 15% of the time, showcasing his versatility.
It's not an ideal passing offense to invest in, but it won't take much for Fant to outperform his draft price.
Geno Smith
:
ADP: Undrafted
2021 stats: 702 passing yards, 5 passing touchdowns, 1 interception, 42 rushing yards, 1 rushing touchdown, 56.3 fantasy points
Drew Lock
:
ADP: Undrafted
2021 stats: 787 passing yards, 2 passing touchdowns, 2 interceptions, 53 rushing yards, 2 rushing touchdowns, 52.8 fantasy points
Fantasy outlook: Plz don't.