Seattle Seahawks defensive end Michael Bennett shared an impromptu conversation with a group of military veterans outside Seahawks headquarters Tuesday. It came in the wake of protests by NFL players during the national anthem that has drawn the ire of the President of the United States and many Americans who say the players are disrespecting the military and the flag.
That moment Tuesday brought the military wife who witnessed it to tears and led to her own conversation with the player, and she thinks more conversations like it need to take place.
"I don't if it just felt like, maybe, a glimmer of hope," Dayna Coats said.
Bennett has been one of the players who has protested all season during the anthem, sitting on the bench during the ceremony. While he didn't call Bennett out by name, President Donald Trump was talking about players like him during a fiery speech last week and a barrage of tweets since then calling on NFL owners who fire players who don't stand for the anthem. That led to more than 200 players taking a knee or refusing to come out of the locker room during the anthem.
Coats said she saw a car stopped on the side of the road Tuesday morning and another in the middle of the road. A small crowd of people were standing nearby. She took a photo, thinking it was a car accident. As she got closer, she realized it was a group of military veterans.
"The ones that I saw up-close seemed to be in their senior years... and probably seen some active duty battlefields," Coats said.
One of the cars apparently belonged to Bennett, who was headed to practice. Coats said Bennett saw the veterans and stopped to have a conversation.
As she drove by, Coats writes she saw Bennett and a veteran shaking hands and smiling.
"That image brought an unexpected wave of extreme emotion over me and I instantly and almost uncontrollably started bawling," Coats wrote, adding she had to pull over to regain her composure.
"As the wife of somebody who's been serving 33 years in the military. My father is a veteran, was in the Army. My father-in-law was a Marine. My brother-in-law was a Marine. I have relatives who are police officers. It really, literally made me cry," Coats said Wednesday.
That brought the veterans and Bennett to her car to make sure she was OK. That's when Coats said she told Bennett what was in her heart.
"I don't want to disrespect my country. I don't want to disrespect the flag. I don't want to disrespect my family, my husband, the rest of my family. And I want to hear. I want to listen, but I don't want to seem like I'm taking sides and I don't want to seem like I'm coming down on one side or another without understanding it all and I didn't understand it all. And so I was willing to listen and he spoke and I appreciate that. And he listened to me, too. He was very respectful," Coats said.
She wrote that Bennett reached in and hugged her and that Bennett told her that he too has family in the military.
"The word unity was used several times and he admitted he didn't know where to go from here. I do not know either. Nor do I know what the correct answers are… but I do know, I am thankful for those veterans and thankful Michael stopped to talk with them…and inadvertently me," Coats wrote.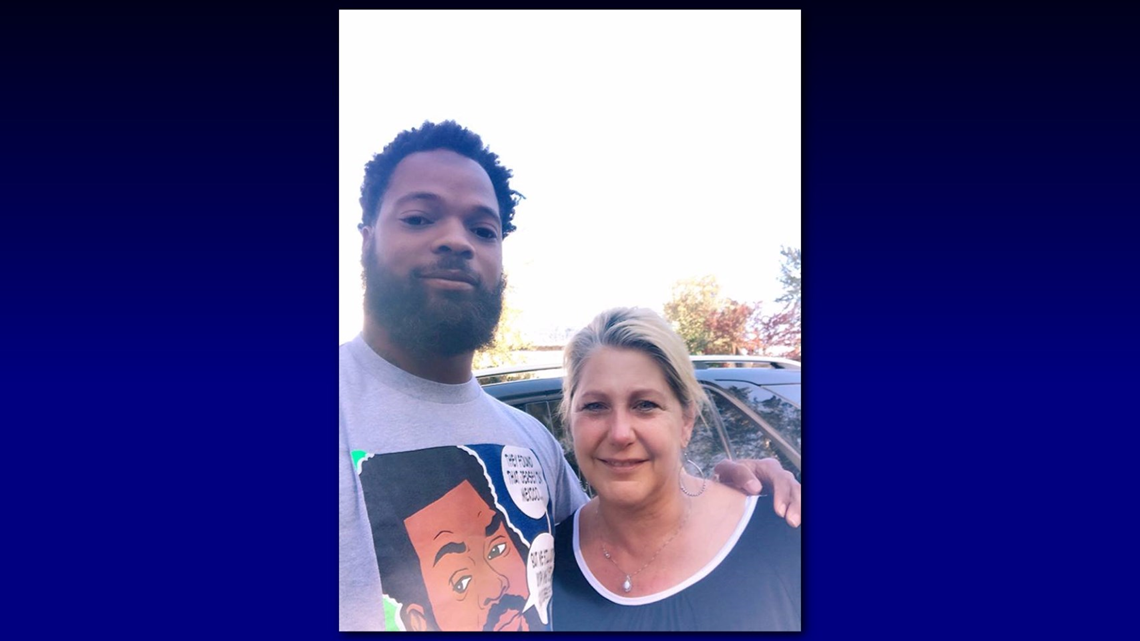 Seahawks receiver Doug Baldwin on Sunday said a similar conversation took place when the team met to decide what to do during the anthem before last week's game. He said everyone listened to one another, even though they didn't all agree."The most beautiful thing about what happened was that those individuals were willing to put their own pride, their own ego, their own desires and wants and needs aside for the man next to them. And I hope that us, as a country, can do that as well," Baldwin said.Coats said she hopes this isn't the last encounter we see on this issue."Everyone keeps talking about 'the conversation' and that's where this needs to go next," Coats said.Seahawks cornerback Richard Sherman said Wednesday the team has yet to decide what it will do during the anthem this Sunday at home against the Indianapolis Colts. The team stayed in the locker room during the anthem last week.