SEATTLE — Nitasha Lewis was once a struggling high school dropout and teen mom.
"I experienced those challenges," Lewis said. "I experienced bad decisions and also toxic relationships. Life was just spiraling out of control for me."
Lewis battled drug addiction and abusive relationships on her journey. When she tried to get her life back on track, she was told by her employers that she needed a college degree to get ahead. As a single mom, she chose to move to Port Angeles to continue her education after escaping an abusive relationship. Lewis went on to earn two degrees at Peninsula College.
"I just stayed fervent and made education a priority," Lewis said. "No matter what came up, I made education a priority."
Lewis now works at Peninsula College in the Upward Bound program, where she counsels underserved high school graduates. She is also pursuing her master's degree at WGU Washington in Management & Leadership. To celebrate Lewis' accomplishments and its 10-year anniversary, WGU surprised and awarded Lewis a scholarship for $10,000.
"You can already tell her ambition shines through, and we will not stop until you are successful," said Tonya Drake, chancellor of WGU Washington.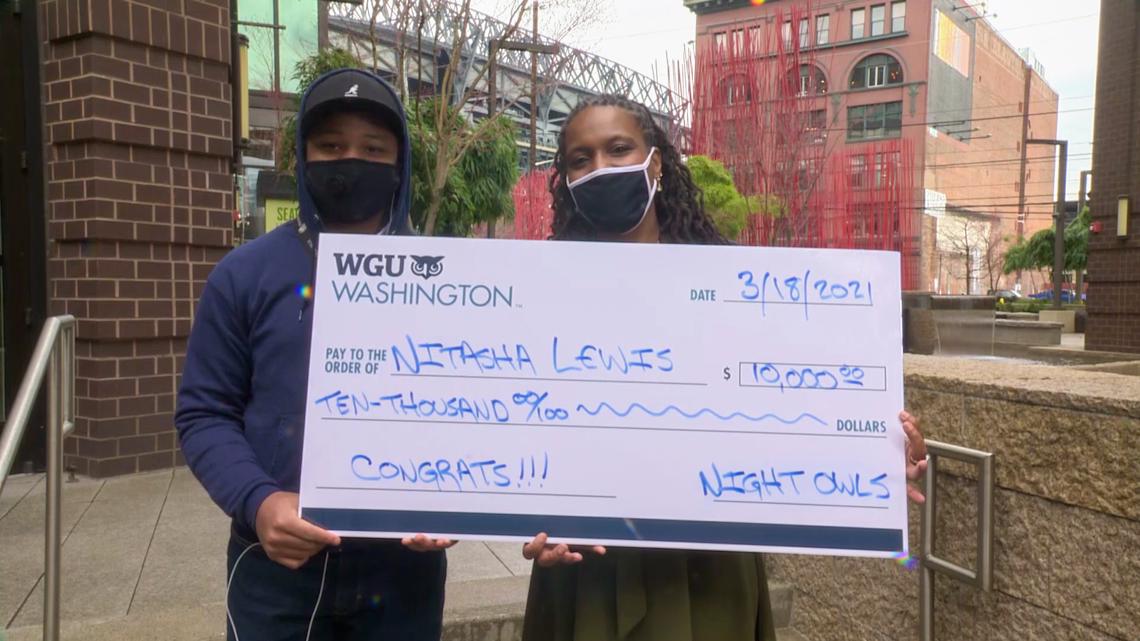 As Lewis continues to work full-time and pursue her master's degree, she looks forward to meeting her goals.
"I won't have to stress about tuition. This will help me keep going to be the first doctor in my family."
To learn more about WGU's "We Won't Rest" campaign to make online learning more accessible through scholarships and grants, visit wgu.edu/KING5.