GEORGE, Wash. — Parents and alumni of the University of Washington's Husky Marching Band donated more than 70 boxes of school supplies to George Elementary School after the community's support following a rollover bus crash.
"Thank you so much to the parents and alumni of the University of Washington Husky Marching Band for their generosity. George Elementary has received over 70 packages of various school supplies in response to the support that the communities of George and Quincy gave to the Husky Marching Band when one of their buses flipped on Thanksgiving Night. Go Dawgs!" the Quincy School District wrote on Facebook.
The band was traveling to the Apple Cup in Pullman on Thanksgiving when one of its charter buses crashed in icy conditions on I-90 near George, Washington. Nearly 50 of the 56 people on the bus were transported to local hospitals for evaluation.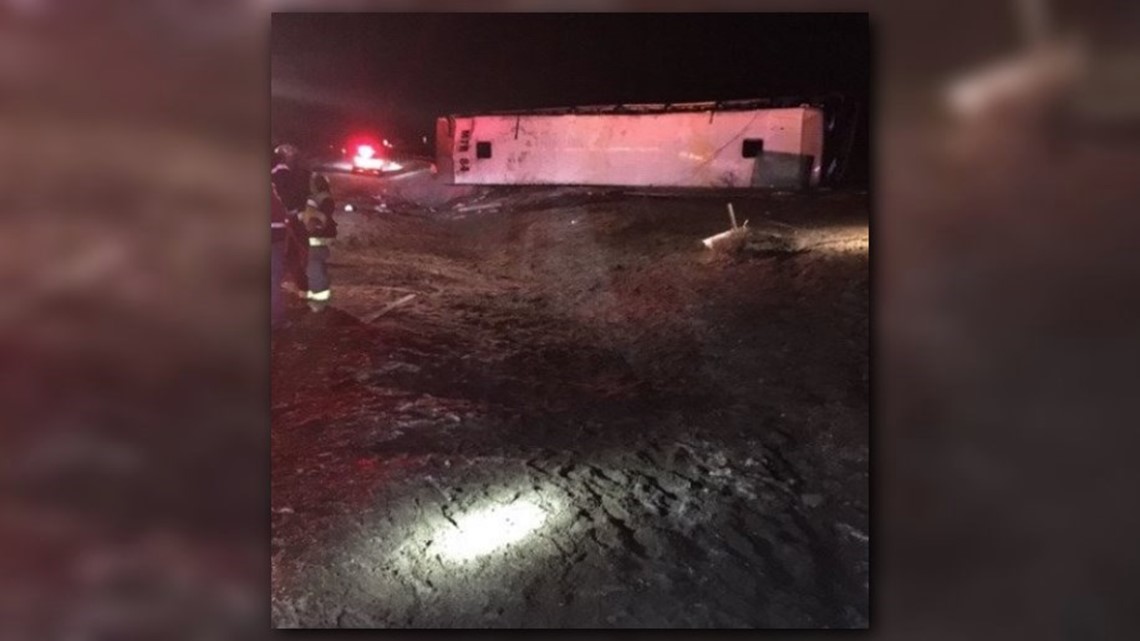 Washington State Patrol said 36-year-old Samammish driver Nancy Aguilar was cited for driving too fast for conditions and more citations could follow.
Some of the students and staff were sent on other charter buses to George Elementary School, where they were checked by medics. The students received Thanksgiving meals and other goods from George families. The Grant County Sheriff's Office said the show of support was huge.
"We're very thankful to the people of George to help us out, give us some food until we can figure out how to move forward about our schedule," senior and drum line section leader Chris Serica said after the crash. "Thankful to the people of Moses Lake for housing us."
"I would like to commend Brad McDavid, Director of Athletic Bands, for his outstanding leadership, and to express deep and heartfelt gratitude to the people of Grant County, especially the first responders, Quincy School District and the administration and staff of George Elementary who went far out of their way to take such incredible care of our students on Thanksgiving night," said University of Washington Athletic Director Jennifer Cohen in a statement to KREM shortly after the crash.