One of the costliest U.S. House races in the country, Washington's 8th Congressional District has drawn over $25.6 million in spending, including $16.3 million from outside groups.
Democrat Kim Schrier and Republican Dino Rossi are battling to replace longtime Rep. Dave Reichert, a Republican who's retiring.
We break down where the money's coming from and who the top donors are.
How much have the candidates spent?
Schrier has raised over $6.9 million and spent nearly $5.4 million. Rossi has raised over $4.4 million and spent over $3.9 million, according to Federal Election Commission data.
Where are those individual contributions coming from?
Rossi has nearly twice as much money as Schrier coming from individual contributors in Washington state compared to out-of-state contributions. Rossi has raised about $2,026,862 from individual contributors in Washington compared to Schrier's $1,037,565, according to FEC data.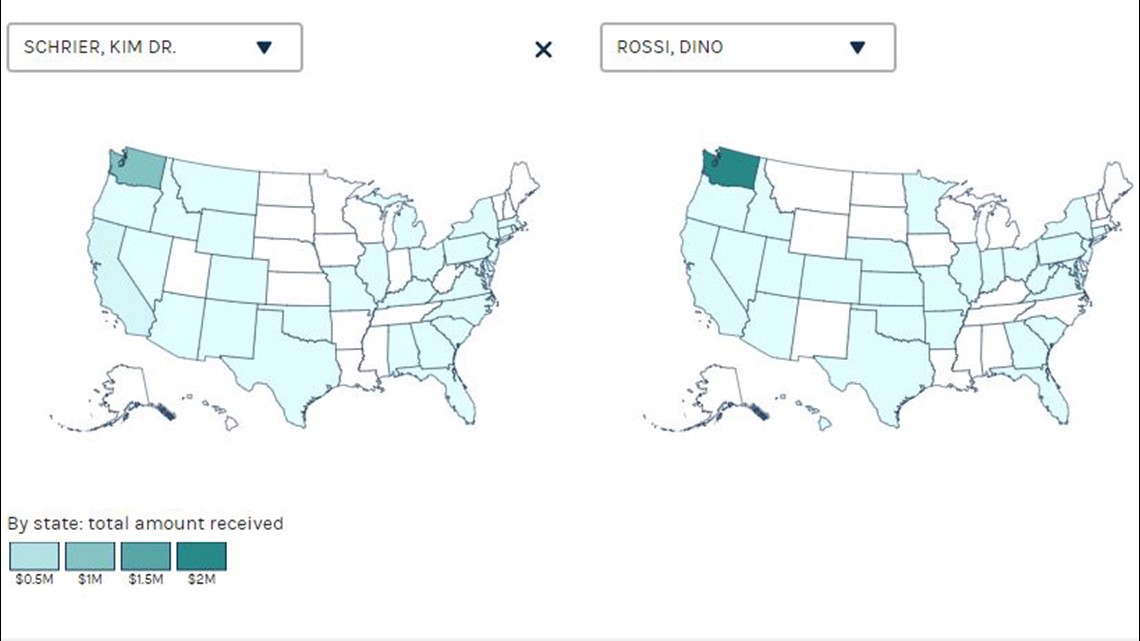 However, Schrier has established more small-amount donors. She raised over $1.3 million from donors giving $200 and under, compared to the nearly $877,000 that Rossi raised.
Who are the individual contributors?
Schrier has earned big-dollar donations from individuals associated with major health care and tech companies in Washington, including Virginia Mason Medical Center ($34,285), Microsoft ($24,805), and Amazon ($17,150). University of Washington employees has also given her $24,404, according to Open Secrets, a nonpartisan group that tracks money in U.S. politics.
Rossi's gained support from the financial services industry, including employees at Moneytree ($21,600), Wells Fargo ($18,950), and the American Bankers Association ($13,050). However, his largest contribution came from Club for Growth, a conservative political action group ($54,028).
Where's the outside spending coming from?
The 8th District race has seen some of the most outside spending of any U.S. House races this year, according to Open Secrets.
However, most of the outside spending comes in opposition of Schrier and Rossi than in support.
Schrier also picked up support from Planned Parenthood's SuperPAC and 501c ($114,227) and the Humane Society Legislative Fund ($11,209).
Independence USA PAC, Michael Bloomberg's PAC, also announced Friday an additional $10 million towards television and digital ads in midterm elections. Schrier is listed on the PAC's website as one of the candidates it's supporting.
A lot of spending is going towards TV ads, according to Advertising Analytics, which tracks broadcast data and political spending. The firm reports $20 million has been spent on political ads in the 8th District race.
Part of that came from the League of Conservation voters, which made its largest single ad buy in Washington state spending $1 million on television ads.
Did the last mid-term election have this much money in it?
Not even close. In the last mid-term election in 2014, money raised was around $1.5 million.
Incumbent Reichert raised a little more than $1.3 million, and his Democratic challenger raised just $234,911.