Based on August primary election results, four Republican state senate seats could also be in play for Democrats, as well as nearly a dozen house seats.
Democrats hold a narrow majority in the state legislature currently, with the Senate split 25-24 and the House 50-48.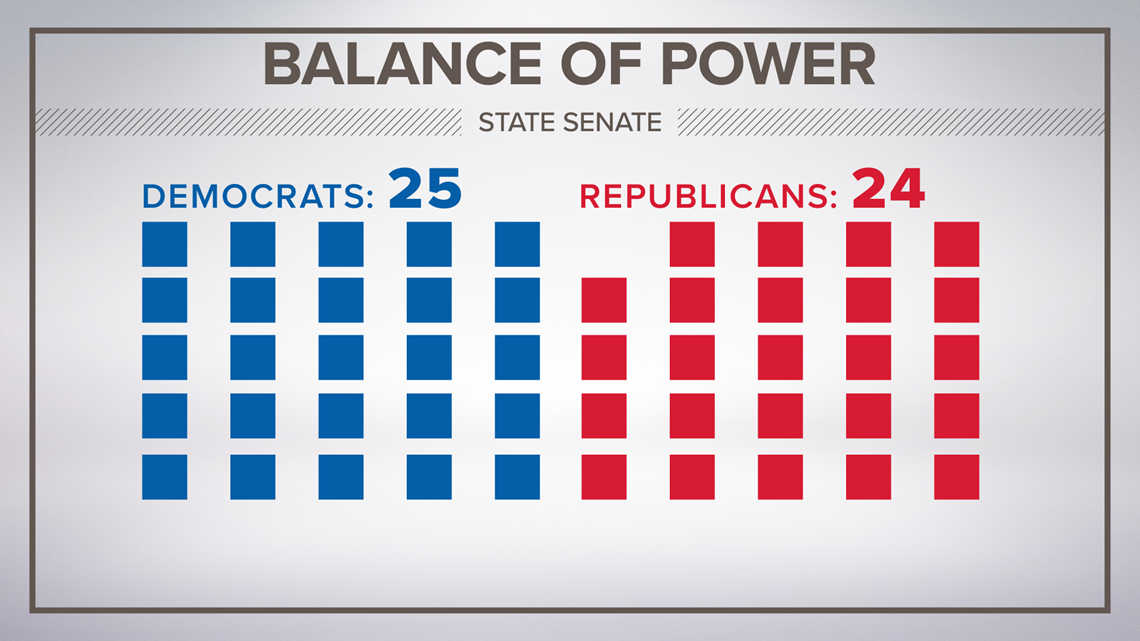 Washington state Democrats hope to use the midterms to widen their lead; while Washington Republicans hope to defend as many seats as possible. Ahead of the primary, the State Republican Party Chairman said he hoped to flip one seat in each chamber, to essentially maintain a tie.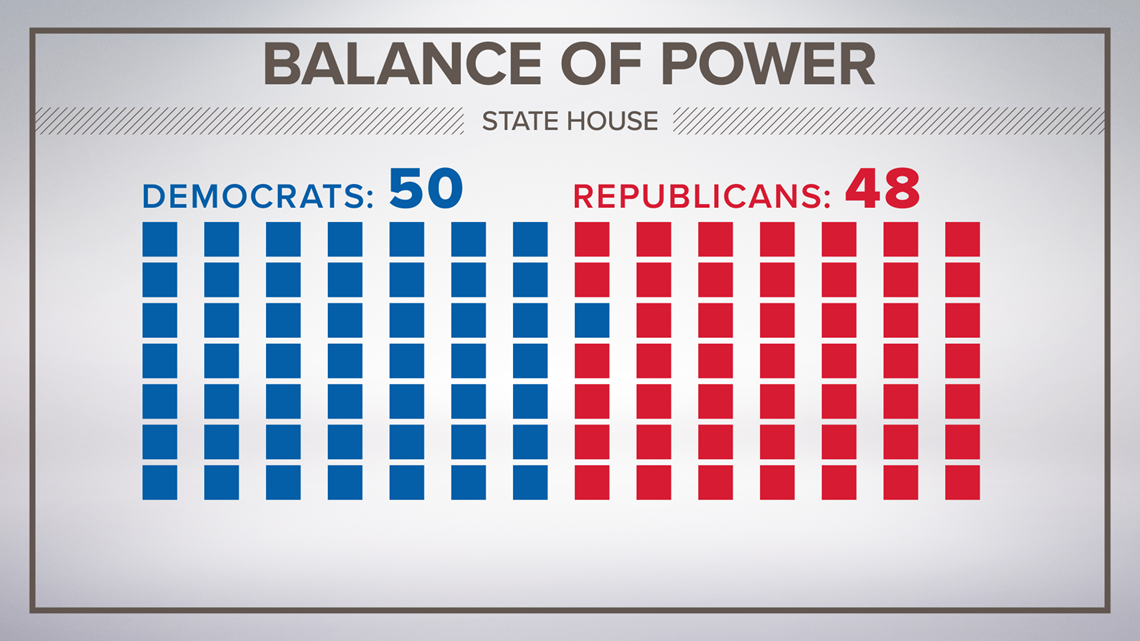 Here are the districts that will be closely watched heading into November.
5th Legislative District
Represents East King County, including Carnation, North Bend, Snoqualmie, Issaquah, and parts of Renton, Covington, Maple Valley, Black Diamond and unincorporated King County.
Democrat Bill Ramos, an Issaquah city councilmember, faces Republican Chad Magendanz – a former state House member who left the House to run for state Senate in 2016 but lost in a tight race against incumbent Sen. Mark Mullet of Issaquah.
This is an open seat since Republican Jay Rodne is not running for re-election
Democrat Lisa Callan, a current school board director with Issaquah School District, challenges incumbent Republican Paul Graves, elected in 2016. Callan beat Graves in primary by 3,500 votes.
6th Legislative District
Represents a crescent-shaped district around the North, West, and Southern parts of the City of Spokane, and parts of North and Southwestern Spokane County, including Airway Heights, Medical Lake and Cheney.
This is an open seat since Republican Sen. Michael Baumgartner announced he was retiring from the state legislative.
Democrat Jessa Lewis, a former Bernie Sanders delegate, faces Republican Jeff Holy, who left his House position to run for Senate.
Republican incumbent Mike Volz faces Democratic challenger Kay Murano, a first time candidate who serves as executive director of the Spokane Low Income Housing Consortium.
This is an open seat, since Holy is running for state Senate. Democrat Dave Wilson will face Republican Jenny Graham.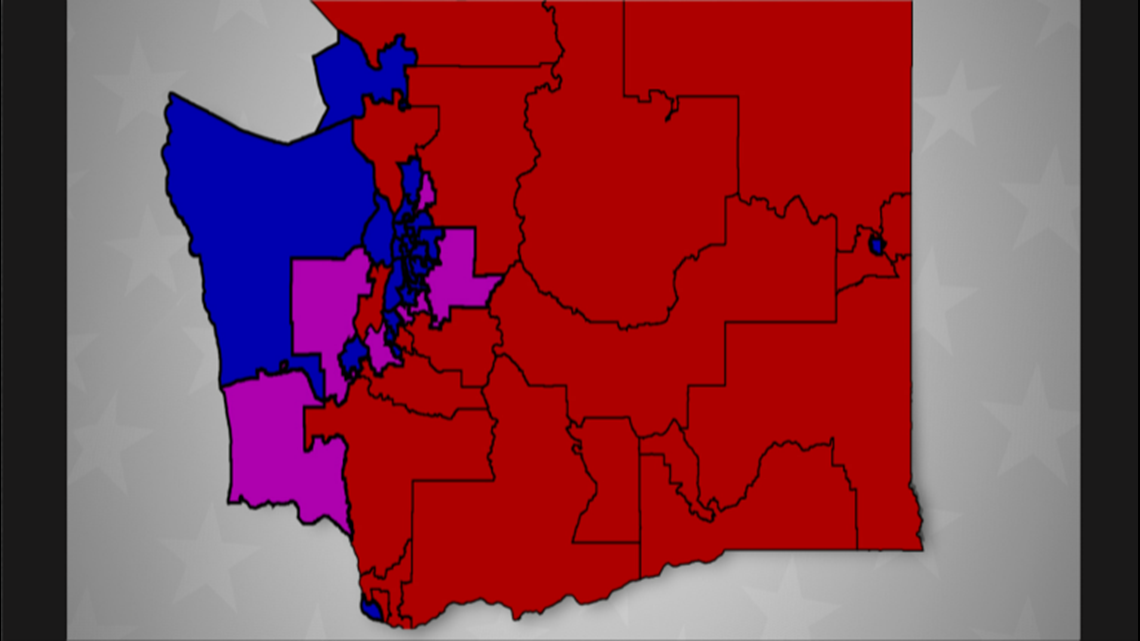 19th Legislative District
This district includes part of Grays Harbor, Pacific and Wahkiakum.
Republican Jim Walsh who won in 2016 and was a supporter of Trump will try to hang onto his seat this fall. His voter pamphlet statement promises to "fight the extreme Seattle agenda that's forced too many into poverty."
Democrat Erin Frasier, a first candidate, secured the second spot to challenge him.
Walsh won the district in 2016 in what was considered a political upset, becoming the first Republican to win the district in decades. His win proved part of a larger trend that year; Grays Harbor County voted for President Trump, turning the county red for the first time in more than 90 years.
As a result, Washington Republicans are targeting the Olympic Peninsula this year and trying to retain the voters who went Republican in 2016.
Democrat Brian Blake is trying to hold onto his seat. He's facing a Republican: middle school teacher and Marine Corps Reserve Sgt. named Joel McEntire.
25th Legislative District
Both House positions 1 and 2 are open seats, since the two Republican incumbents decided not to run for re-election.
Republican Kelly Chambers faces Democrat Jamie Smith, and Republican Chris Gildon faces Democrat Brian Duthie.
26th Legislative District
Represents part of Pierce and Kitsap Counties including part of Bremerton, Port Orchard and Gig Harbor.
Republican Jan Angel is retiring, so this is an open seat.
Democrat Emily Randall faces Republican Marty McClendon, a former candidate for Lt. Governor.
Democrat Connie FitzPatrick, a first-time candidate with a Navy background, challenges incumbent Republican Jesse Young.
Note, there was a second Republican candidate in the primary race who took a percentage of the votes from Young.
Democratic challenger Joy Stanford, a first-time candidate with a background as a Medicare consultant, is taking on Republican incumbent Michelle Caldier.
28th Legislative District
Represents part of Pierce County including Fircrest, University Place, Lakewood, Steilacoom, Tillicum, Dupont, part of Tacoma, Graham, Spanaway and Anderson, Ketron and McNeil Islands.
Democratic challenger Mari Leavitt, the chair of the Pierce County Ethics Commission, takes on Republican incumbent Dick Muri.
Democratic incumbent Christine Kilduff faces Republican challenger Maia Espinoza.
30th Legislative District
Represents part of King and Pierce Counties including Federal Way, Des Moines, Milton, Algona and Pacific and part of Auburn.
Incumbent Republican Mark Miloscia faces Claire Wilson, a Federal Way School Board member. The two Democrats who challenged Miloscia in the primary garnered more votes combined than Miloscia.
Democratic incumbent Mike Pellicciotti faces Republican Linda Kochmar who is trying to win back her former seat. Note, both 30th district House seats were won by Democrats in 2016.
Incumbent is Democrat Kristine Reeves won the primary with a comfortable lead over her Republican challenger Mark Greene.
42nd Legislative District
Represents most of Whatcom County including Point Roberts, Blaine, Ferndale, Lynden, Nooksack, Everson and the northern part of Bellingham.
Republican incumbent Doug Ericksen faces a competitive race in November, based on primary results. He received nearly 46 percent of the vote, based on primary results. However, his two Democratic challengers combined took more than 54 percent, collectively.
Bellingham City Councilmember Pinky Vargas will challenge Ericksen.
Democratic challenger, Justin Boneau, a first-time candidate and Navy veteran, faces Republican incumbent Luanne Van Werven.
Democratic candidate, Sharon Shewmake, an economics professor at Western Washington University, narrowly won the primary against Republican incumbent Vincent Buys.
44th Legislative District
Moderate Democrat Steve Hobbs is poised to keep his seat in the state Senate against Republican challenger Doug Roulstone.
Democratic incumbent John Lovick faces Republican challenger Jeff Sax, a county council member.
Incumbent Republican Mark Harmsworth faces Democratic challenger Jared Mead, a Mill Creek City Councilmember.
47th Legislative District
Republican incumbent Joe Fain faces Democratic challenger Mona Das.
A Seattle woman recently accused Fain of rape before he was elected to the state Senate. The woman named Fain as her alleged attacker on the same day Dr. Christine Blasey Ford testified about sexual assault allegations against Supreme Court nominee Brett Kavanaugh.