Proposed changes to Washington state's Congressional districts released
Redistricting occurs every 10 years in order to adjust for changes to a state's population.
AP Photo/Ted S. Warren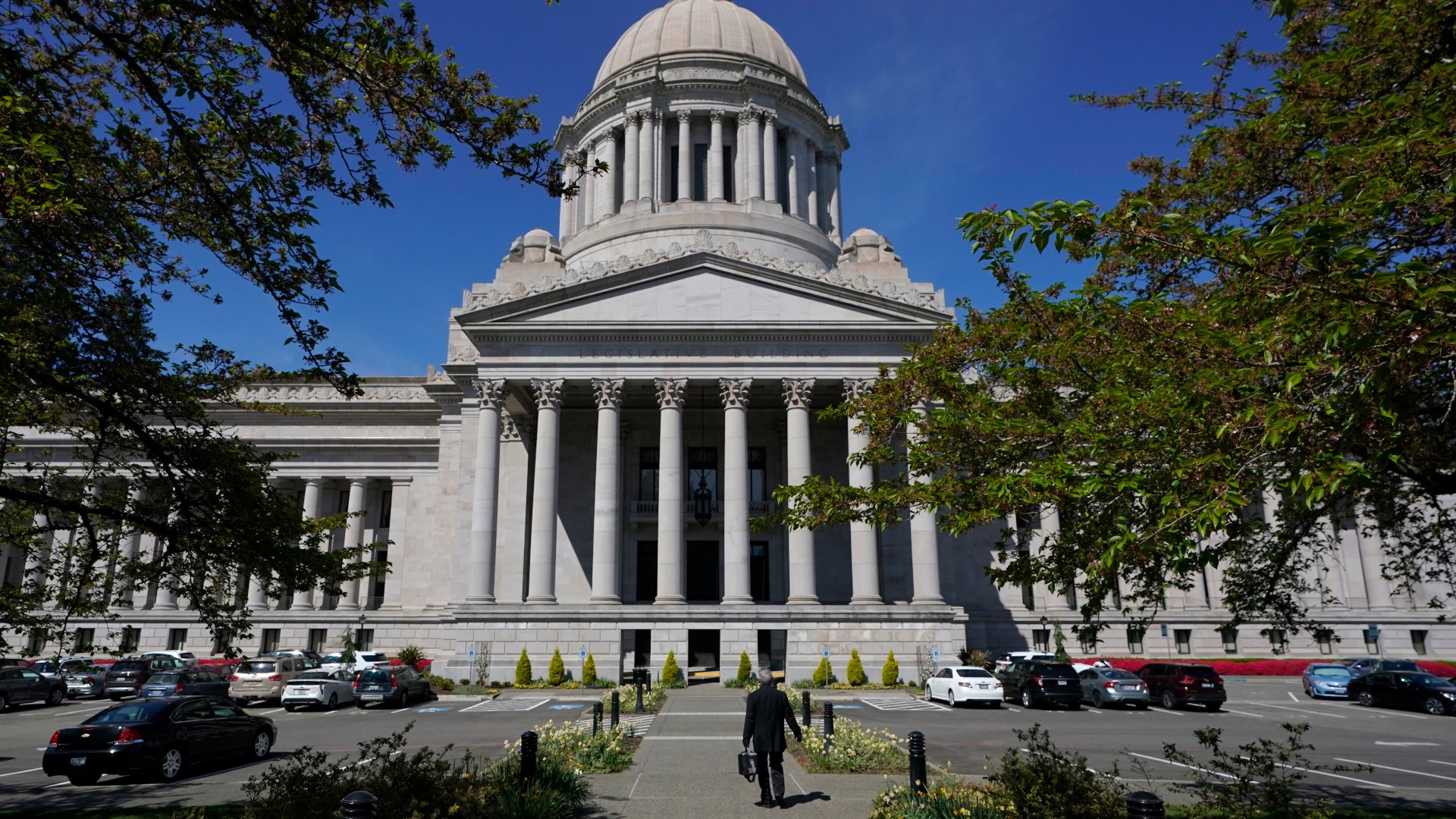 The Washington State Redistricting Commission released four proposed Congressional District maps on Sept. 28 as the Nov. 15 deadline to reach a compromise on redrawing existing boundaries draws closer.
Redistricting occurs every 10 years in order to adjust for changes to a state's population. The goal is to distribute the population evenly to help ensure every resident is represented fairly in the state Legislature and U.S. Congress.
The number of people allocated to Washington's 10 districts is based on the 2020 Census, which determined the state's population was 7,705,281 as of April 1, 2020. That's a 14.6% growth over the last decade. As a result of the census data, each Congressional district should represent 771,595 people, and each of the 49 legislative districts should represent 157,251 people.
The state Redistricting Commission has five members. Legislative leaders from the two largest parties in each house of the Legislature appoint a voting member. A fifth member is appointed as a non-voting chairperson.
House Democrat
:
Appointee: April Sims
Commissioner April Sims said her proposed boundary changes represent her values and the commission's responsibility to create districts that provide fair representation.
Her proposed boundaries reflect a greater Puget Sound area that saw growth in densely populated areas, while other parts of the state experienced slower growth. It seeks to reduce the number of counties split by Congressional district, with seven seeing a reduction in Congressional district splits and four contained in one district.
Sims said her proposed boundary changes also reflect feedback from Tribal councils as well as including more of south King County cities into District 9 to improve the representation of underrepresented residents.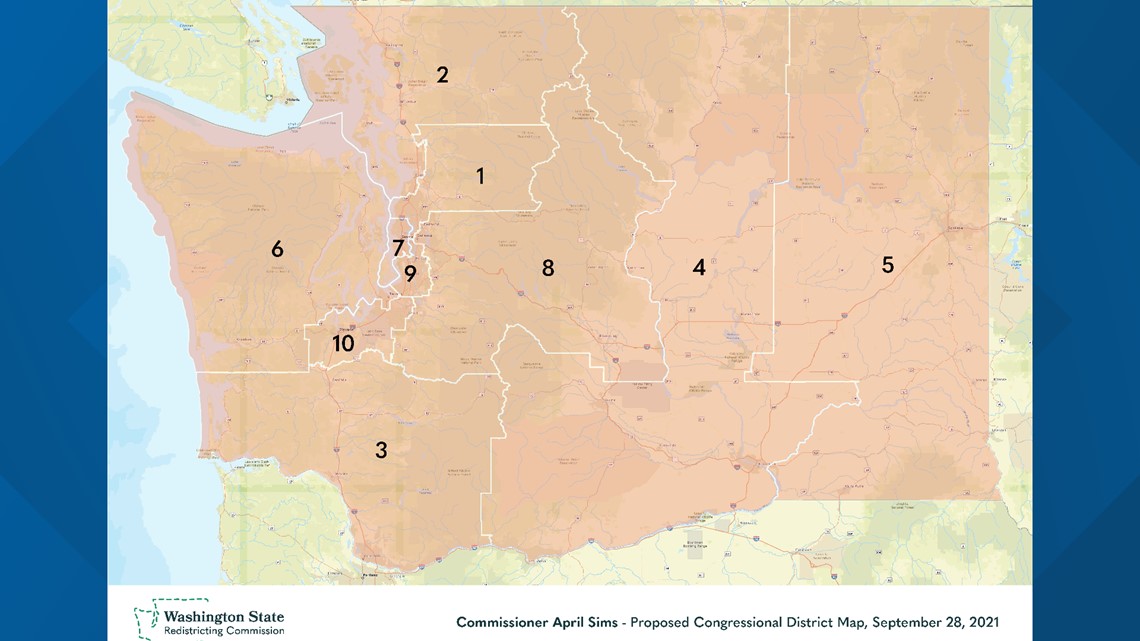 House Republican
:
Appointee: Paul Graves
According to Paul Graves, his redrawn boundaries create two majority-minority Congressional districts, twice that of a decade ago. His map would give a "powerful voice to groups that have in the past been underrepresented in the halls of Congress" while increasing competition.
Graves said the state saw a 10% increase since 2010 in the "proportion of residents who are people of color." South Puget Sound, he said, drove much of that growth. His map consolidates and redraws District 9 and 10 to span Tacoma to Redmond.
Graves' proposal also includes a second swing district. District 1 would become a swing district along with District 8. The changes would "give Washington voters more choices and encourage better representation in Washington, D.C."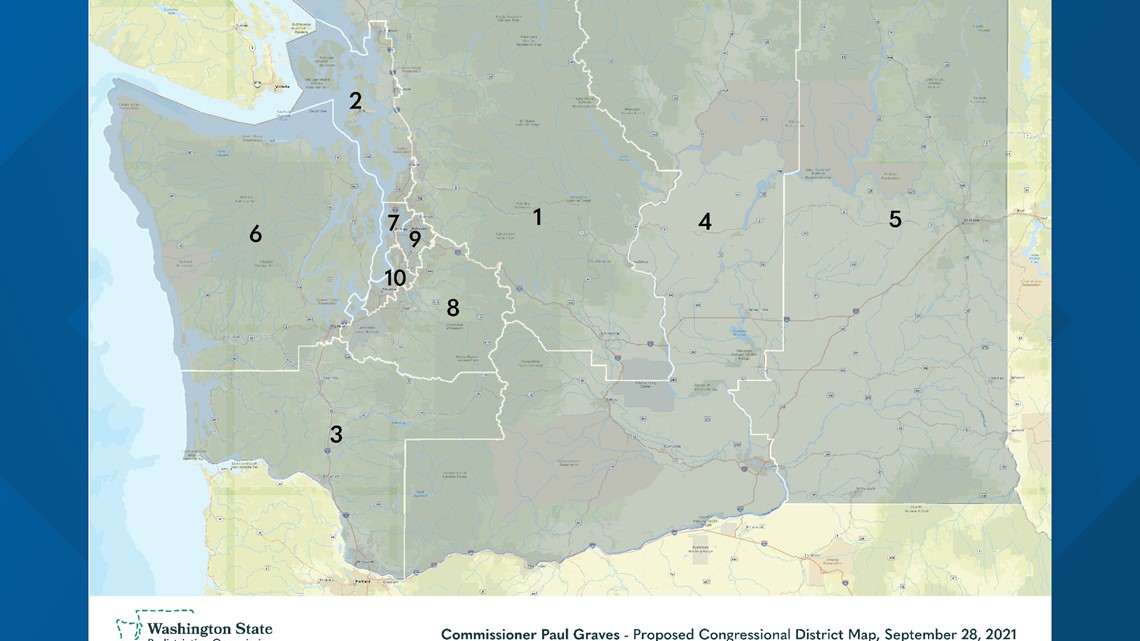 Senate Democrat
:
Appointee: Brady Piñero Walkinshaw
The goal of Brady Piñero Walkinshaw's proposed Congressional district map is to reduce the number of county splits and to draw "more logical lines that reflect the reality of communities," he said.
His map reduces the number of counties split by multiple districts from nine to three – King, Pierce and Snohomish counties are the three split.
Walkinshaw's map also splits six cities: Auburn, Milton, Pacific, Seattle, Tacoma and Bellevue.
Walkinshaw's map unifies the Yakama Nation reservation and Tribal lands down to the Columbia River into one district.
His map also preserves District 9, where people of color make up a majority of the voting-age population. Burien is joined with communities of southeast Seattle and south King County. The map also unifies Kent, a portion of Auburn, Des Moines, New Castle, Tukwila, Renton, Federal Way and south Bellevue.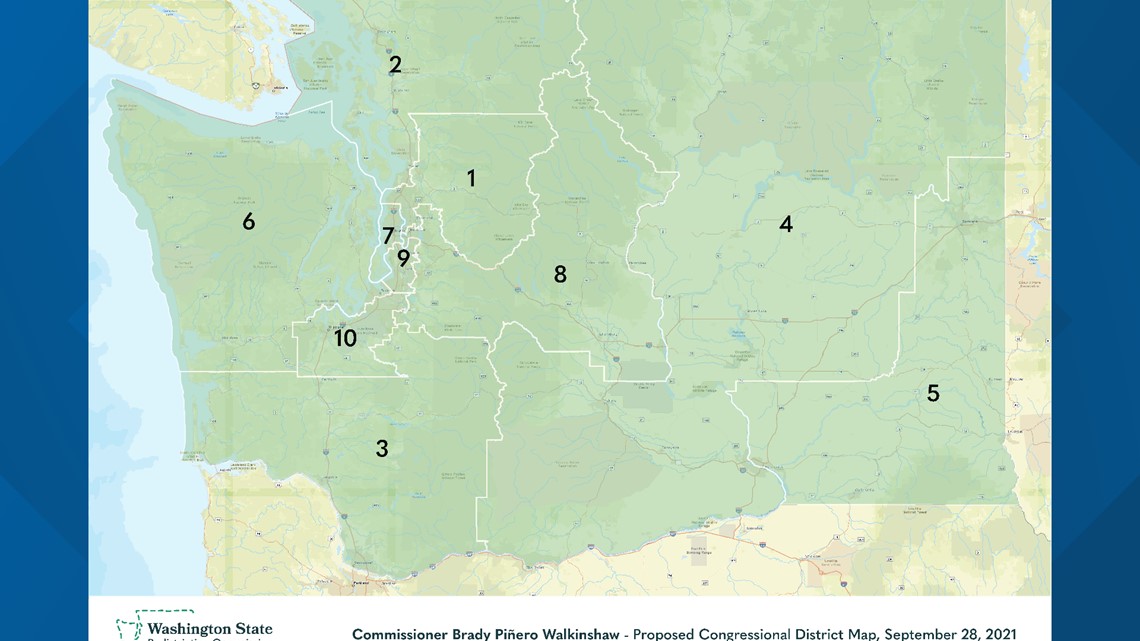 Senate Republican
:
Appointee: Joe Fain
According to Joe Fain, his district boundaries create "compact, competitive Congressional districts that follow important geographical and political boundaries."
The map keeps most cities, counties and school districts together and more than three-quarters of residents in their existing districts, according to Fain.